APC Back UPS BX950U-AZ AVR LED

APC Back-UPS 950VA, 230V, AVR, Australian Sockets
Battery Backup & Surge Protector for Electronics and Computers
Includes: User Manual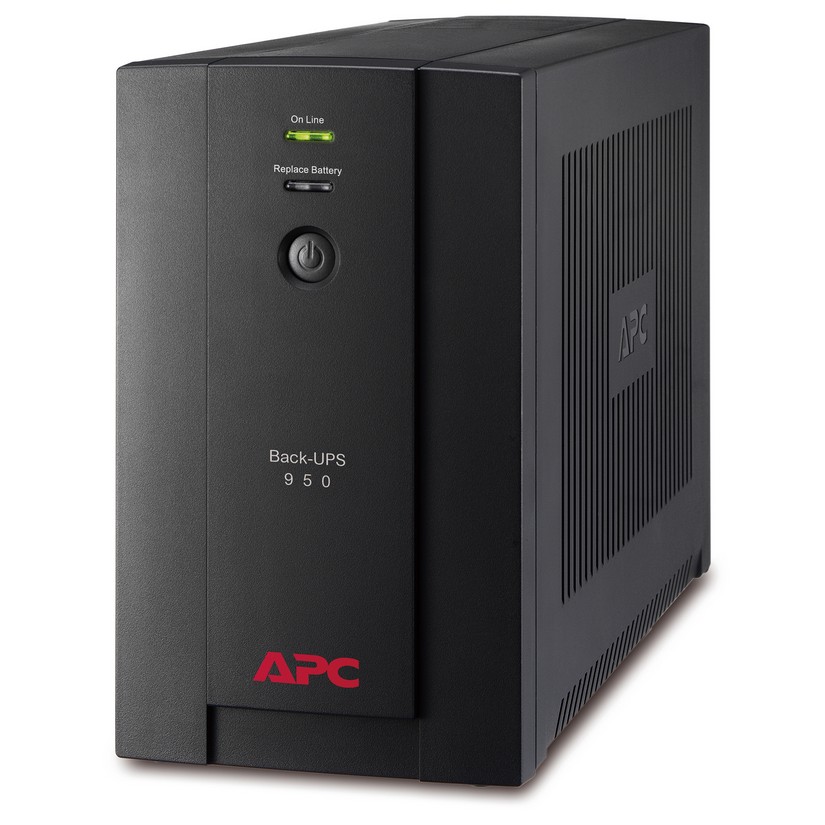 Specifications
Output
Output Power Capacity 480 Watts / 950 VA
Max Configurable Power 480 Watts / 950 VA
Nominal Output Voltage 230V
Output Frequency (sync to mains) 50/60 Hz +/-1 Hz
Topology Line Interactive
Waveform Type Stepped approximation to a sinewave
Output Connections
(6) Australian (Battery Backup)
Input
Nominal Input Voltage 230V
Input Frequency 50/60 Hz +/- 3 Hz (auto sensing)
Input Connections
Australian/Chinese
Cord Length 1.22 meters
Input voltage range for main operations 150 - 280V
Maximum Input Current 4A
Input Breaker Capacity 7 A
Batteries & Runtime
Battery Type Maintenance-free sealed Lead-Acid battery with suspended electrolyte : leakproof
Included Battery Modules 1
Typical recharge time 8 hour(s)
Energy Use/Efficiency
Load Efficiency
25% 90.0%
50% 94.5%
75% 96.0%
100% 96.6%
Communications & Management
Interface Port(s) USB
Control panel LED status display with On Line : On Battery : Replace Battery and Overload indicators
Audible Alarm Alarm when on battery : distinctive low battery alarm : overload continuous tone alarm
Surge Protection and Filtering
Surge energy rating 273 Joules
Data Line Protection RJ-11 Modem/Fax protection
Physical
Maximum Height 215.00 mm
Maximum Width 130.00 mm
Maximum Depth 336.00 mm
Net Weight 8.00 KG
Shipping Weight 8.99 KG
Shipping Height 295.00 mm
Shipping Width 245.00 mm
Shipping Depth 440.00 mm
Color Black
Environmental
Operating Environment 0 - 40 °C
Operating Relative Humidity 0 - 95% no%
Operating Elevation 0-3000 meters
Storage Temperature -15 - 40 °C
Storage Relative Humidity 0 - 95% no%
Storage Elevation 0-9000 meters
Audible noise at 1 meter from surface of unit 45.00 dBA
Conformance
Regulatory Approvals A-tick, C-tick, CE, IEC 62040-1-1, RCM, TelePermit
Standard Warranty 2 years repair or replace
Sustainable Offer Status
RoHS Compliant
REACH REACH: Contains No SVHCs
Note
*Except where noted, all prices are Estimated Resale Price (ERP) - With Tax/VAT. Pricing in other locations and sites may vary.
**The time to recharge to 90% of full battery capacity following a discharge to shutdown using a load rated for 1/2 the full load rating of the UPS.