Aten UC3410-AT Phantom-S Gamepad Emulator for PS4 / PS3/ Xbox 360/ Xbox One
The PHANTOM-S is specially designed to assist the gamer in FPS games on game consoles. You can abandon the conventional gamepad to enjoy smooth controls, enhanced accuracy, and continuous-fire with a PC keyboard and mouse for first-person shooter games on game consoles. The PHANTOM-S adopts ACT (Agile Control Translator) signal conversion technology proudly developed by ATEN. Our technology provides smooth mouse movements, enhanced continuous-fi re with directed straight-line accuracy, instant sensitivity adjustments, straightforward macro settings, laptop operation, and regular updates that improve gameplay. The PHANTOM-S allows you to switch over and easily become an outstanding FPS player with customized keyboard and mouse gameplay – whether you are a professional PC game player or a console game player.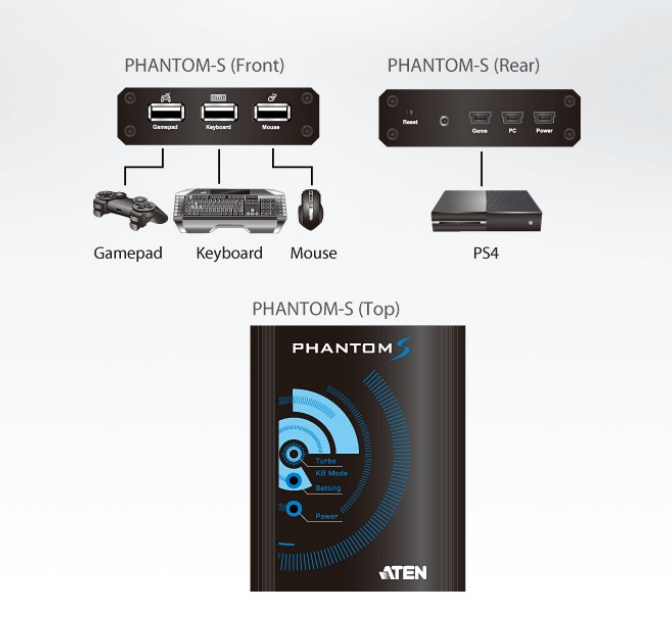 Specifications
RESET

1 x Semi-recessed Pushbutton

TURBO/*KB MODE

1 (Orange)

SETTING

1 (Blue)

POWER

1 (Blue)

KEYBOARD

USB, Emulation

MOUSE

USB, Emulation

GAMEPAD

USB, Bypass

POWER CONSUMPTION

DC5V:0.72W:18BTU

OPERATING TEMPERATURE

0–50°C

STORAGE TEMPERATURE

-20–60°C

HUMIDITY

0–80% RH, Non-condensing

FRONT

3 x USB Type A Female (White)

REAR

3 x Mini USB Type A Female (Black)

1 x 3.5mm Data Jack (Black, Reserved)

HOUSING

Metal

WEIGHT

0.20 kg (0.44 lb)

DIMENSIONS (LXWXH)

10.64 x 7.90 x 2.44 cm

(4.19 x 3.11 x 0.96 in.)

NOTE

For some of rack mount products, please note that the standard physical dimensions of WxDxH are expressed using a LxWxH format.