Crayola Inspiration Art Case
This all-in-one portable art studio has dozens of crayons, pencils, markers, and sheets of drawing paper that can keep you creating for hours. The art case has a special compartment for each drawing tool, so you won't misplace anything. Pack up all your supplies and unleash your creativity any time, any place. For ages four and up.

All-in-One Case for Artists on the Move
Since each pencil, marker, and crayon has its own special nook, your art tools will stay organized and accessible. Whether you're traveling to school or a friend's house, you can easily pack up all your supplies and take them with you in this colorful case. The case has cheerful graphics and sports a sturdy handle for comfortable transport.
Complete Art Studio with 140 Pieces
The Inspiration Art Case includes 140 pieces to fuel your imagination. Crayons, pencils, and markers provide all the colors of the rainbow and then some. Choose the tool that works best for you, whether it's a short colored pencil for shading or a skinny marker for outlining.
Color and Draw in Multiple Mediums
Use the 15 sheets of drawing paper to create your own drawings and exercise your creative muscles. Colored pencils and crayons are great for layering colors on top of each other. Markers are perfect when you need thick, inky lines or blocks of color. Even though the markers in this kit are highly pigmented, they are washable from skin and clothing. Mix and match hues and textures from different tools for exciting visual effects.
RECOMMENDED FOR AGES 4 YEARS AND UP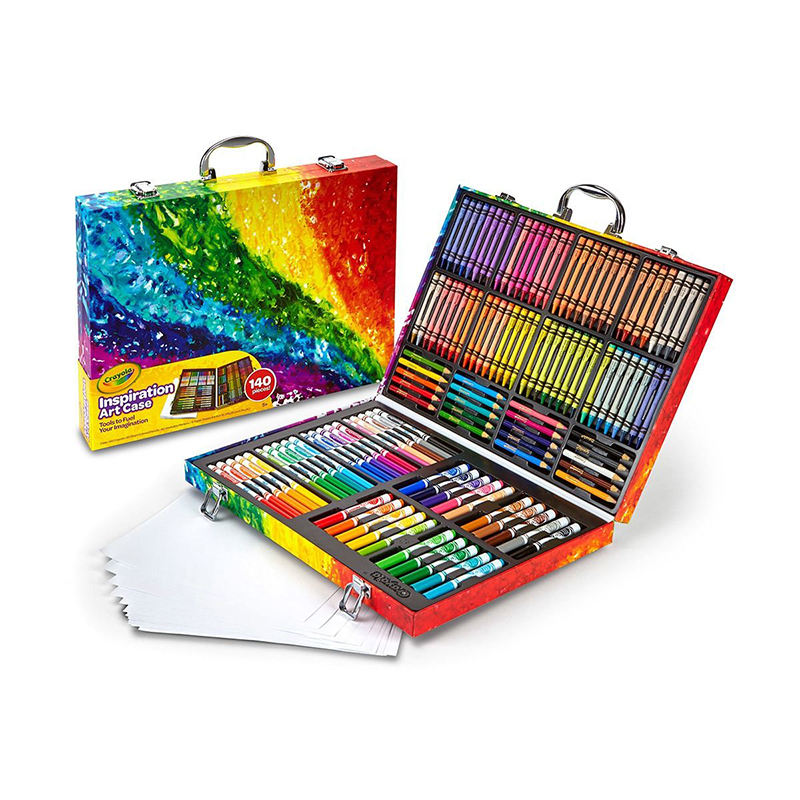 Package Contents
Art supply case, 64 crayons, 20 short colored pencils, 40 washable markers, and 15 large sheets of drawing paper.