Creative Sound Blaster K3 HD USB Audio Interface
The Sound Blaster K3 is an external sound mixer module with hardware audio processing such as reverb and Voice-Over functionality (automatic background music suppression). It boasts multiple connectivity inputs, supports 48V phantom powered condenser microphones and features individual input/output gain control. Practical and user-friendly, the Sound Blaster K3 is perfect for streamers and musicians alike.
MULTI-PURPOSE RECORDING
6 Modes of Operation

The Sound Blaster K3 supports up to 6 different recording scenarios, including Music recording, Karaoke recording and DJ Hosting! Features and voice effects can be triggered and combined to produce the ideal recording quality needed for your individual use case scenario.




Plug-and-Play Connectivity for PC, Mac, Phones and Tablets

With no driver installation necessary, connectivity to PCs and Macs is incredibly simple via USB. The Sound Blaster K3 can also be connected using a 4-pole 3.5mm audio jack, giving users full control when using streaming and recording apps on their smartphones or tablets.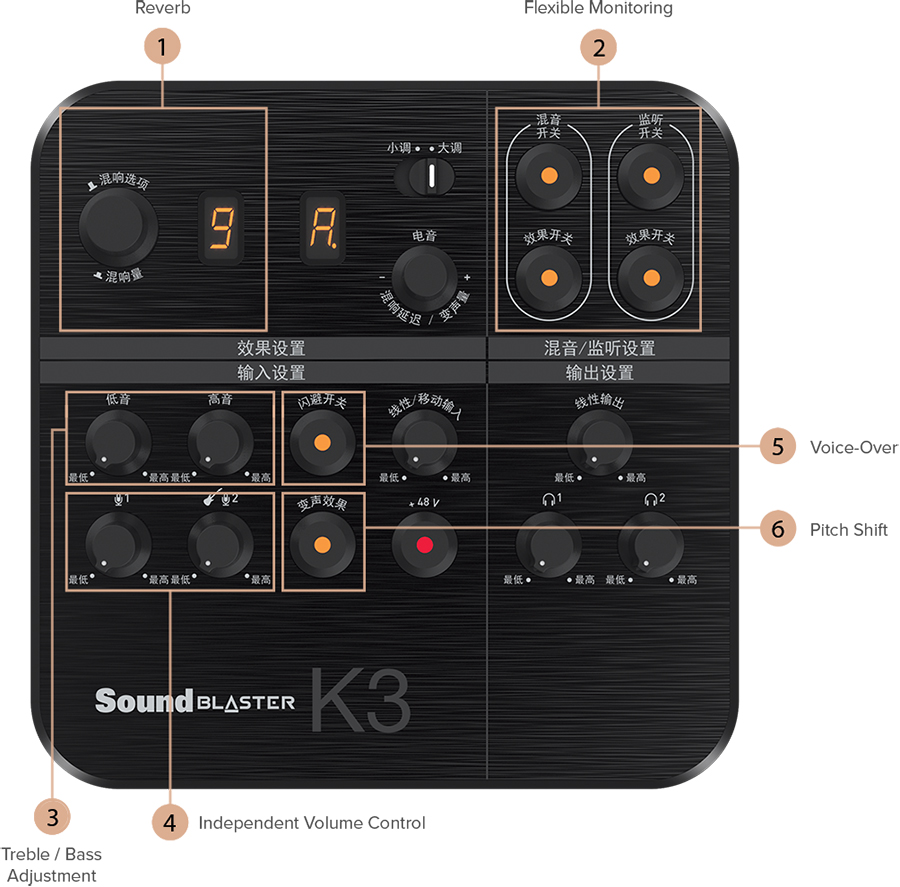 AUDIO QUALITY
Crystal Clear Recording and Playback

Audio quality is of the utmost priority when recording music or streaming video. The Sound Blaster K3 features a built-in high definition processor that enables it to record audio crisp and crystal clear.

Audio Effects Processing in Real-Time

The Sound Blaster K3's powerful built-in audio processor allows users access to real-time audio effects, including reverb and Voice-Over functionality (automatic background music suppression). The effects work on both PCs and mobile devices!
* This version of Sound Blaster K3 utilizes a Chinese layout. As such, labels of knobs and buttons on the product are in Chinese. Manuals and supporting documents are available in English.