CyberPower PRO Rack/Tower LCD 2200VA / 1600W(15A) 2U Line Interactive

CyberPower PR2200ELCDRT2U Line-Interactive UPS, with seamless Pure Sine Wave, provides the best power protection available for office system devices including PCs, workstations, networking devices, and peripherals. It's typically integrated in the back office, server room, and data center environment. The rackmount / tower convertible design gives it enhanced flexibility for installation and operation in almost any environment.

Multiple UPS systems can be connected to a single main Emergency Power Off (EPO) switch. In the event of an emergency, the UPS systems can be shut down immediately with the EPO button. As for battery maintenance, the UPS allows battery hot-swapping, which enables users to perform normal battery maintenance without significant interruption.
FEATURES
Line-interactive UPS Topology

Energy Saving Technology

Active PFC Compatible

Pure Sine Wave Output

Automatic Voltage Regulation (AVR)

Overload Protection

Critical/Non-critical Load Outlets

Hot-swappable Batteries

Surge and Spike Protection

EMI and RFI Filtration

Phone/Fax/Modem/DSL/Network Protection

LCD Status Display

USB Connectivity Port

Serial Connectivity Port

Emergency Power Off (EPO)

PortPowerPanel® Management Software

SNMP/HTTP Remote Management Capability (Optional)

Rack/Tower Convertible Configurations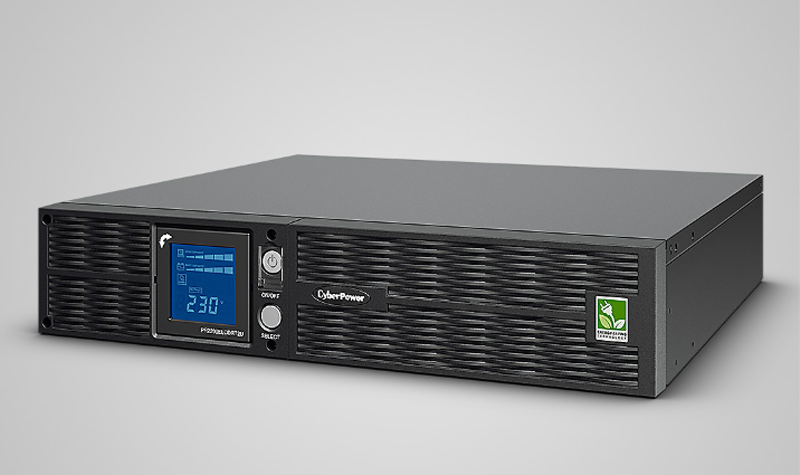 Specifications

PHASE

Single Phase

UPS TOPOLOGY

Line-interactive

ENERGY SAVING TECHNOLOGY

GreenPower UPS™ Bypass Technology

ACTIVE PFC COMPATIBILITY

Yes

NOMINAL INPUT VOLTAGE ( VAC )

220

230

240

INPUT VOLTAGE RANGE ( VAC )

160 ~ 286

ADJUSTABLE VOLTAGE RANGE ( VAC )

150 ~ 300 Vac

INPUT FREQUENCY ( HZ )

50 ± 3

60 ± 3

INPUT FREQUENCY DETECTION

Auto-sensing

RATED INPUT CURRENT ( A )

16

INPUT CONNECTOR TYPE

IEC C20

POWER CORD LENGTH (FT.)

10

POWER CORD LENGTH (M.)

3.05
For full specifications please click here.