Draytek VigorAP902 802.11ac Concurrent Dual Band Wireless Access Point extender with PoE
Concurrent Dual Band 802.11ac AP


802.3af Power over Ethernet (PoE-PD)

Wi-Fi multimedia (WMM) quality of service features

Up to 1200Mbps Wi-Fi throughput

4 SSIDs for each band (2.4G/5G)

Support 5 Gigabit LAN ports

2 VLAN groups managing both wired (Ports) & wireless clients (SSIDs)

TR-069 for LAN-A: firmware upgrade, configuration backup, and restore

Unified devices management portal offer single-panel view across AP Management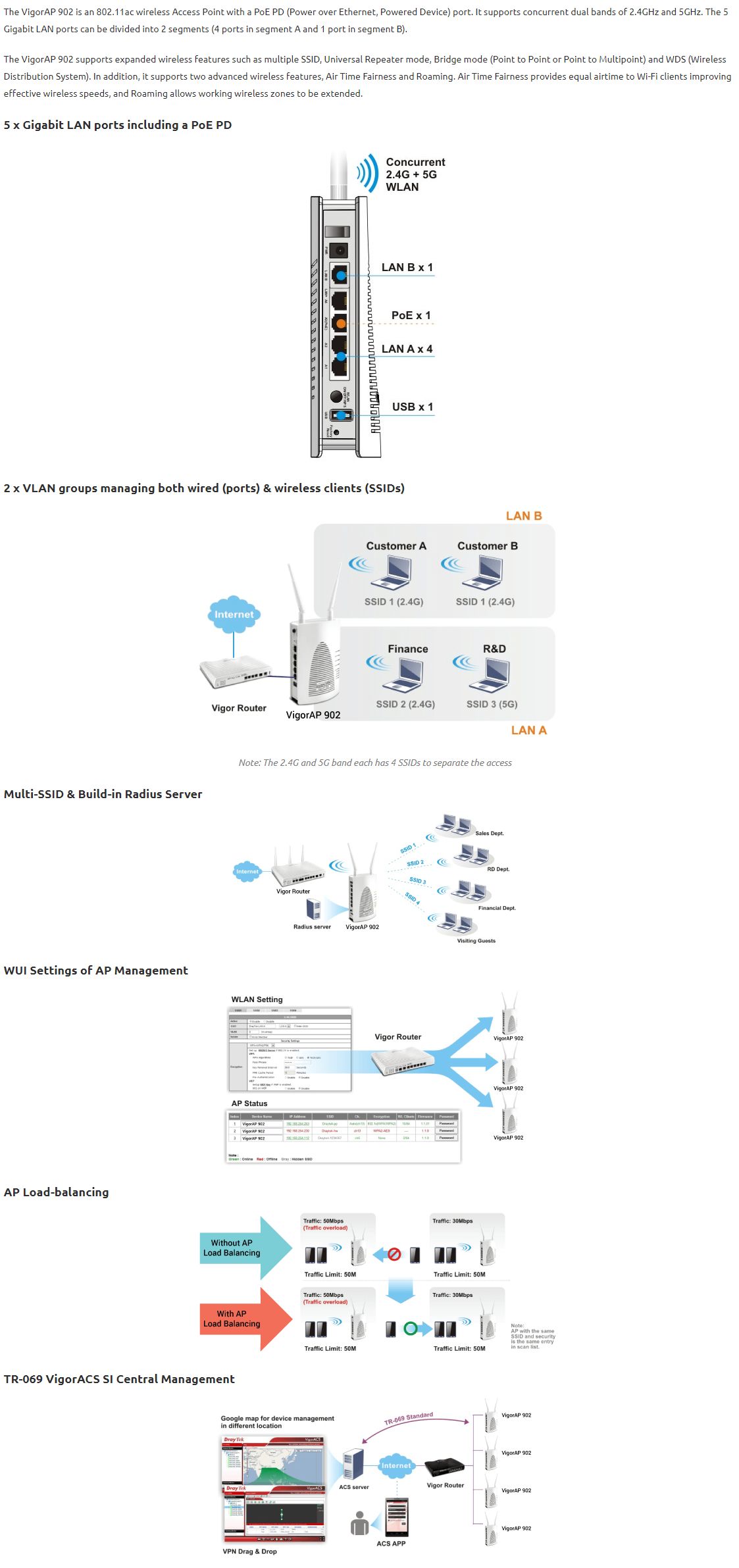 Specifications
1. Simultaneous Dual Band Wi-Fi

The VigorAP 902 delivers both 2.4G & 5G Wi-Fi bands simultaneously. The 5G band can be reserved for applications that are less tolerant to interference and latency, for example, video calls. The 2.4G band can serve applications that can better tolerate latency, for example, e-mail services.
The two antennas are detachable and can be replaced with higher gain antennas for extended Wi-Fi coverage.
Supported modes for the 2.4G Wi-Fi band are:
AP Mode

Station Infrastructure

AP Bridge – Point to Point

AP Bridge – Point to Multipoint

AP Bridge WDS (Wireless Distribution System)

Universal Repeater
Supported modes for the 5G Wi-Fi band are:
AP Mode

Universal Repeater
2. PoE for Easy Installation
LAN port A3 port supports 802.3af Power over Ethernet (PoE) to deliver both data and power through a single data cable. Therefore, the VigorAP 902 can be installed at a location that covers the desirable space but does not have a power outlet nearby.
3. WMM for Wi-Fi Application Prioritization
The VigorAP 902 supports Wi-Fi Multi Media standard (WMM) for Quality-of-Service (QoS) in Wi-Fi networks. WMM improves audio, video and voice applications transmitted over Wi-Fi. It allows setting of priorities to Wi-Fi traffic types so applications that are less tolerate to latency can have higher priorities to ensure satisfactory performance.
4. SSID + 2 VLAN groups for network security
The VigorAP 902 supports a total of 8 separate SSIDs and two Virtual LANs (VLANs). These can be combined to apply different network access rules to different user groups, or to emulate several virtual access points.
The wired connected devices can be grouped into either VLAN-A or VLAN-B, based on the connected LAN ports (Ethernet RJ45 interfaces). Devices connected to LAN ports A1-A4 cab be grouped as VLAN-A and devices connected to LAN port B as VLAN-B. For example, office Wi-Fi users on VLAN-A can be given unrestricted access to network resources and guest Wi-Fi users on VLAN-B can be given restricted access to network resources. In this way, you can provide wireless accesses to visitors or the public while ensuring that the company network is isolated from the outsiders.
Each of the 2.4G and 5G bands provides 4 SSID's to separate Wi-Fi access and these can be assigned to either VLAN-A or VLAN-B.
5. Comprehensive WLAN security control
The MAC Address Filter is one security feature in the VigorAP 902 that can be used to prevent unauthorized wireless users from accessing the Wi-Fi network. It can be configured to allow specific clients with a matching MAC address, or to block specified clients with a matching MAC address.
Other business level security features include wireless user authentication, data encryption, 802.11i (WPA2) and 802.1x authentication. Furthermore, the VigoAP 902 has a built-in RADIUS server (Remote Authentication Dial-in User Service) which can handle up to 96 user profiles. It can also work with an external RADIUS server to handle user authentication.
6. Extendible wireless coverage
The VigorAP 902 can extend the Wi-Fi network in one of the modes for the 802.11b/g/n, 2.4GHz Band:
AP Bridge – Point to Point

AP Bridge – Point to Multipoint

AP Bridge WDS (Wireless Distribution System)

Universal Repeater
For the 802.11a/n/ac, 5GHz Band, the Universal Repeater mode is available.
These modes extend Wi-Fi access and allow VigorAP 902 to act as a repeater and extend the signal from a base AP, or to bridge two wired networks that are some distance apart.
The Universal Repeater mode provides a simple way to extend the Wi-Fi network when WDS cannot be used. The VigorAP 902 can be a wireless client to connect to another AP at the same time when it acts as an Access Point to provide Wi-Fi connectivity to other wireless devices.
7. Airtime Fairness
The Airtime Fairness feature in the VigorAP 902 significantly improves Wi-Fi coverage and performance, when used in an environment that includes slow and fast wireless client devices. This is achieved by utilizing:
Wider frequency

More MIMO (Multiple Input Multiple Output) spatial streams

Higher density of modulation

Beamforming to achieve higher speeds over long distances.
8. Management
AP Management
The VigorAP 902 can operate in a standalone mode in places such as offices, classrooms, waiting rooms (e.g. ferry terminal, bus station, and train station), clinics' waiting room, etc., to connect to the local LAN and/or to providing wireless access.
Where a network requires several VigorAP 902 units, these can be centrally managed and monitored. The AP Management client in the VigorAP 902 will work with the Central AP Management function that is available in most DrayTek business grade routers such as the Vigor2860 and Vigor2925 series.
Through the Central AP Management console in Vigor routers, the network administrator can define the VigorAP 902's SSID, encryption rule, MAC address control, upload /download limits as well as view the status of the installed VigorAP 902 Access Points.
AP Load Balancing through multiple APs can be enabled through Central AP Management. You can set the percentage of traffic to go through each VigorAP 902 to prevent undesirable wireless congestion and to ensure smooth data flow.
TR-069 (Compliant with VigorACS SI)
The VigorAP 902 supports TR-069, and can be managed through DrayTek's VigorACS SI Central Management server.
Other management features include:
Web-based User Interface (HTTP/HTTPS)

CLI (Command Line Interface, Telnet)

Configuration Backup/Restore

Firmware Upgrade via HTTP/HTTPS/TR-069

Syslog