HP USB Fingerprint Mouse (4TS44AA)
Merging security and input into one smart mouse

Login to your PC without a password and navigate content accurately and quickly with the HP USB Fingerprint Mouse, our first mouse with an embedded fingerprint sensor that authenticates login within the mouse.
Security at your fingertip
After a one-time enrollment in your PC's Windows Hello1, simply place your finger on the sensor
for a quick scan and template match to log in each time without a password or PIN.
Built-in encryption
Lock down your fingerprint with a sensor that securely encrypts and stores its digital template
inside the mouse and only transmits a pass or fail each time you login.1
Simple USB connectivity
Connect the mouse to any USB port on your device.
Fast navigation
Easily navigate documents and web pages with the high-performance laser and hyper-fast
scrolling.
Intuitive and familiar design
Enjoy natural, comfortable left-or right-hand operation, and use the wheel on top as a third
mouse button.
World-class support
Get a one-year limited warranty.
1. Connected PC requires Windows 10 and Windows Hello.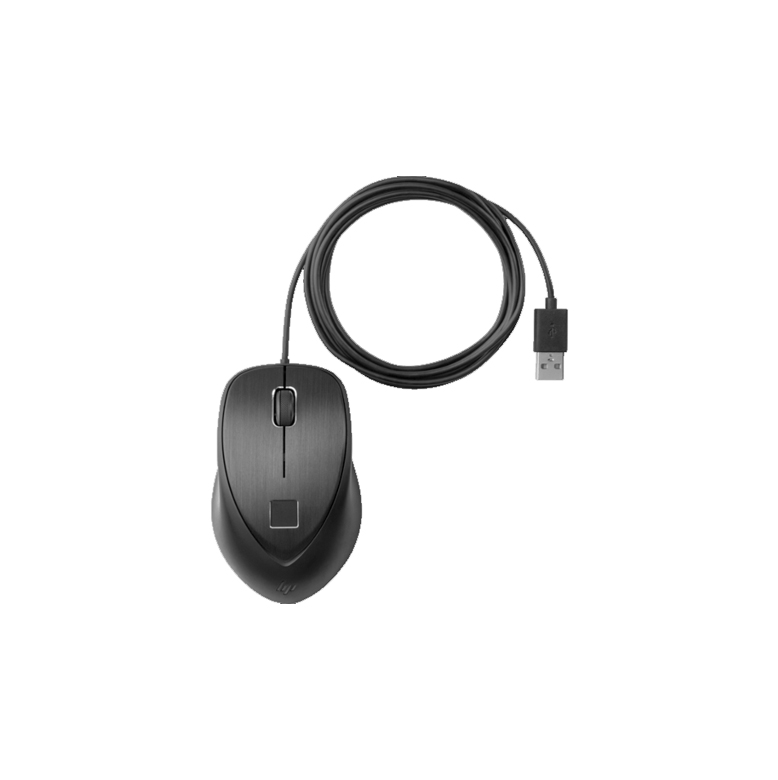 Specifications
| | |
| --- | --- |
| Part number 4TS44AA | Part number 4TS44AA |
| Dots per inch (DPI) Default 1200. Adjustable (800, 1200, 1600) | Dots per inch (DPI) Default 1200. Adjustable (800, 1200, 1600) |
| Connectivity USB | Connectivity USB |
| Tracking type Laser | Tracking type Laser |
| Length 4.21 in (107.02 mm) | Length 4.21 in (107.02 mm) |
| Width 2.63 in (67.02 mm) | Width 2.63 in (67.02 mm) |
| Height 1.52 in (38.70 mm) | Height 1.52 in (38.70 mm) |
| Weight 2.99 oz +/- 0.17 oz (85 g +/- 5 g) with cable 2.11 oz +/- 0.17 oz (60 g +/-5 g) without cable | Weight 2.99 oz +/- 0.17 oz (85 g +/- 5 g) with cable 2.11 oz +/- 0.17 oz (60 g +/-5 g) without cable |
| Cable length 5.9 ft (1.8m) | Cable length 5.9 ft (1.8m) |
| Indicator lights DPI setting | Indicator lights DPI setting |
| Security AES-256 bit security encryption | Security AES-256 bit security encryption |
| Feature summary Easy-to-use touch sensor Secure, encrypted template storage | Feature summary Easy-to-use touch sensor Secure, encrypted template storage |
| Feature summary Easy-to-use touch sensor Secure, encrypted template storage | Feature summary Easy-to-use touch sensor Secure, encrypted template storage |
| Compatibility Windows 10 (TH1, RS1, RS2, RS3, RS4+) | Compatibility Windows 10 (TH1, RS1, RS2, RS3, RS4+) |
| Software driver requirements* HP Fingerprint Mouse Driver | Software driver requirements* HP Fingerprint Mouse Driver |
| Approvals FCC (US), ICES (Canada), FDA, cULus, CE (EU),TUV GS (Germany), EAC (Russia / Belarus / Kazakhstan), Ukraine, Morocco, Serbia, RCM (Australia/New Zealand), KC (Korean), BSMI and RoHS (Taiwan), VCCI (Japan) | Approvals FCC (US), ICES (Canada), FDA, cULus, CE (EU),TUV GS (Germany), EAC (Russia / Belarus / Kazakhstan), Ukraine, Morocco, Serbia, RCM (Australia/New Zealand), KC (Korean), BSMI and RoHS (Taiwan), VCCI (Japan) |
| Kit content HP Fingerprint Mouse and documentation | Kit content HP Fingerprint Mouse and documentation |
| Service and support One-year limited warranty | Service and support One-year limited warranty |
| Country of origin China | Country of origin China |