Hitachi HGST 1W10002 3.5in 2TB SATA 7200RPM 128MB
Delivering highly dependable performance to any storage environment, Ultrastar hard drives are designed for demanding workloads (up to 550TB per year), 10 times the workload rating of desktop drives. Ultrastar drives employ advanced technologies for enterprise-class reliability and power efficiency, to deliver a lower total cost of ownership, so you can safeguard more of your valuable data. The Ultrastar family delivers a long-standing tradition of reliability with an unbeaten 5-year limited warranty. Western Digital is dedicated to providing a complete portfolio of hard drives to create environments for your data to thrive.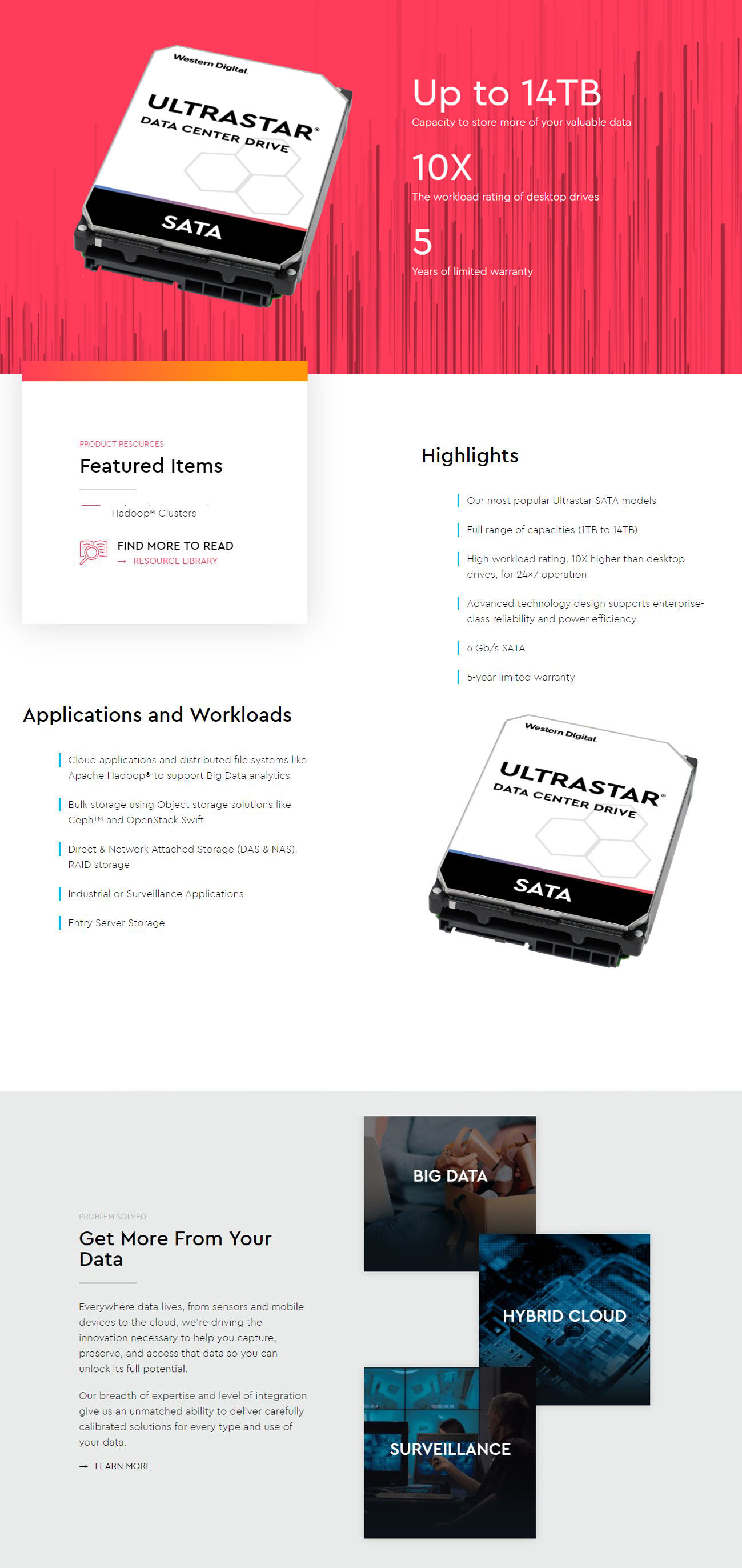 Specifications
SPECIFICATIONS

Format: Sector size (bytes)2: 512e

Interface: SATA 6 Gb/s

Native command queuing: Yes

Form Factor: 3.5-inch

RoHS compliant3: Yes

PERFORMANCE

Sustained data transfer rate4

Buffer to host (max, MB/s): 600 MB/s

Host to/from drive (typical, MB/s): 267 / 255 / 249

Cache (MB): 512 / 256 / 256

Performance class: 7200 RPM

RELIABILITY/DATA INTEGRITY

MTBF (M hours)6: 2,500,000

AFR (%): 0.35

Load/Unload cycles: 600,000

Error rate (non-recoverable bits read): 1 in 1015

Limited Warranty (yrs): 5

POWER MANAGEMENT

Operational7 : 7.6 / 6.9 / 6.8

Idle (W)8 : 5.6 / 5 / 5

Power efficiency index (W/TB, Idle): 0.4 / 0.417 / 0.5

ENVIRONMENTAL SPECIFICATIONS

Shock (Gs)

Operating (half-sine wave, 2ms): 70

Non-operating (half-sine wave, 2ms): 300

Seek (average): 36

Operating: 5° to 60°

Non-operating: -40° to 70°

ACOUSTICS (dBA)

Idle: 20

PHYSICAL DIMENSIONS

Weight (lb/kg, +- 10%): 14TB: 1.52 / 0.69

Height (in/mm, max): 1.028 / 26.1

Length (in/mm, max): 5.787 / 147

Width (in/mm,+- 0.01 in.): 4 / 101.6
Disclosures
1. One gigabyte (GB) is equal to 1,000,000,000 bytes (one billion bytes), and one terabyte (TB) is equal to 1,000GB (one trillion bytes) when referring to storage capacity. Accessible capacity will vary from the stated capacity due to formatting and partitioning of the drive, a computers' operating system, and other factors. 2. 512e: Advanced Format drive with 512-byte logical sectors and 4K (4096-byte) physical sectors; 512n: Native 512-byte logical and physical sectors. 3. Western Digital hard drive products manufactured and sold worldwide after June 8, 2011, meet or exceed Restriction of Hazardous Substances (RoHS) compliance requirements as mandated by the RoHS Directive 2011/65/EU. 4. MB/s is 106 bytes. 5. Portion of buffer capacity used for drive firmware. 6. MTBF and AFR specifications are based on a sample population and are estimated by statistical measurements and acceleration algorithms under typical operating conditions for this drive model. MTBF and AFR ratings do not predict an individual drive's reliability and do not constitute a warranty. 7. 8K Queue Depth = 1 @ 40 IOPS. 8. Idle specification is based on use of Idle_A.