Jabra PRO 9460 DECT Wireless Duo Desk & softphone
PRO 9460 DECT Wireless Mono Desk & softp A wireless headset that enables employees to take calls from their mobile, desk and softphone all with one headset.


Stay in Touch around the office one headset for your desk and softphone.
With Jabra PRO 9460 Duo, office staff can answer calls made to either of their phones, even while away from their desks. This neatly designed device gives you complete control over calls from any phone be it your desk, mobile or softphone. Operating within a 150m range of its touch screen base, a Jabra PRO 9460 Duo headset lets you move freely around the office as you work, staying in touch and in control.
Specially designed for open plan working environments, the Jabra PRO 9460 Duo is fitted with an extended boom for optimum voice pick-up. Jabra PRO 9460 Duo is a two-ear headset that can be worn hooked over the ear, over the head, or behind the neck.
Providing sound for both ears, the Jabra PRO 9460 Duo blocks out background noise, making it possible to handle calls professionally at all times. The Jabra Pro is a world class multi-use solution, enabling your customers to easily connect up to 3 devices (Desk phone, Soft phone, and Bluetooth-enabled devices) from a single headset. Featuring an interactive touch screen display, centralized call management capabilities and system set up are a breeze. Enjoy wireless ranges up to 450 feet to maximize productivity while experiencing amazing sound quality with Jabra's dual microphone Noise Blackout system.
Several state-of-the-art sound technologies enable the Jabra PRO 9460 DUO to deliver unrivalled call clarity and safety. The combination of a flex boom and noise-canceling microphone with advanced Digital Signal Processing mean your voice can always be heard clearly. Wideband quality ensures that the sound you hear is crystal clear, while SafeTone technology protects your hearing.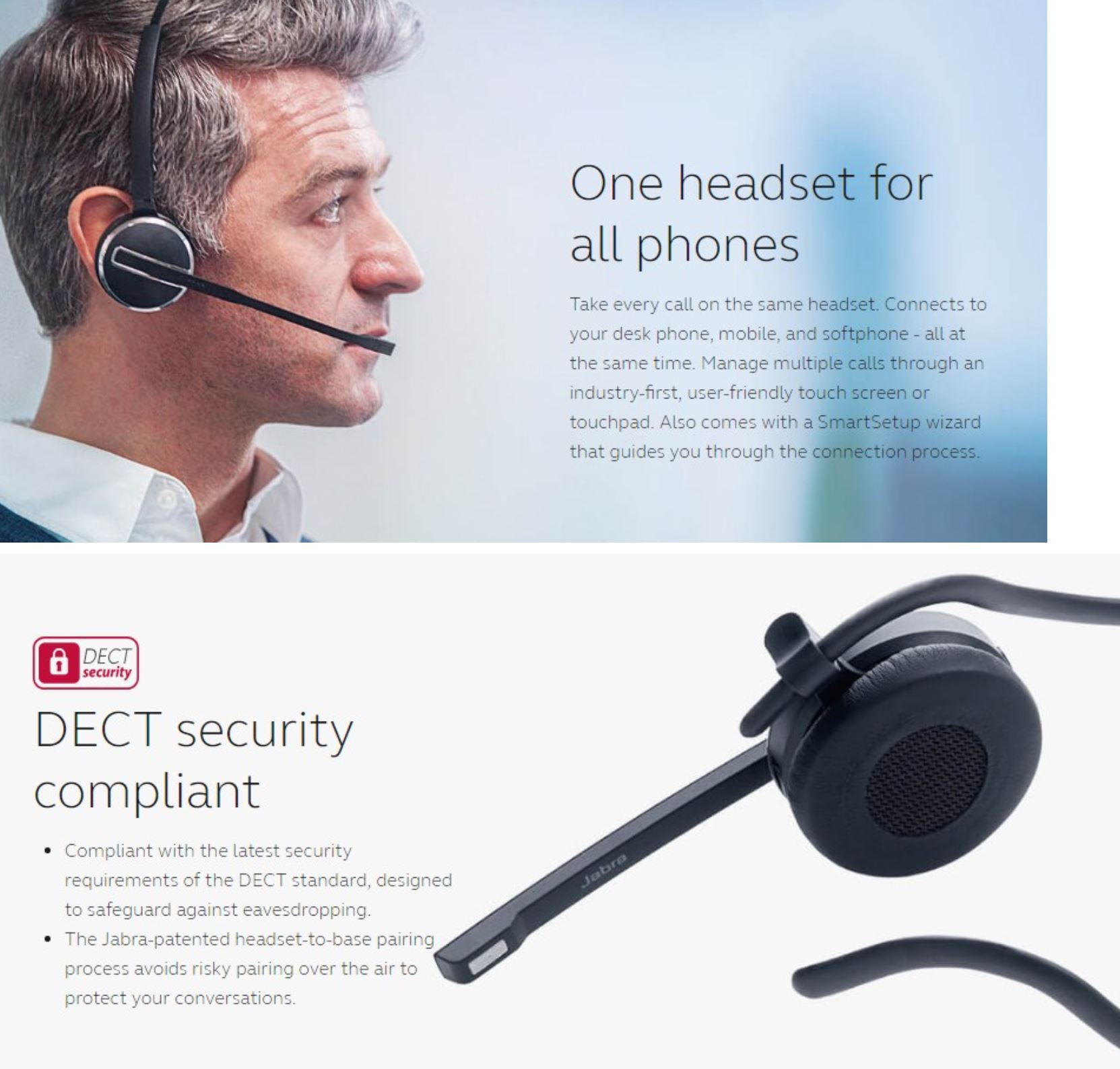 Multiuse connectivity: desk and softphone
Touch screen base with SmartSetup wizard
Noise-canceling microphone and Digital Signal Processing
Wideband sound (150 Hz – 6,800 Hz)
Full hearing protection with Jabra SafeTone
Up to 450 feet wireless range
Minimal energy-consumption with Jabra IntelliPower
Choice of Mononaural (FLEX) or Binaural (DUO) versions
Up to 10 hours talk time
Future proof investment through feature upgrades via Jabra PC Suite. Jabra PC Suite drivers enable remote call control with Jabra wireless headsets and the latest generation of IP softphones, like Skype.

SPECIFICATIONS:

| | |
| --- | --- |
| Main unit dimension | Base: 160 x 94 x 82mm, Headset Flex: 163 x 48 x 18mm, Headset Duo: 165 x 165 x 35mm |
| Weight | Base: 197g Headset Flex: 31g Headset Duo: 70g |
| What's in the box | 1. Warning and declaration 2. Quick start guide 3. Headset 4. Base 5. Charger 6. USB cable 7. Flat cable 8. Earhook (Pro 9460 mono only) |
| Battery included | Yes |
| Charging time | 120 Min |
| AC power supply | Yes |
| Warranty | North America: 1 year limited warranty Europe/APAC: 2 year limited warranty |
| DECT Device | Yes |
| Operating range | Up to 150m/490ft |
| Headset bandwidth | Narrowband and Wideband |
| Connection (mini jack, USB, etc) | Micro USB, mini jack for Busylight, RJ-9 for handset, RJ-9 for desk phone audio, RJ-45 for AUX |
| Talk time | Up to 10 hours |
| Standby time | Up to 38 hours |
| Speaker Size | Mono: 1pcs Ø 28mm x 4.5mm/Duo: 2pcs Ø 23mm x 6.3mm |
| Microphone type | Flex/Duo: Uni-directional |
| Features | Crystal clear sound, remote asset management, HD Voice – wideband audio, remote call control, SafeTone™, PeakStop™, multi-device connectivity including smartphone and tablet-ready (Jabra Pro 9465/9470 only), UC Plug-And-Play, up to 150 meter wireless freedom, DECT Security Variant dependent: Noise BlackoutTM/Noise CancelingTM microphone |
| Software Applications | Jabra Direct - enables Remote Call Control over most softphones/Jabra Xpress™ - remote mass deployment and management of Jabra USB audio devices |