Stay connected to your customers around the office
Take calls from the desk phone directly on the headset.Available in DECT and Bluetooth® versions, with several monoand duo1
variants for both desk phones and softphones.
Enjoy clear sounding calls and user safety
With HD voice, noise-reducing speakers and a noise cancelling microphone, you can hold lifelike, vibrant conversations. Jabra
SafeTone™ enhanced hearing protection technology limits average volume exposure during your working day to keep it within
acoustic standards.
Catch customer calls all day
Walk and talk up to 120 meters/350 feet1 away from your desk for improved collaboration, multi-tasking and productivity. The
Pro 900 delivers a minimum of 8 hours battery life with easy charging via the base unit.
Intuitive design for fast user adoption
This plug and play headset comes with a pre-connected charging base so you can make calls straight away. The lightweight frame,
leatherette ear cushions and adjustable headband and microphone boom ensure the headset is comfortable all day long.
Easy to deploy and manage
The Pro 900 Series is optimized for use with all leading desktop phone systems and Unified Communications platforms. Jabra Direct enables you to get full integration and remote call control with the latest softphones.2
Jabra Xpress enables you to easily configure ll of your company's audio devices from one central point. You can also future proof
your headset investment with ongoing software updates to an infinite number of devices.3
Jabra Pro 900 Series wireless headsets
Stay connected to your customers around the office

Enjoy clear sounding calls

Up to 120 meters range and 8 hours battery time

Our most user friendly professional wireless headset

Easy to deploy and manage

Options for desk phone and soft phone users
FEATURES: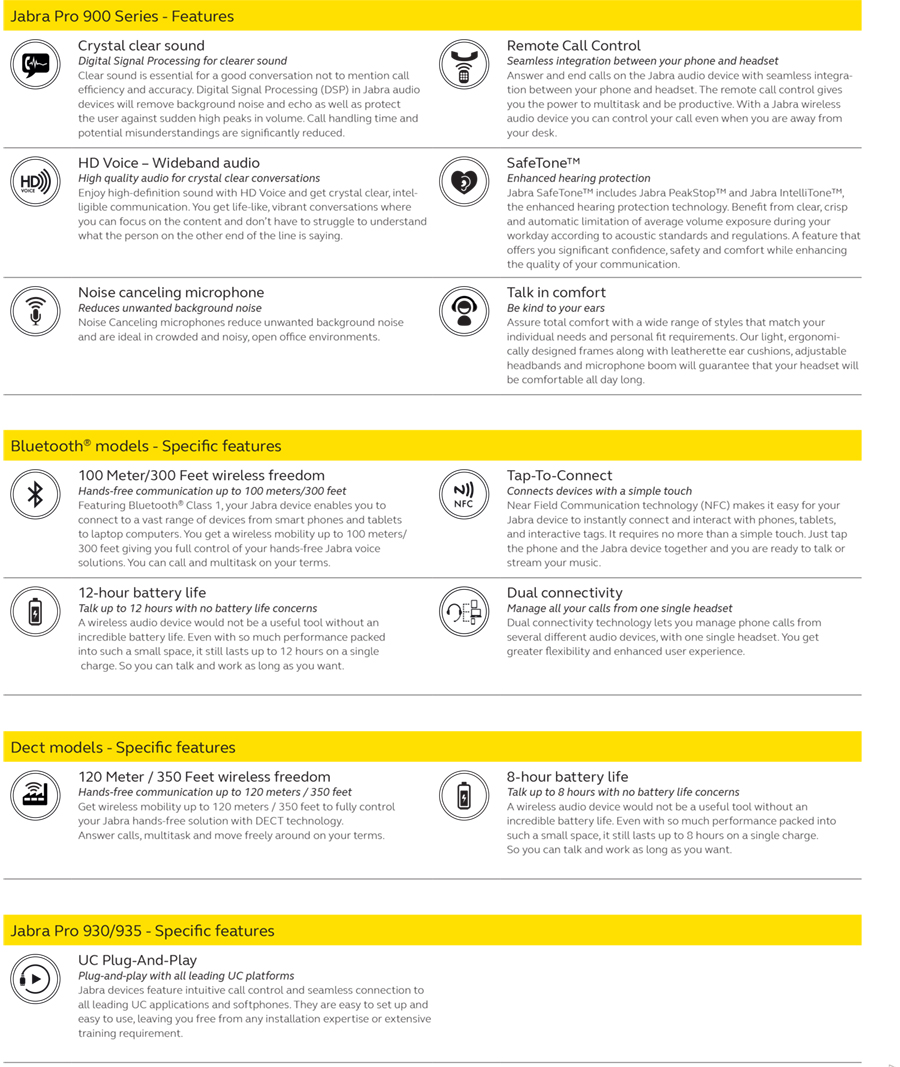 SPECIFICATIONS