Matrox C Series C680 PCIe x16 Six-Output Graphics Card
The Matrox C680 is a single-slot, PCIe® x16 graphics card that drives up to six displays or projectors at resolutions up to 4096 x 2160 per output. The versatile, six-monitor video card can power the latest Ultra HD/4K panels as well as enable 12-monitor configurations when combined with a second Matrox C680 board. The board-to-board framelock feature ensures synchronization of all displays to reduce tearing on digital signage and video walls. With its high reliability, outstanding performance, and advanced multi-monitor capabilities, Matrox C680 delivers the best display density for demanding commercial and critical applications including enterprise, industrial, pro A/V, digital signage, security, control rooms and more.
Drive up to six displays or projectors

Supports a maximum resolution of 4096 x 2160 per output

Experience smooth video playback and graphics performance with 4 GB of memory

Minimize power consumption with an energy efficient board design

Expand your desktop space with multi-board support to drive up to 12 displays from a single computer

Framelock two Matrox C680 cards together and synchronize the refresh rate across all monitors to reduce tearing1

Simplify cabling by daisy-chaining DisplayPort™ 1.2 MST-capable displays2

Customize your setup with the easy-to-use Matrox PowerDesk™ multi-display configuration and desktop management software

Configure displays independently from one another or select stretched desktop mode to create as a single ultra-large desktop across multiple displays

Clone content to show the same information on all displays

Select any combination of portrait or landscape and set the orientation that works best for you

Simplify A/V installations with advanced EDID Management

Prevent loose cabling with secure Mini DisplayPort connectors

Adjust the number of overlapping pixels with Edge Overlap to create a seamless, unified image on up to six edge blending projectors

Facilitate enterprise-wide deployments by installing Matrox PowerDesk & drivers across many systems without any user interaction

Pair C680 with Matrox Mura™ IPX Series for 4K capture and IP encode & decode

Manage video wall layouts, sources and more with the MuraControl™ for Windows® software (sold separately) or the MuraControl for iPad® app

Supports Microsoft® DirectX® 12, OpenGL® 4.4, and OpenCL™ 1.2 to run the latest professional applications

Protect your investment with Matrox long product life-cycles

Compatible with Windows® 10 (32/64), Windows 8.1 (32/64), Windows 7 (32/64), Windows Embedded Standard 7 (32/64), Server 2012 R2 (64), Server 2008 R2 (64), Linux® operating system

Supports Mura Control for Windows and Mura Control for iPad.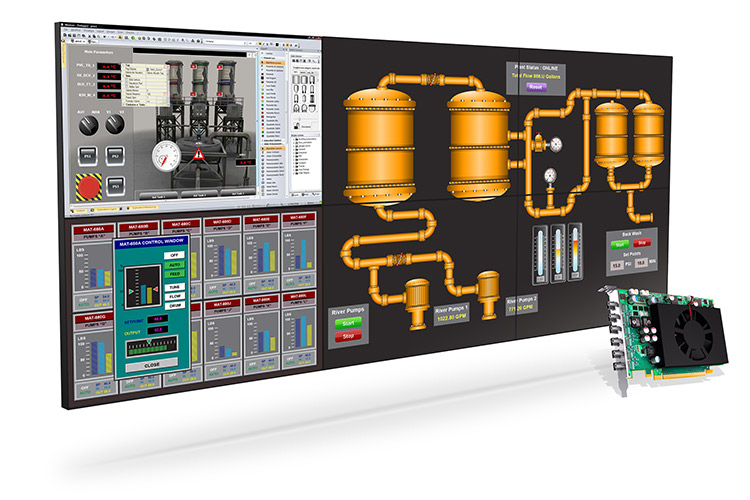 Specifications
Connectivity
Bus Type
PCIe 3.0 x16
Form Factor (Card)
Full Height/Half Length
Bracket (Mounted)
Full height bracket (ATX)
Extra Bracket Included
–
Number of Video Outputs
6
Video Output Connectors
6 x Mini DisplayPort (secure)
Video Output Formats
DisplayPort™ 1.2
Optional Video Output Formats
(Active adapters required
- sold separately)
- DVI Dual Link
- DVI/HDMI® Single Link
Audio Output Formats
- Multi-stream audio through DisplayPort (6 streams)
Performance
Memory
4GB GDDR 5*
GPU
AMD™
Maximum resolution
(per monitor)
4096x2160 @ 30Hz (DisplayPort)
4096x2160 @ 60Hz (DisplayPort, maximum of three)
3840x2160 @ 30Hz (DisplayPort and HDMI)
Cooling
Active
Yes
Additional Features
HDCP Compliance
Yes
Board-to-Board Framelock1
Yes
DisplayPort 1.2 Multi-Stream Transport (MST)2
Yes
Supported Graphic Standards
- OpenGL® 4.4
- DirectX® 12
- OpenCL™ 1.2
PowerDesk Software
Yes
Independent Desktop Mode
Yes
Stretched Desktop Mode
Yes
Clone Mode
Yes
Pivot Mode
Yes
Physical/Environmental
Dimensions
Length: 16.76 cm (6.6")
Height: 10.27 cm (4.05")
ROHS/WEEE Compliant
Yes
EMC Certification
Class B
Requirements
System Requirements
- Single available PCIe x16 lane
- Minimum 4GB RAM (for 1 card), 12GB RAM (for 2 cards)
- Internet access for software installation
- Compatible operating system
Supported Operating Systems3
- Windows® 10 32-bit
- Windows 10 64-bit
- Windows 8.1 32-bit
- Windows 8.1 64-bit
- Windows 7 32-bit
- Windows 7 64-bit
- Windows Embedded Standard 7 32-bit
- Windows Embedded Standard 7 64-bit
- Windows Server® 2012 R2 64-bit
- Windows Server 2008 R2 64-bit
- Linux®
General
Part number
C680-E4GBF*
Warranty
3 years
What's in the box?
- Matrox C680 board
- Quick-start guide
- Display drivers and Matrox PowerDesk desktop management software available for download from Matrox website
Accessories (Sold Separately)
Mini DisplayPort to DisplayPort Adapter Cable
CAB-MDP-DPF
Board-to-Board Framelock Cable
CAB-FL-F
Secure Cable Solution
—
DisplayPort Secure Cable Solution
SK-SLNB-4F
* C680-E2GBF model features 2GB of memory.
1 Available only under Microsoft Windows operating systems. Requires framelock cable (CAB-FL-F), sold separately.
2 Requires DisplayPort 1.2 MST-capable monitor or hubs—the number of displays that can be daisy-chained depends on the resolution, timings and refresh rate of the connected monitors.
3 Mainstream support for 32-bit Windows operating systems has ended, Matrox will provide limited support for 32-bit operating systems.