DARING

Designed not for the faint of heart, the Noctis appeals to those who yearn for great challenges and face countless battles. It speaks to the battle-hardened gamer and prepares them for their next encounter.

STUNNING

Taking in inspirations from simple yet elegant curvatures featured in streamline designs and bringing them into the modern chassis, the Noctis emanates confidence like no
other case in the market.

FUTURISTIC

Just arrived from the future, the chassis features futureproofed internals and takes on forms inspired by
conceptual external designs. The Noctis mid tower is poised to take your rig to the next level.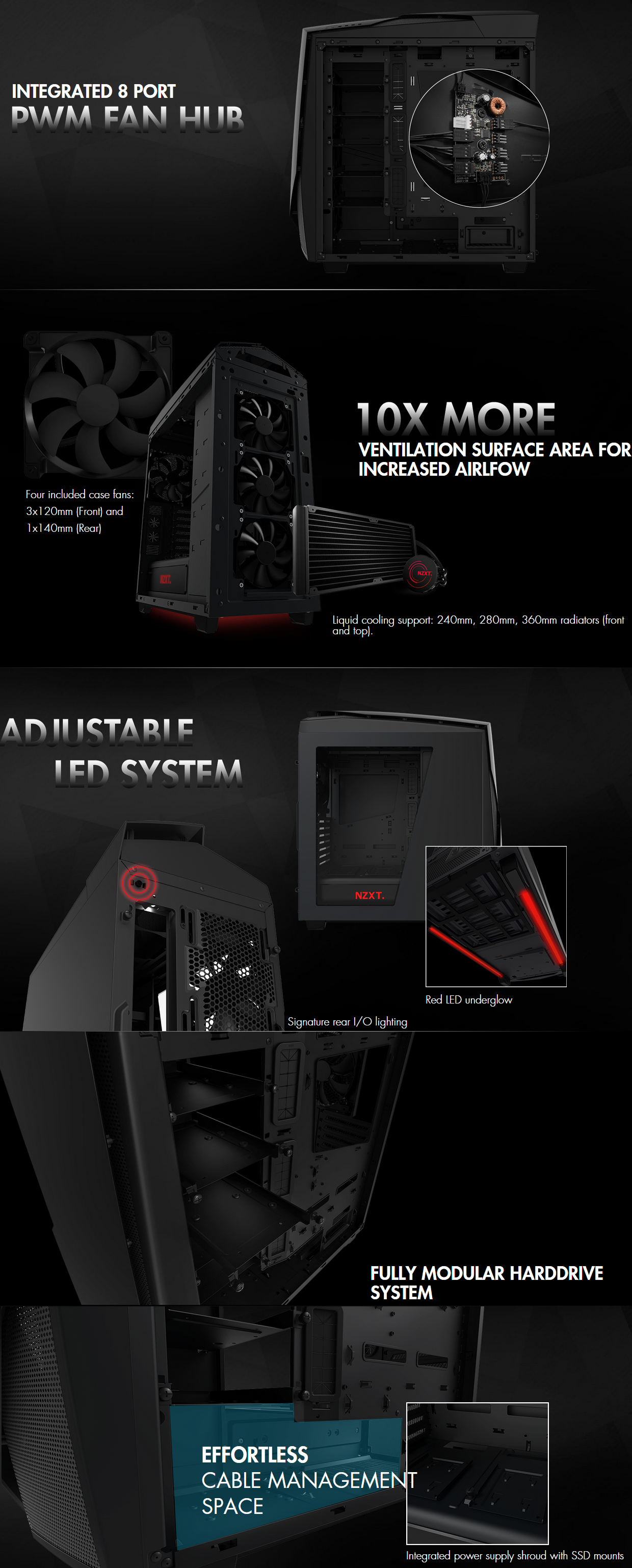 Model Number
CA-N450W-M1 (Black)
CA-N450W-W1 (Glossy White)
Drive Bays
External 5.25": 0
Internal 3.5"/2.5": 6+2
Cooling System
Front: 2x 140/3x120mm (3 x 120mm FN V2 Fans Included)
Top: 2x 140/3x120mm
Rear: 1x 140/120mm (1 x 140mm FN V2 Fan Included)
Filters
Front 2 x 140 or 3 x 120mm
Top 2 x 140 or 3 x 120mm
Rear 1 x 140/120mm
Clearance
GPU Clearance with HDD Cage: 294mm
GPU Clearance without HDD Cage: 406.2mm
CPU Cooler: 180mm
Cable Management Lowest Point - 17.7mm; Highest Point: 32.5mm
Dimensions
220mm x 567mm x 544mm
Material
SECC Steel, ABS Plastic
Motherboard Support
Mini-ITX, microATX, ATX
Expansion Slots
7
External Electronics
1 x Audio/Mic
I/O Panel and Lighting System LED On/Off
Fan Model
FN V2 140 (Case Version)
Speed: 1,000 RPM
Airflow: 50 CFM
Noise: 21 dBA
FN V2 120 (Case Version)
Speed: 1,200 RPM
Airflow: 45 CFM
Noise: 21 dBA
Product Weight
9.5 kg
USB 3.0 Ports
2
USB 2.0 Ports
2
Warranty
2 Years
* Specifications are subject to change without notice.
* Specifications may vary.
* The product picture(s) is only for your reference, it may differ from the actual product.