Noctua NH-U14S DX-3647 Workstation/ Server CPU Cooler
Noctua's DX line CPU coolers have become a default choice in premium grade quiet cooling solutions for Intel Xeon processors. The NH-U14S DX-3647 features a larger, custom-designed contact surface and supports both square and narrow type LGA3647 platforms. Based on the proven, 140mm size NH-U14S heatsink and equipped with Noctua's award-winning, PWM controlled NF-A15 140mm fan, it combines maximum performance and superb acoustics. Topped off with the professional SecuFirm2™ mounting system and pre-applied NT-H1 thermal compound, the NH-U14S DX-3647 forms a complete premium quality package for quietly cooling LGA3647 based Xeon workstations and servers.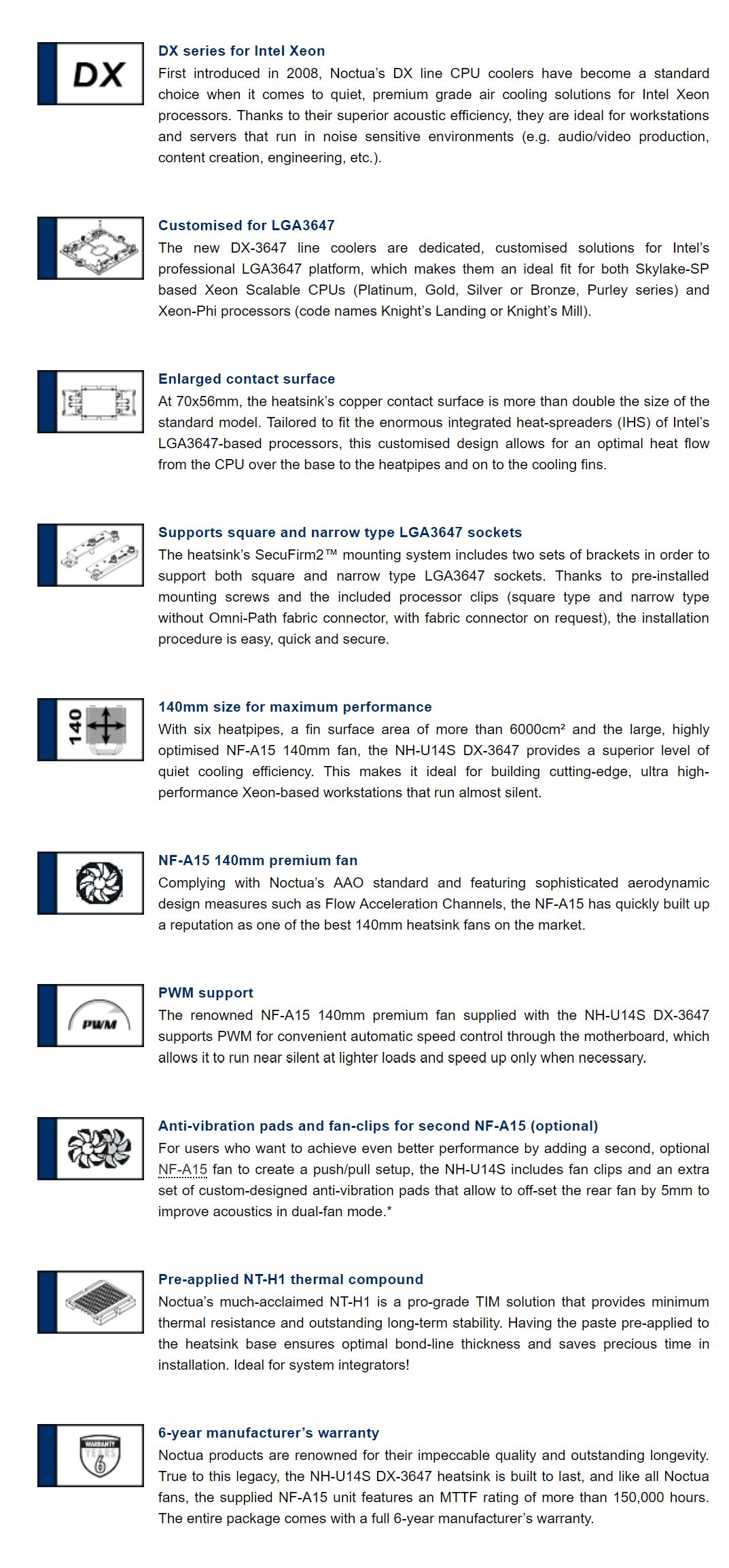 Specifications

COOLER SPECIFICATION

Socket compatibility: Intel Xeon LGA3647

Height (without fan): 165 mm

Width (without fan): 150 mm

Depth (without fan): 52 mm

Weight (without fan): 797 g

Height (with fan): 165 mm

Width (with fan): 150 mm

Depth (with fan): 78 mm

Weight (with fan): 957 g

Material Copper: (base and heat-pipes), aluminium (cooling fins), soldered joints & nickel plating

Max. TDP see TDP guide

Fan compatibility: 140x150x25 (with 120mm mounting holes), 140x140x25 (with 120mm mounting holes), 120x120x25

Scope of delivery:

· NF-A15 PWM premium fan

· NT-H1 high-grade thermal compound (pre-applied)

· SecuFirm2™ mounting kit for LGA364

· Anti-vibration pads and fan-clips for second NF-A15 (optional)

· Noctua metal case-badge

Warranty: 6 Years






FAN SPECIFICATION

Model: Noctua NF-A15 PWM

Bearing: SSO2

Max. rotational speed (+/- 10%): 1500 RPM

Min. rotational speed (PWM, +/-20%): 300 RPM

Max. airflow: 140,2 m/h

Max. acoustical noise: 24,6 dB(A)

Input power: 1,56 W

Voltage range: 12 V

MTTF: > 150.000 h

GENERAL

Please note that the NH-U14S DX-3647 is a dedicated version for the Intel LGA3647 socket. Due to its customised larger base, it cannot be used on any other sockets and is incompatible with Noctua's standard mounting kits.