The Streamer For: 4K Entertainment, Max Performance, GEFORCE Gaming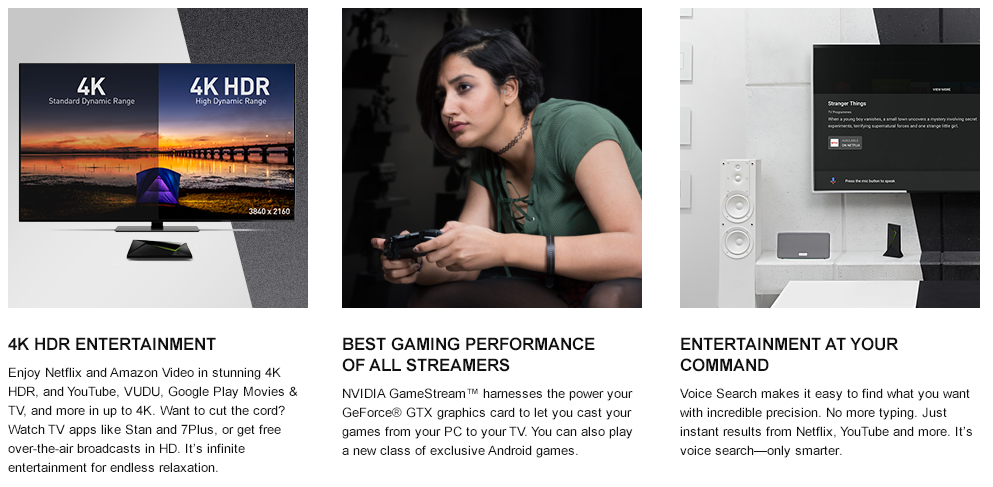 NVIDIA SHIELD TV is the world's most advanced streamer, offering the best in entertainment and the perfect fit for your Google-connected lifestyle. Ask your Google Assistant to play your favorite shows in up to 4K HDR, share your photos, stream the latest songs, display your calendar, dim the lights, and so much more. All with the power of your voice. With SHIELD, it's more than TV. It's your life-smarter and more connected.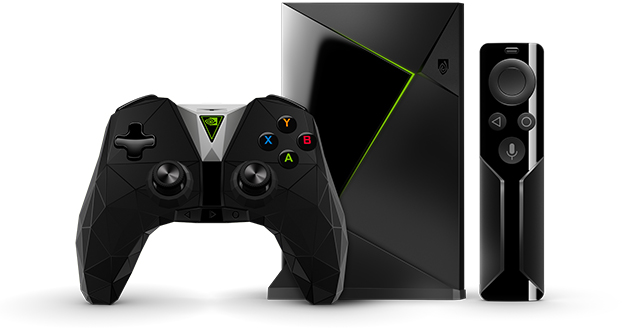 Entertainment

Get all the movies, TV shows, music, and games you'll ever need. The smoothest 4K HDR video. The only platform with voice search and 360-degree viewing in YouTube. Exclusive NVIDIA-powered gaming, on demand from the cloud or cast from your PC to your TV. Want to cut the cord? Watch live TV and sports with apps like Sling TV and PlayStation Vue, or get free over-the-air broadcasts in HD. And now, Google's revolutionary voice search lets you easily find entertainment and price-compare across your favorite apps.
Smart Home

AI transforms your TV experience. Your Google Assistant is now optimized for TV. With your Google Assistant on SHIELD, you will be able to search for new shows and movies, launch apps, use "pause" and "play" controls, view your Google Photos collection in up to 4K, order pizza, go shopping, and much more-all with just your voice. You can even see your Nest camera feeds on TV or command your home, lights, speakers, thermostats, and more.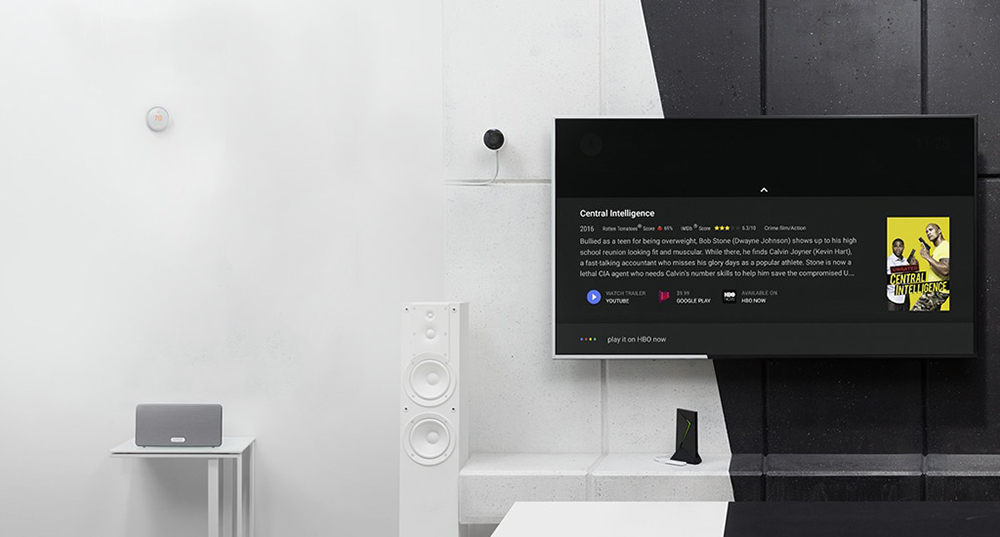 Instantly Play On-Demand Computer Games
Pascal GPUs in the cloud are designed to power fast gameplay. Using GeForce NOW, you can enjoy single- and multiplayer gaming and access online leaderboards from anywhere there's a SHIELD.
4K HDR Game and Video Streaming

Stream your games library from a GTX-equipped computer to your display in up to 4K HDR with NVIDIA Gamestream. You can also enjoy 4K HDR or high-definition 1080p from thousands of apps, including Netflix, Amazon Video, YouTube, Hulu, HBO, ESPN, VUDU, Showtime, Pandora, Spotify, Sling TV, PlayStation Vue, Plex, Kodi, and more.
NVIDIA GameStream

NVIDIA GameStream harnesses the power of your GeForce GTX graphics card to let you cast your games from your computer to your display. If you don't have the GeForce GTX graphics card, you can stream computer games from the cloud with GeForce NOW, which also provides access to exclusive Android games.
SHIELD Controller Features

- Mic for voice search via the Google Assistant
- Hands-free voice support (via future firmware update)
- Headset jack for private listening
- Dual vibration feedback
- IR blaster for TV volume & power control
- 60+ hour gaming battery life
SHIELD Remote Features

- Mic for voice search
- IR blaster for TV volume & power control
Google Assistant Support

Google Assistant is a digital ecosystem that enables you to interact and control compatible devices simply by using your voice. Additionally, app control lets you use your smartphone to access functions on the go.
Included Apps

- NVIDIA Games
- Netflix
- Amazon Video
- YouTube
- Google Play Store
- Google Play Movies & TV
- Google Play Music
- VUDU
- PLEX
- Photos and Videos