Panasonic VZ585N - Install, 3LCD, 5000 Lumens, WUXGA, 2x HDMI/2x VGA/V
Get the best of both worlds in a projector that works brilliantly as a high-brightness portable for large boardrooms, meeting spaces, and classrooms, or as an easily managed ceiling installation solution thanks to single-cable DIGITAL LINK*. However it's used, there's full wireless* media casting support so everybody can serve punchy, pin-sharp pictures in well-lit spaces.

・ Direct Power Off
・ Built-in Speaker
・ ECO Management Function
・ Whiteboard and Blackboard Modes
・ Emulation Mode
・ Multi Monitoring & Control Software
・ Crestron Connected™, AMX DD, and PJLink™ Compatible
・ Auto Input Signal Search
・ Early Warning Software ET-SWA100 Series (Optional)
・ Startup Logo Function
・ Presentation Support Function
・ Audio Standby Mode
・ Digital Zoom Function
・ Anti-theft Features
・ Built-in Closed Caption Decoder
Correct slight color variations in the reproduction range of individual units set up for multi-projection. This is particularly useful for side-by-side configurations delivering ultra-wide-screen pictures. Very large images can be seamlessly presented in auditoriums and boardrooms.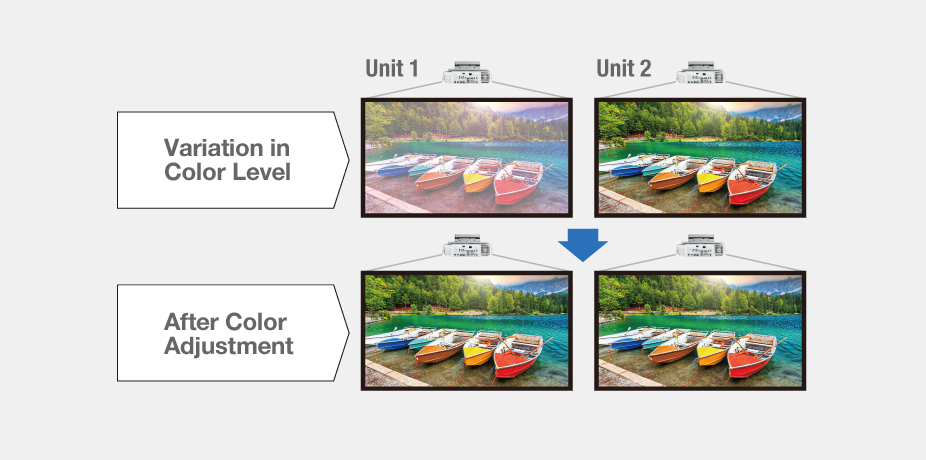 Panasonic technology assures sharp and comfortably viewed images even with the blinds open by enhancing fine details (particularly in dark areas of the image) that are normally difficult to see in bright rooms. A built-in sensor measures ambient light while Daylight View Basic adjusts halftone color and brightness to suit ambient illumination*.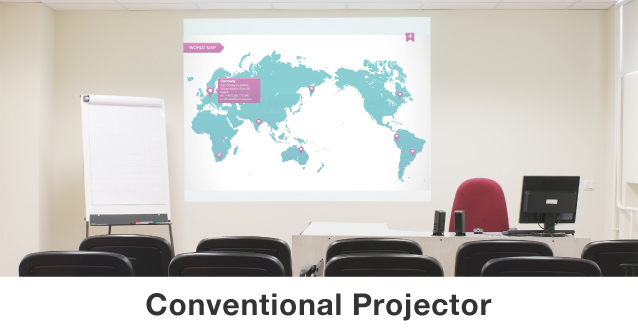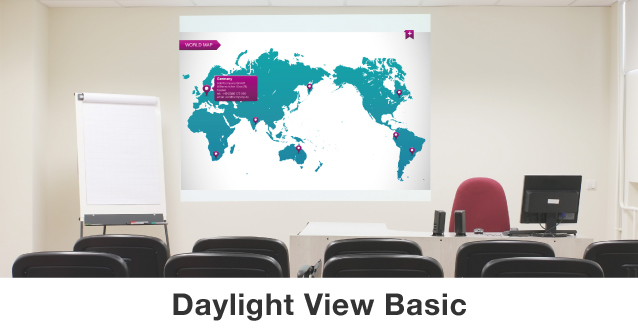 * With Daylight View Basic set to AUTO mode.
Specifications
POWER SUPPLY

AC 120 V, 50/60 Hz (North America), AC 110 V, 60 Hz (Taiwan), AC 100−240 V, 50/60 Hz (other countries)

POWER CONSUMPTION

400 W [North America], 410 W [other countries]

STANDBY MODE (ECO) 1

0.3 W [North America, Taiwan], 0.5 W [other countries]

STANDBY MODE (NORMAL)

14 W

PANEL SIZE

0.64 inches (1.63 cm) (16:10 aspect ratio)

DISPLAY METHOD

Transparent LCD panel (× 3, R/G/B)

PIXELS

2,304,000 (1920 × 1200) × 3, total of 6,912,000 pixels

LENS

1.6x manual zoom (throw ratio: 1.09–1.77:1), manual focus F 1.60–2.12, f 15.30–24.64 mm

LAMP

280 W UHM lamp × 1

SCREEN SIZE (DIAGONAL)

30−300 inches

BRIGHTNESS2

5,000 lm (input signal: PC, lamp power: Normal, picture mode: Dynamic, Daylight View: OFF, Auto Power Save: OFF)

CONTRAST2

16,000:1 (all white/all black) (input signal: PC, lamp power: Normal, picture mode: Dynamic, Iris: On, Daylight View: OFF, Auto Power Save: OFF)

RESOLUTION

1920 x 1200 pixels

SUPPORTED RGB SIGNAL

XGA–WUXGA

SUPPORTED VIDEO SIGNAL

NTSC/PAL/SECAM, 480p/i, 720p, 1080p/i

OPTICAL AXIS SHIFT (FROM CENTER OF SCREEN): VERTICAL

0 ‒ +44 % (manual)

U/D ratio 17:1 (when on top end)

KEYSTONE CORRECTION RANGE

Vertical: maximum ±25° (auto/manual, input: WUXGA),

Horizontal: maximum ±30° (manual, input: WUXGA)

INSTALLATION

Front ceiling / Front desk / Rear ceiling / Rear desk

BUILT IN SPEAKER

4.0 cm (1 1/16″ ) round shape × 1, output power: 10 W (monaural)

OPERATION NOISE2

37 dB (lamp power: Normal), 35 dB (lamp power: ECO1), 29 dB (lamp power: ECO2)

CABINET MATERIALS

Molded plastic

DIMENSIONS (W x H x D)

389 × 125*4 × 332 mm (15 5/16″ × 4 29/32″ *4 × 13 1/16″ )

WEIGHT3

Approximately 4.9 kg (10.8 lbs)

OPERATING ENVIRONMENT

Operating temperature: 0−40 °C (32−104 °F)*5 (altitude: less than 1,200 m [3,937 ft]),

0−30 °C (32−86 °F) (altitude: 1,200−2,700 m [3,937−8,858 ft] ), Operating humidity: 20−80 % (no condensation)

SUPPLIED ACCESSORIES

Wireless remote control unit × 1, Power cord with power cord holder × 1 (× 2 for UK and Asia),

Software CD-ROM × 1 (Operating instructions, Multi Monitoring and Control Software, Logo Transfer Software,

Wireless Manager ME software), Batteries (AAA type × 2), RGB cable × 1, Lens cap × 1

BUILT IN WIRELESS LAN

Standard: 2.4 GHz: IEEE802.11b/g/n, 5.0 GHz: IEEE802.11a/n Infrastructure Mode: WPA-PSK (TKIP/AES),

WPA2-PSK (TKIP/AES), 128-bit/64-bit WEP, WPA-EAP/WPA2-EAP

(PEAP [MS-CHAPv2/GTC]/EAP-FAST [MS-CHAPv2/GTC]/EAP-TTLS [MD5/MS-CHAPv2], 128-bit/64-bit), Miracast
*1 When the Standby Mode is set to ECO, network functions such as Power On via LAN will not operate. Also, only certain commands can be received for external control using the serial terminal.
*2 Measurement, measuring conditions, and method of notation all comply with ISO 21118 international standards.
*3 Average value. May differ depending on the actual unit.
*4 With legs at shortest position.
*5 When operating temperature is between 35 °C (95 °F) and 40 °C (104 °F) , lamp power automatically switches to ECO in order to protect the projector.