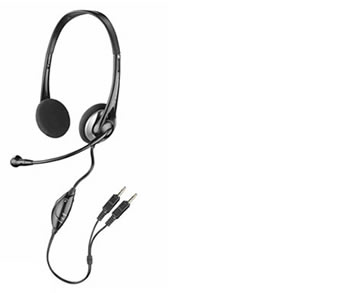 Plantronics Audio 326 Analogue  Headset with Noise cancel Details:



Have it all - the Plantronics .Audio 326 delivers excellent audio quality for Skype, Windows Live, or Yahoo Messenger Internet calling. An adjustable boom brings the microphone close to your mouth, so your callers can hear and understand you clearly during conversations. Advanced noise-cancelling features in the microphone reduce background noise so your callers only hear you. When you?re listening to music, Podcasts, or DVDs, pillow-soft ear cushions focus full-range stereo sound for maximum enjoyment, while convenient in-line controls put music volume, microphone volume, and mute features at your fingertips. Lightweight and flexible, this headset is comfortable for hours of use.



Product Features:

• Watch video, listen to music, or stream in a Podcast in full-range stereo.
• Noise-cancelling microphone boosts speech clarity
• Convenient in-line controls let you adjust music volume and microphone volume, or mute the microphone with just a touch.
• Lightweight and flexible, the headset is comfortable for hours.
• Pillow-soft, swivel-mounted ear cushions focus stereo sound for maximum enjoyment.
• An adjustable boom lets you bring the microphone close for conversation. Rotate it out of the way when listening to music or watching DVDs


For more information please check the manufacturer's website.