Powershield UPS Commander 1000VA / 700W Line Interactive Pure Sine Wave Tower UPS with AVR
Designed to ensure clean power and reliable operation of all kinds of IT devices in the network system. The Commander protects your equipment against power failures, power sags, power surges, under voltage and over voltage that can harm your equipment or result in corrupted data. The pure sine wave output on battery backup is best for server and motor applications.
• Pure Sine Wave
• Highest surge rating - 1558 Joules / 40000 Amps of surge protection
• Works for gates, camera surveillance, computers, telephone systems, servers, and other sensitive electronic equipment
• Intelligent Real Time Battery backup display
• Smart 5% AVR with 2 step buck and boost
• Pure sine wave line interactive
• Intelligent double stage charger control which translates to a faster recharge rate
• Generator compatible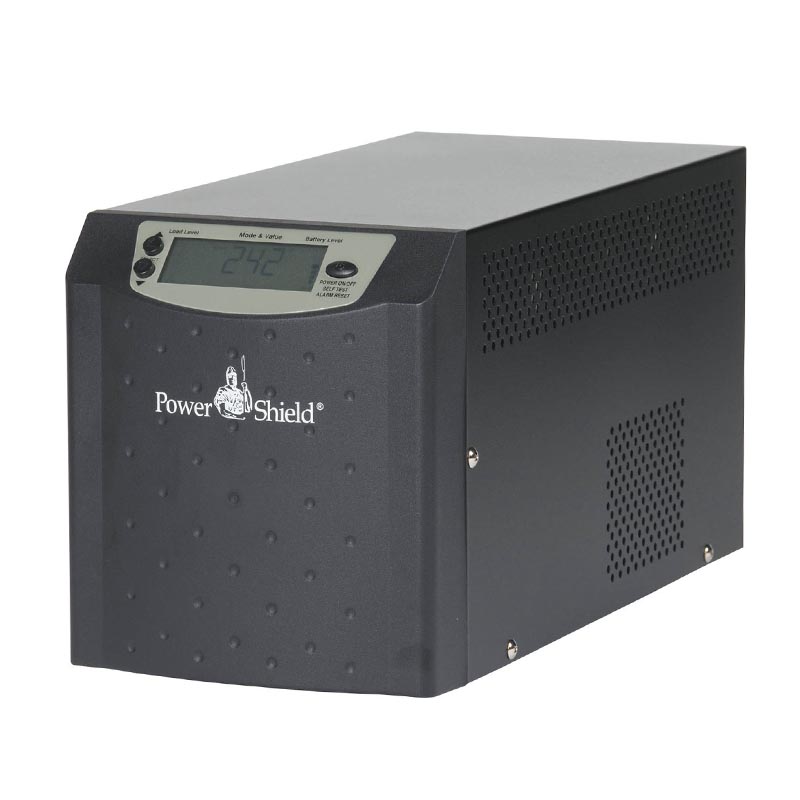 Specifications
CAPACITY

1000VA/700W

TOPOLOGY

Line Interactive , Pure Sine Wave

INPUT

INPUT VOLTAGE RANGE

180 - 300Vac

FREQUENCY

47Hz - 65Hz, 50/60Hz Auto-sensing

OUTPUT

OUTPUT VOLTAGE

240 ± 5% (2 step buck and boost)

OUTPUT VOLTAGE REGULATION

Nominal Voltage ± 5%

OUTPUT VOLTAGE SELECTABLE

200Vac or 220Vac or 230Vac or 240Vac

FREQUENCY

47 - 55Hz for 50Hz nominal, 56Hz - 65Hz for 60Hz nominal or (battery mode 50Hz ± 1%)

WAVE FORM - AC MODE

Pure Sine Wave

WAVE FORM - BATTERY MODE

Pure Sine Wave

TRANSFER TIME

<6ms

LOAD CREST FACTOR

3:1

AUSTRALIAN SOCKETS

2

10AMP IEC OUTLETS




3




BATTERY TYPE

Sealed maintenance free lead acid batteries (12V/7.2AH)




NUMBER OF BATTERIES

2

CHARGER

Smart CPU controls over current, over voltage, thermal protection and battery condition

RECHARGE TIME

Less than 3 hours to 90% (smart two mode pulse charging)

TYPICAL BACKUP

Half load 14 minutes, full load 5 minutes

INPUT SURGE PROTECTION

1581Joules/40,000Amps

SHORT CIRCUIT

AC Fuse

TELEPHONE / MODEM / LAN

RJ45, Full time telephone, modem or LAN protection. C-tick, A-tick

INTERFACE

USB & RS232 as Standard, Intelligent slot for optionalSNMP or AS400 dry contact

SOFTWARE

® PowerShield UPSilon 2000 compatible with Windows, Linux, Novell & Unix

LCD DISPLAY

Sophisticated LCD - input voltage, output voltage, frequency, load, battery status, smart remaining backup time

AUDIBLE ALARM

Alarm - on battery, overload, short circuit, over temperature, faulty battery, abnormal operation

DIMENSIONS (D X W X H)

(380 x 200 x 180)mm

WEIGHT (NET/GROSS)




(15kg/16kg)

TEMPERATURE

0-40° C

HUMIDITY

0 - 95% (RH Non-condesing)

NOISE LEVEL




Less than 40dBA @ 1Meter

SAFETY

EN 50091-1-1

EMC

Class B, EN 50091 -2, FCC part 15, IEC1000-2-2, C-tick ( Full time EMI-RFI filtering)

ROHS

Directive 2011/65/EU



* Specifications are subject to change without prior notice.