INTRODUCTION
The Razer Leviathan 5.1 Channel Surround Sound Bar easily fits under any desktop monitor or living room console setup. Versatile enough to be repositioned constantly in any situation, this sound bar features cutting-edge Dolby® technology, superior sound drivers, and a dedicated subwoofer, projecting rich sounds that recreate epic in-game battle scenes or just streaming your favorite tunes from your smartphone.

IMMERSIVE 5.1 CHANNEL SURROUND SOUND FOR GAMING AND MOVIES
Enjoy a rich, full-range 5.1 true-to-life surround sound experience with the Razer Leviathan, powered by the award winning Dolby® Virtual Speakers. No matter your source type (stereo or multi-channel audio via optical input), Dolby® Digital will convert audio from your sound card, console or set-top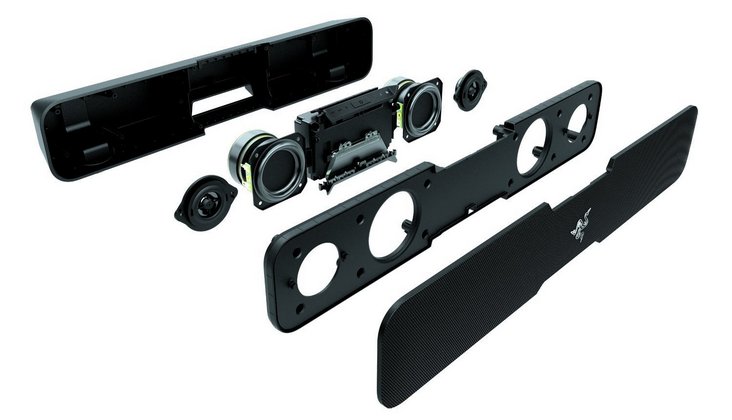 The Razer Leviathan Sound Bar features 4 finely tuned drivers that are optimized for surround sound gaming.
BLUETOOTH V4.0 APTX® FOR WIRELESS MUSIC STREAMING
The Razer Leviathan seamlessly connects to your Bluetooth devices via Bluetooth v4.0 with the award winning aptX® technology for audio quality indistinguishable from a wired connection with an impressive dynamic range. With a connecting range of up to 10 meters, you can enjoy your music without the hassle of wires. The Razer Leviathan also remembers your recently paired devices, allowing you to quickly connect with a single tap. The built in NFC technology allows for ultra-fast pairing.
DEDICATED SUBWOOFER FOR DEEP IMMERSIVE BASS
With a powerful 5.25" downward firing subwoofer dedicated specifically for the accurate reproduction of bass, and tuned to produce distortion-free lower frequencies, the Razer Leviathan is made to deliver chest-thumping, deep impact bass. Synergizing with 2 perfectly tuned full ranged drivers and 2 tweeters in the sound bar, the Razer Leviathan lets you experience the entire spectrum of sound by providing crystal clear mids and impressive highs.
POWERED BY DOLBY® TECHNOLOGY
Dolby® Virtual Speaker is the technology that enables the Razer Leviathan to deliver 5.1 virtual surround sound via its two speakers by converting stereo and digital 5.1 channel audio into 5.1 virtual surround sound. More info here.
Dolby® Digital (AC-3) is used to decode analog sound (5.1 or stereo) from an optical source and convert it into digital information allowing Dolby Virtual Speaker to reconvert this digital information into virtual surround. 5.1-channel Dolby Digital provides two surround channels to Dolby Surround™s one for more precise localization of sounds. More info here.
Dolby® Pro Logic® II expands stereo content from all sources (Analog, Optical, Bluetooth) into 5.1 channel surround sound. After being expanded into 5.1 channel surround, Dolby Virtual Speaker will convert the expanded stereo files into virtual surround sound. More info here.
Features
Space saving design for versatility
Adjustable tilt angles (0°,15°,18°) for optimal sound
3 preset equalizer modes tuned for gaming, music and movies
Sound bar specs
Total power output : 30W (15W x 2RMS)
Full range drivers : 2 x 2.5" / 63.5mm
Tweeter drivers : 2 x 0.74" / 19 mm
Impedance : 8©
Frequency response rate : 180Hz - 20KHz
Approximate weight : 4.4lbs / 2Kg
Subwoofer specs
Type : Passive
Total power output : 30W RMS
Full range drivers : 5.25" / 133mm
Impedance : 4©
Frequency response rate : 20Hz - 180Hz
Approximate weight : 5.1lbs / 2.35Kg
Connection methods
Console/desktop gaming : 3.5mm audio jack or optical connection
Movies : 3.5mm audio jack or optical connection
Mobile : 3.5mm audio jack or Bluetooth®/ NFC
* Specifications are subject to change without notice.
* Specifications may vary.
* The product picture(s) is only for your reference, it may differ from the actual product.