Seagate Exos X10 HDD 512E SATA 3.5" 10TB 7200RPM 256MB Cache No Encryption 5yrs
For everything hyperscale, there's Exos™ X — the most powerful way to access the datasphere and harness the full potential of the Cloud. Exos X12 and Exos X10 enterprise hard drives integrate the latest technology in support of a scalable, secure and reliable cloud data centre.* Specifically designed to work in highly scalable environments requiring low power consumption and weight, Exos X series hard drives perform consistently while scaling to meet the stringent TCO requirements of most cloud-based data centres.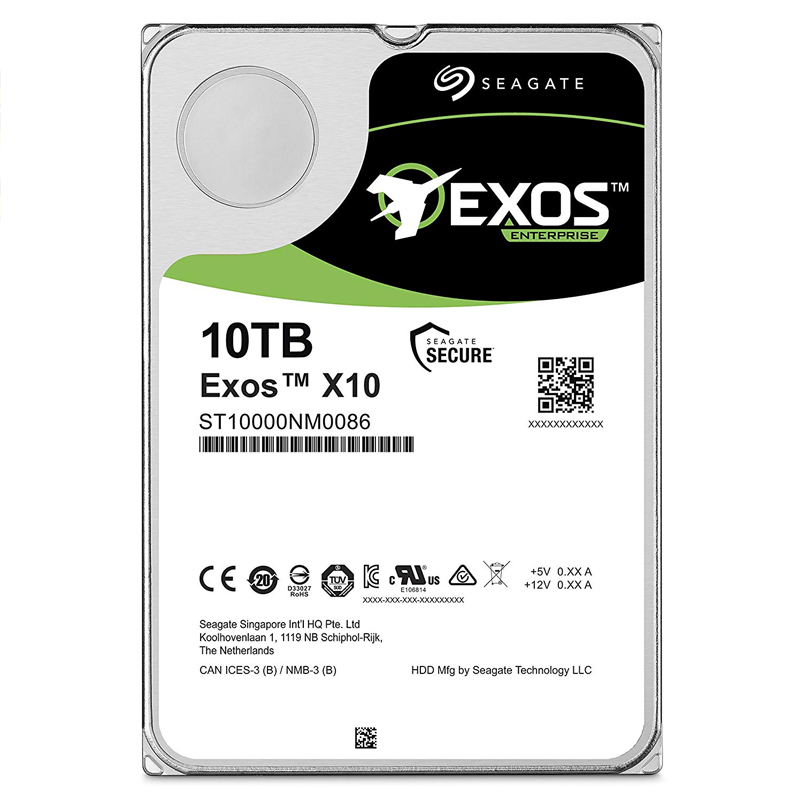 Specifications
GENERAL

Capacity 10TB

Hyperscale Model (512e) ST10000NM0016

Generation V.6

SPECIAL FEATURES

Multi-Step Forged Helium Sealed-Drive Design Yes

Superior Wide-Weld Hermetically Sealed-Drive Enclosure Yes

Digital Sensors for Humidity, Helium Pressure and Temperature Yes

Protection Information (T10 DIF) —

SuperParity Yes

Low Halogen Yes

PowerChoice™ Idle Power Technology Yes

PowerChoice™ Power/Performance Technology Yes

RAID Rebuild Yes

Hot-Plug Support1 Yes

Cache, Multisegmented (MB) 256

Organic Solderability Preservative Yes

RELIABILITY/DATA INTEGRITY

Mean Time Between Failures (MTBF, hours) 2.5 Million

Reliability Rating @ Full 24×7 Operation (AFR) 0.35%

Nonrecoverable Read Errors per Bits Read, Max 1 sector per 10E15

Power-On Hours 8760

512e Sector Size (Bytes per Sector) 512

4Kn Sector Size (Bytes per Sector) 4096

Warranty, Limited (years) 5

PERFORMANCE

Spin Speed 7200RPM

Interface Access Speed (Gb/s) 6.0, 3.0, 1.5

Max. Sustained Transfer Rate OD (MB/s, MiB/s) 254, 243

Average Latency (ms) 4.16

Interface Ports Single

Rotational Vibration @ 1500Hz (rad/s²) 12.5

POWER CONSUMPTION

Idle Average (W) 4.5W

Max Operating, Random Write 4K/16Q (W) 6.5

Max Operating, Random Read 4K/16Q (W) 8

Power Supply Requirements +12V and +5V

PowerChoice™ Technology Yes

PowerBalance™ Technology Yes

ENVIRONMENTAL

Temperature, Operating (°C) 5°C – 60°C

Vibration, Nonoperating: 10Hz to 500Hz (Grms) 2.27

Shock, Operating, 2ms (Read/Write) (Gs) 70/40Gs

Shock, Nonoperating, 1ms/2ms (Gs) 250Gs

PHYSICAL

Height (mm/in, max)2 26.11mm/1.028in

Width (mm/in, max)2 101.85mm/4.010in

Depth (mm/in, max)2 147.0mm/5.787in

Weight (g/lb) 650g/1.433lb

Carton Unit Quantity 20

Cartons per Pallet / Cartons per Layer 40 / 8
1 Supports Hotplug operation per Serial ATA Revision 2.6 specification.
2 These base deck dimensions conform to the Small Form Factor Standard (SFF-8301) found at www.sffcommittee.org. For connector-related dimensions, see SFF-8323.