Silverstone CA03 M.2 Mounting Screw Kit
■ Includes M.2 screw and screw hex nut standoff for M.2 slot on ASUS and MSI motherboards
■ Includes optional plastic washers for adding height during installation
■ Includes screwdriver for convenient installation
SilverStone's CA03 is a high quality M.2 SSD screw kit for computer professionals and enthusiasts. It includes two sets of precision machined standoffs / nuts of different heights, screws, washers, and matching screw driver.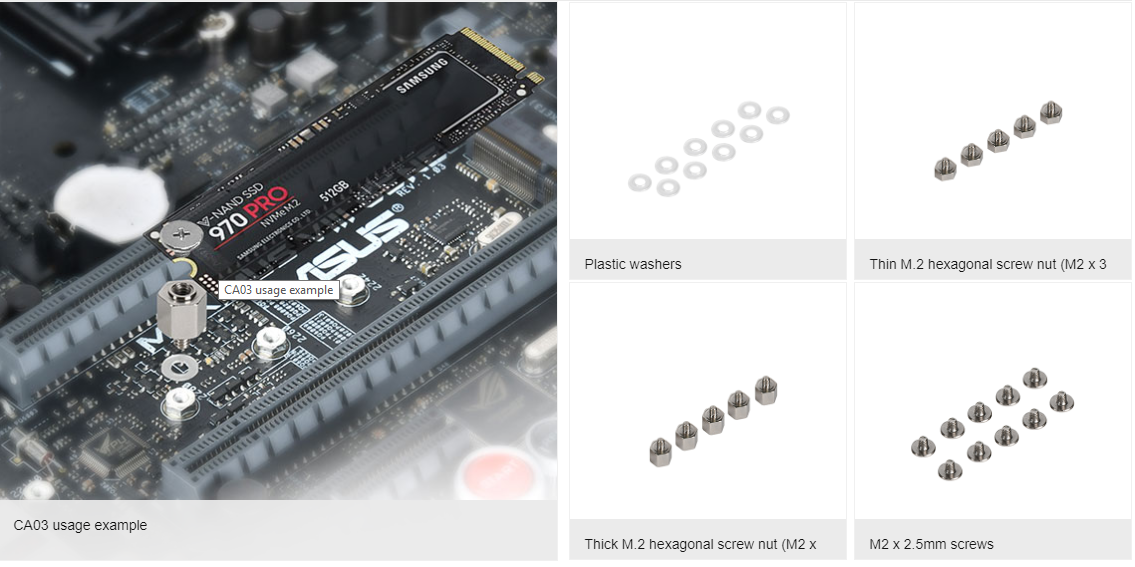 Specifications
Model No.
SST-CA03
Content
M.2 hexagonal screw nut (thin), size: M2 x 3 + 2.5mm - 5pcs.
M.2 hexagonal screw nut (thick), size: M2 x 2.5 + 4.5mm - 5pcs.
M.2 screws, size: M2 x 2.5mm - 10pcs.
Plastic washers, size: ∅5 x 0.5mm -10pcs.
Screwdriver - black plastic head - 1pc.
Net weight
12g
Dimension
Screw bag 46mm (W) x 135mm (H) x 0.8mm (D)
0" (W) x 5.31" (H) x 0.03" (D)
Remark :
* If your motherboard is not ASUS or MSI, please ensure the M.2 SSD mounting holes on your motherboard or adapter card uses M2 screws. If yes, the CA03 screw kit is suitable for your DIY PC combos.