VTech BM3500 Baby Monitor
The VTech BM3500 video and audio baby monitor allows you to see every move and hear every sound your baby makes. No matter how busy things get around the home, you can keep watch over your precious little one with a VGA camera that comes with motorised 270 degree pan/124 degree tilt and digital zoom. These functions are particularly helpful when you have older baby or toddler who's already moving about. The camera also has night vision capability, so watching over your baby even with the lights out won't really be a problem.

Come sleep time, you can choose to play 5 lullabies that have been built into the VTech BM3500 baby unit. The monitor also comes with a room temperature sensor so you can get real-time readings on the large 2.8″ colour display of the parent unit. Choose a minimum and maximum temperature range that's comfortable for baby and the monitor will alert you of temperature variations that go below or beyond your selection. It is also equipped with 2-way communication, so baby can hear your comforting voice whenever you can't be by his side.
Sound sensitivity of the baby unit can be adjusted from the parent unit. This comes in handy when there's a bit of noise around you. You can enable the vibration alert so the parent unit vibrates when the nursery monitor detects a particular sound level. And if you wish to save on battery power, you can turn off the parent unit screen and just enable the sound activation function. The moment sound activity is detected by the nursery unit, the parent unit screen turns on automatically.
The VTech BM3500 also has a built-in alarm, as well as low battery and out-of-range indicators. The table-top monitor may be mounted to a wall and the system can be expanded to accommodate up to 4 cameras (model BM3510).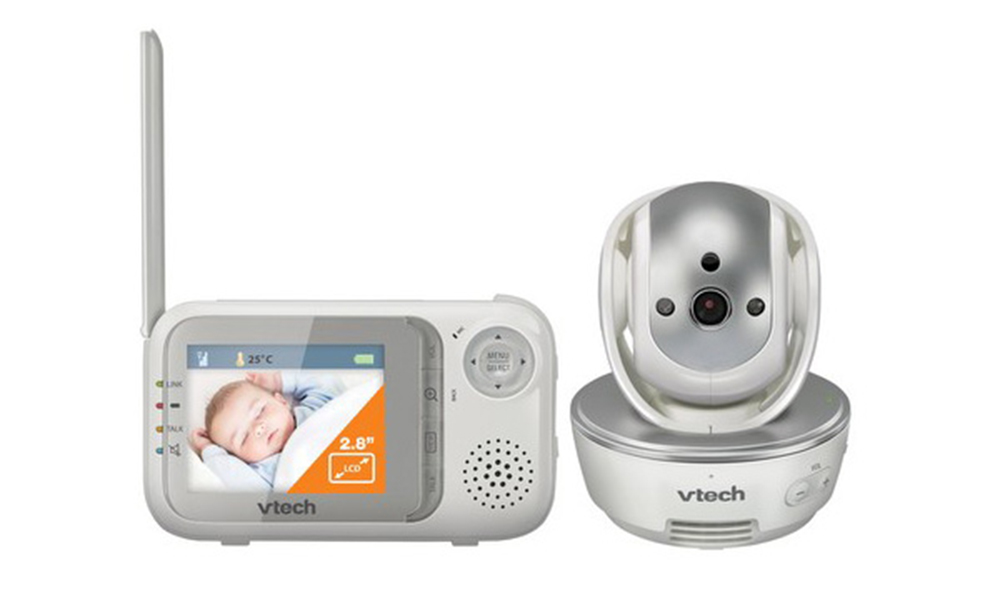 Specifications
Camera: Yes

Talk back: Yes

Multiple cameras: Yes

Lullabies: Yes

Screen size: 2.8″

Nursery room temperature sensor and alerts

Remote pan tilt

Lullabies

Dual Camera (up to 4)

Nightlight