Vantec NexStar 6G 2.5in SATA to USB3.0 eSATA SSD/HDD Enclosure
Introducing the NexStar 6G Series with USB 3.0 and eSATA for 2.5" SSD/HDD – a sleek 2.5" SATA to USB 3.0 External SSD/HDD Enclosure designed to be compact and very fast in performance. Couple with a fast SSD/HDD, this enclosure uses USB 3.0 UASP protocol for Windows 8.1/10 or 6Gbps eSATA to shuttle data around in high speed. This NexStar follow the tradition of using the latest Aluminum Casing designs to protect the Solid State Drive or Hard Drive and effectively draws the heat away from the drive. This NexStar 6G is also designed with smart and green features to extend the life of the drive by spinning down when the system goes to sleep thus saving energy when it is not in use. The light and small form factor goes very well everywhere you go. This NexStar 6G enclosure offers good design, speed and portability.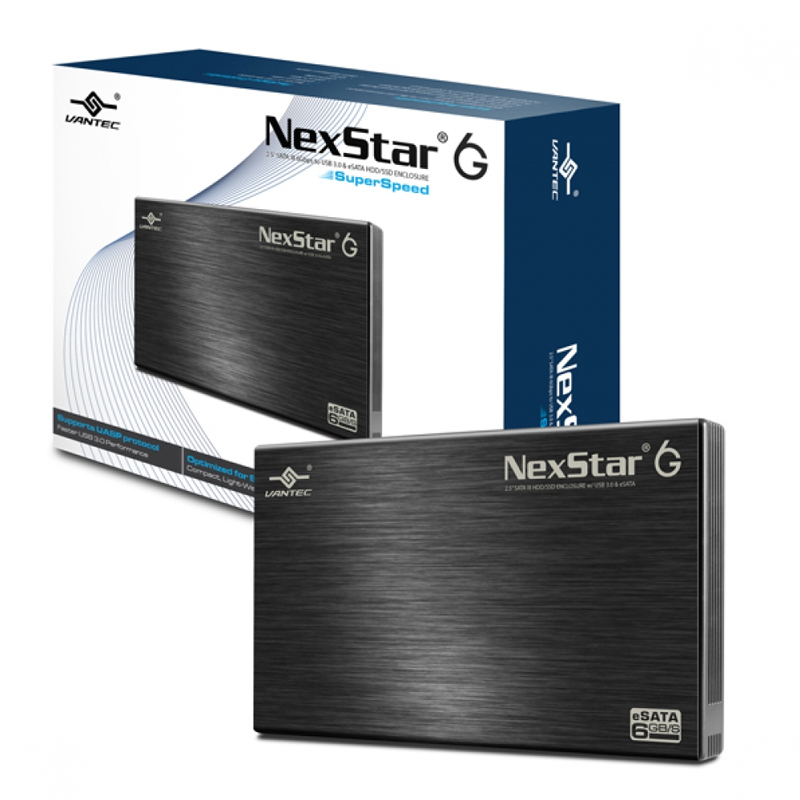 Specifications
Model: NST-266SU3-BK
Device Support: 2.5" SATA I/II/III SSD/HDD
Device Size: 2.5" 7/ 9.5mm
Internal Interface: Standard SATA
External Interface: USB 3.0 (compatible with USB 2.0 & 1.1) or eSATA
HDD Capacity: Up to 2TB*
Material: Aluminum/Plastic
Power: USB Bus powered
Dimension: 120 x 77 x 15.5 mm
USB Cable Length: 457 mm (18 inches)
eSATA Cable Length: 965 mm (38 inches)
USB Power Cable Length: 575 mm (22 inches)
*Check our website www.vantecusa.com for the latest updates on current capacity.
System Requirements:
Windows® 7/ 8/ 10 or later, Mac® OS X 10.6 or later, Computer with USB 2.0 or USB 3.0 port



What's included: NexStar 6G 2.5" Enclosure, USB 3.0 cable, eSATA cable, USB Power Cable, Installation Guide, Installation Screws
UPC: 844767020709
EAN: 4716872102396