Product images and description are for reference only. Product appearance and specifications may vary from what is depicted.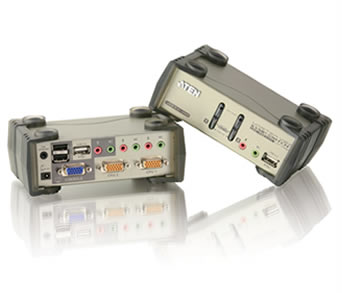 <table width="560" height="100" border="0" cellpadding=0" cellspacing="0" class="proname" >



Aten CS-1732B 2Port USB KVMP Switch w Audio&OSD Details

:



The CS1732B is 2-port KVM switch combined with a 2-port USB 2.0 hub. As a KVM switch, it allows users to access two computers from a single keyboard, monitor, and mouse console. There are three methods to obtain instant access to any computer in your installation: Manual, Hotkey, and OSD.

Product Features:

• One USB console controls 2 computers and two additional USB devices
• 2 port USB Hub built in
• Dual interface supports computers with PS/2 or USB keyboards and mice
• Multiplatform support: compatible with all operation platforms PC (Windows, Linux and most others), Mac and Sun
• With speaker and microphone support
• Bi-directional switching and flexible interoperability; switch permits independent PC, independent peripheral, and independent audio function, regardless of KVM switch focus
• Auto PS/2 and USB interface detection
• Buzzer On/Off via hotkey
• Keyboard and mouse emulation for error free booting
• Computer selection via front panel pushbuttons and hotkeys
• Superior video quality - up to 2048 x 1536; DDC2B
• Firmware upgradable
• OS Support:Windows 2000, Windows XP, Windows Vista, LINUX, Mac, Sun and FreeBSD
• SUN/Mac keyboard support and emulation*
*1.PC keyboard combinations emulate SUN/Mac keyboards.
*2.SUN/Mac keyboards only work with their own computers


For more information please check the manufacturer's website.