ntroducing the Spectre LED PWM Fan Series from BitFenix. Engineered for both silent operation and maximum airflow, Spectre LED PWM will keep your CPU running cool without sounding line an airplane hangar. Sickle fan blades enhance airflow without producing excess noise, while on-the-fly LED light switching when used together with the BitFenix Hydra Pro Fan Controller or Survivor Chassis allows you to turn the lights on and off with a press of a button. Don't have either of those? No problem. Spectre LED PWM can also be used as a regular LED fan with jumper-selectable on/off.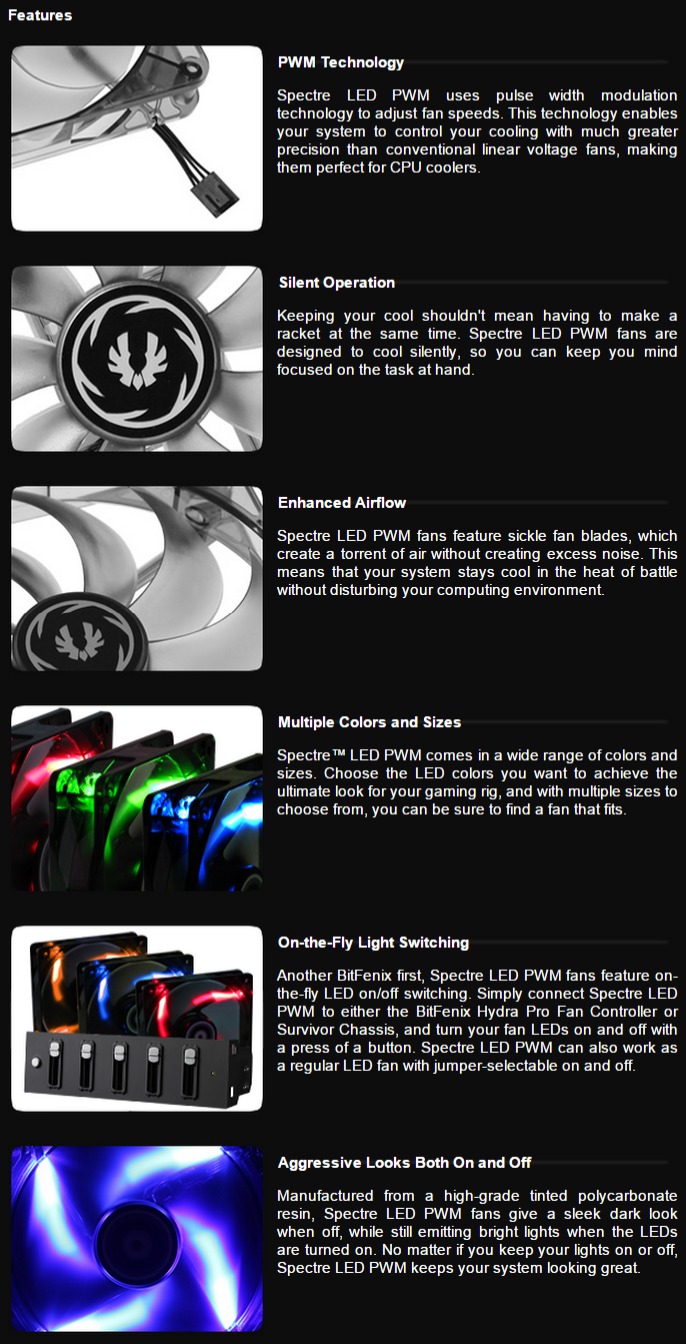 Powerful yet whisper-quiet - The Spectre LED PWM Fan Series.
Materials
PBT
Color (Frame/Blades)
Black Tinted Transparent
Bearing Type
Fluid Dynamic Bearings (FDB)
Voltage (v)
12
140mm
Dimensions (mm) 140 x 140 x 25
Current (A) 0.26A±10%
Speed (RPM) 700-1800 RPM ±10%
Air Flow (CFM) 56.1 CFM
Noise (dB-A) 24.2 dB(A)
Air Pressure (mmH2O) 2.14 mmH2O
Specifications are subject to change without notice.


Specifications may vary.


The product picture(s) is only for your reference, it may differ from the actual product.