Features 

Low power consumption, high performance and realiability.

Good color rending to enhance visual perception and productivity.

 Less heat and radiation generated;No mercury; environmental friendly.

 Long life span, minimizing maintenance cost.

The lamp body adopts the whole aluminumheat dissipation,good shock resistance,the exterior cover adopt PMMA,high transmittance,beam effect is good.

Replace the traditional halogan lamp, energy-saving effect is over 80%.

No flickering,no harm to human.also can be compatible with international brand:Philips and Osram transformer,domestic brand can be compatible with leishi,pinshang,oppu,three electronic transformer.compatibility more than 90%.

Can be used to car show,jewelry,hotel,clothing,clubs,museum,chain mall,brand business hall,windowa and counter etc. the perfect light source to replace the traditional tungsten halogen lamps and mental halide lamp.



Applications :
Offices , shopping malls , exhibition rooms , hotels , residences lightings ,etc .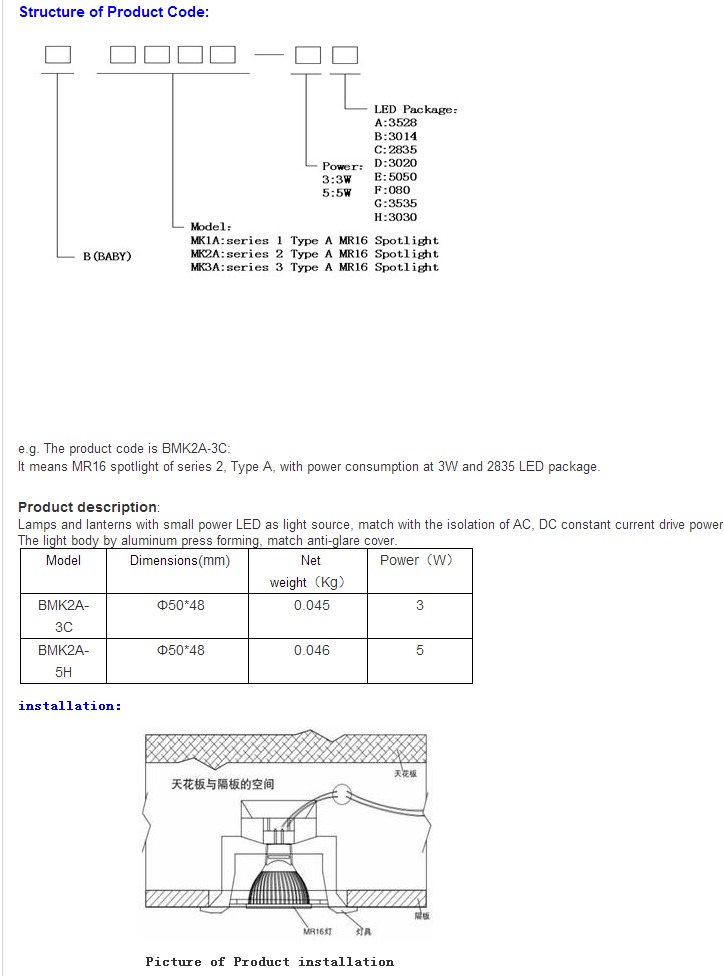 Dimensions
¦50*48 mm
Input voltage
AC220V/5060Hz
Driving mode
Driving mode
Rated power
3W
Correlated Color Temperature Range
2300-2700K  2800-3200K  3800-4200K 4700-5300K  5700-6500K
Power factor
0.55
Efficacy
150-210 lm
Luminous flux
50-70 lm/W
Working environment
emperature-25ƒ~50ƒ humidity‰95%
Color rendering index
70
LED life
30000 hours
Lens surface
Diffused,Diamond
Lamp body material
Aluminum, PMMA lens
Net weight
0.045 Kg
ATTENTION:
1. be sure to disconnect the power before the installation and connection.
2. make sure the input voltage of the products in the rated power range.
3. after the connection, then power-on test to avoid  an electronic shock.
4. if there is a flickering, please do not install.
5. if the lamp fail to work, disconnect the power to have a test about whether wiring and transiformer is normal.
6. please do not open the lamp to change the electrical structure.
7. the specific parts can be replaced,please contace us if there is something wrong with the products,we will be professional to solve it.
Note
product specifications and data are subject to change without notice.