Silicon Power 1TB A66 Rugged Shockproof & Water resistant Portable External Hard Drive USB 3.0 - Blue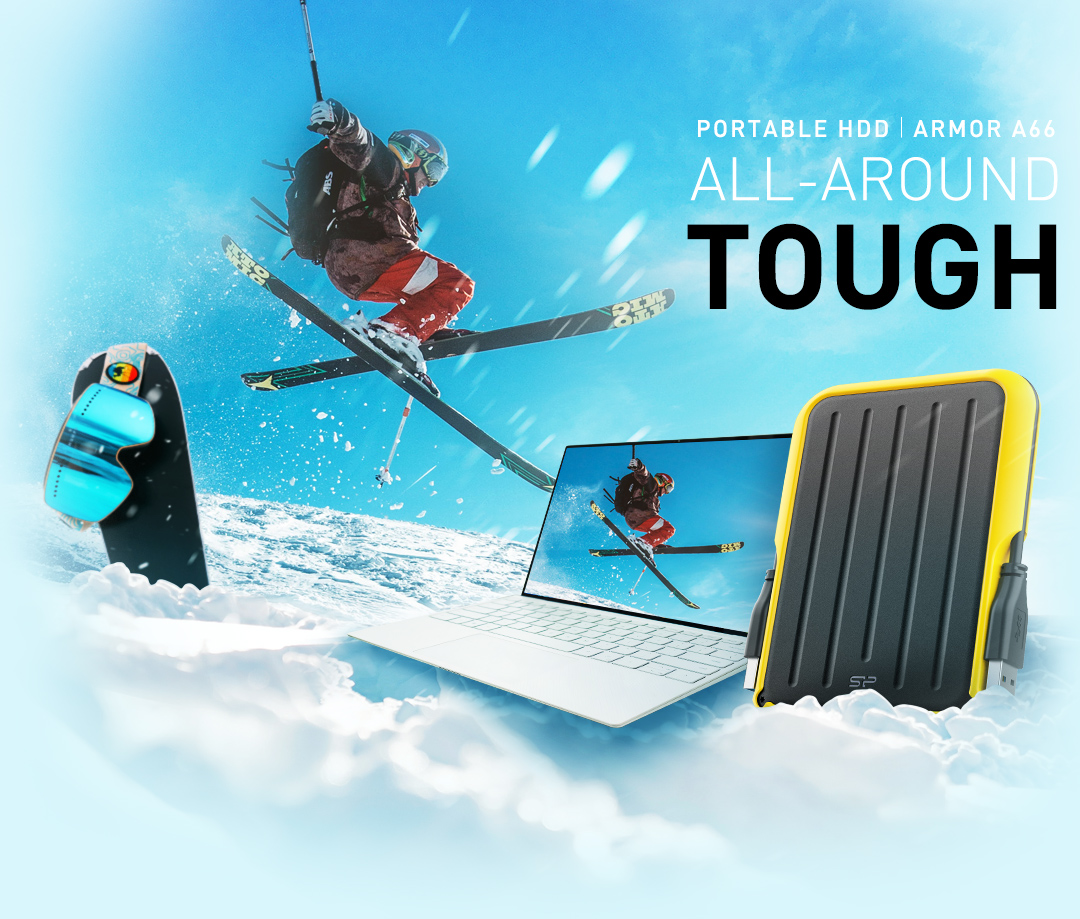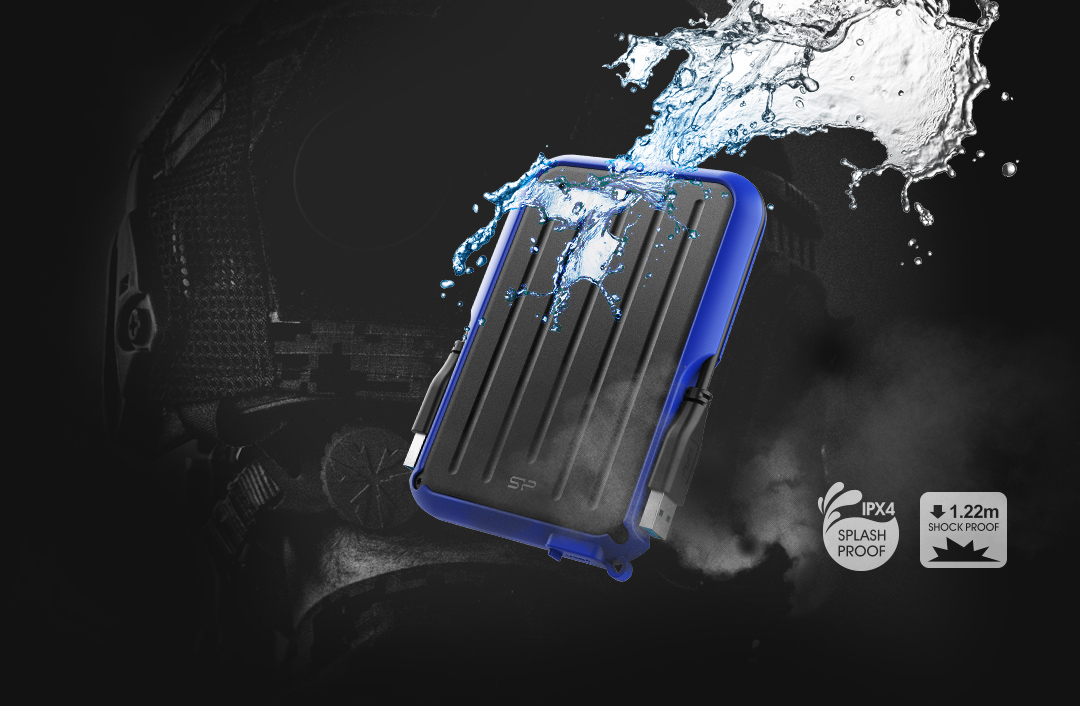 Rugged Drive For All-Terrain Reliability
The Armor A66 is the ultimate all-terrain drive to back-up and protect your data from out in the wild to back in the office, safely and securely. With its all-around protective rubber bumper, IPX4-level water-resistance, and military-grade shockproof design, this portable hard drive is ready to shake-off drops, shocks, rain, and dust with ease.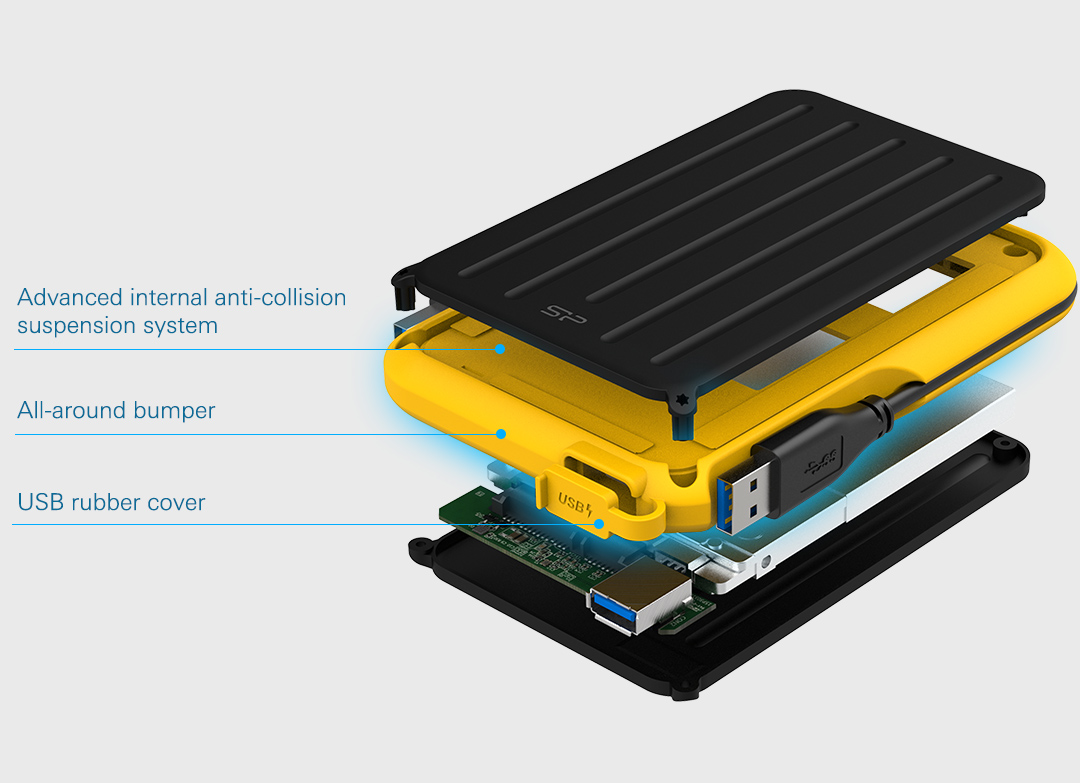 Nothing Shocks This Drive
Meeting the MIL-STD 810G Method 516.6 Procedure IV drop test requirements, this drive is military-grade shockproof. For extra defense, an all-around bumper provides 360˚ protection to take it anywhere, worry-free. On the inside, an advanced suspension system effectively reduces impact force and increases shock-absorption.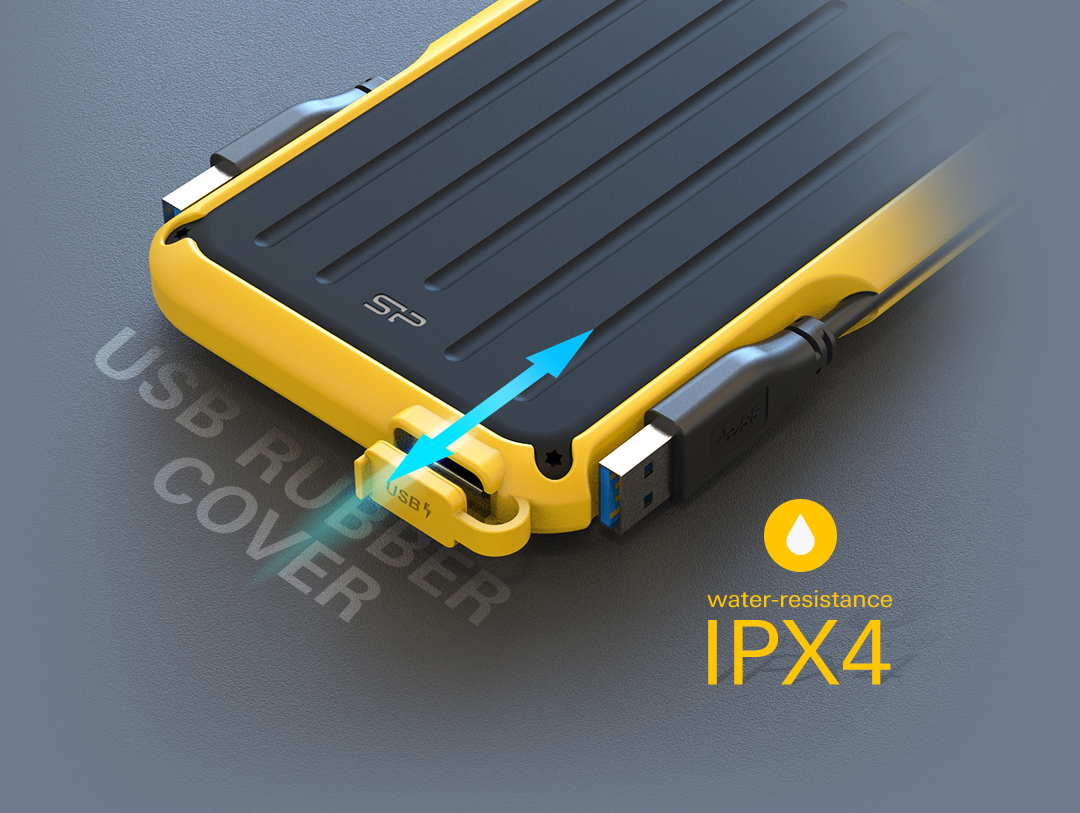 Inclement Weather? Not A Problem
IPX4-level water-resistance gives this drive the protection it needs to be truly all-terrain. Your data is safe against splashing water from any direction so you can fearlessly go out without checking the weather forecast.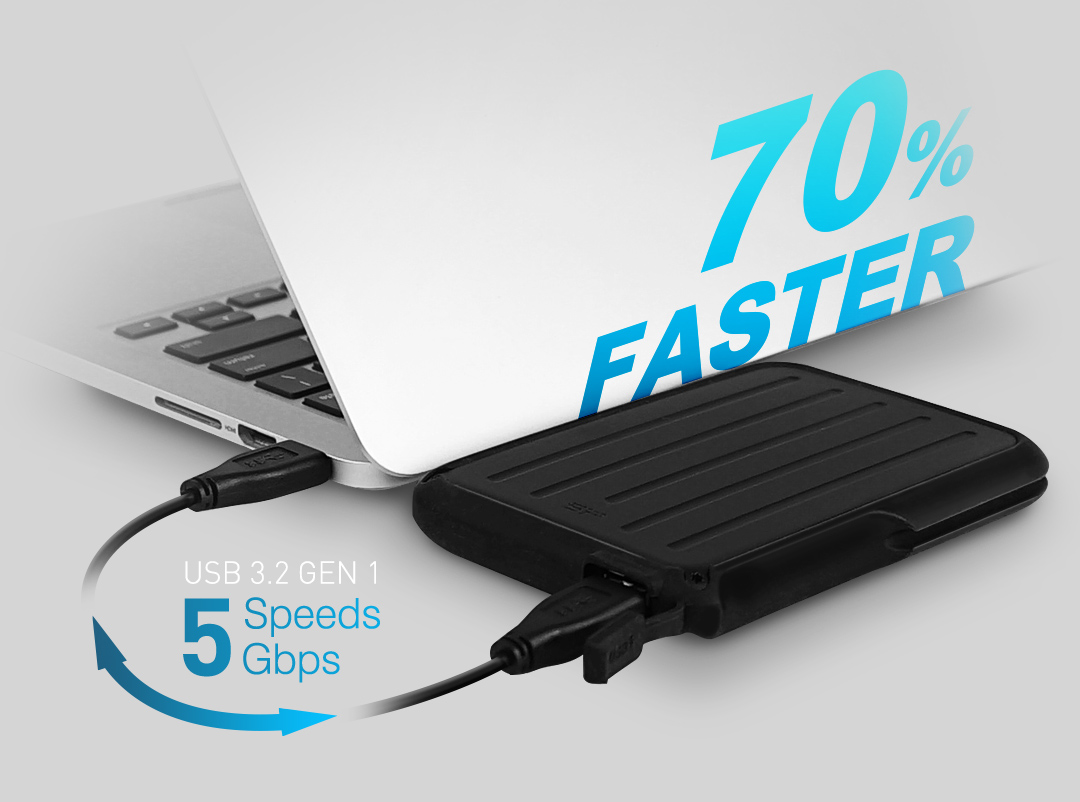 Fast And Spacious With USB 3.2 Gen 1
Up to 5TB of storage gives you a massive amount of portable space to back up your photos, video footage, and files wherever your adventures lead. Super-speed USB 3.2 Gen 1 interface delivers rapid read and write speeds up to 5Gbps to cut the time needed for editing or transferring large files and get the job done faster.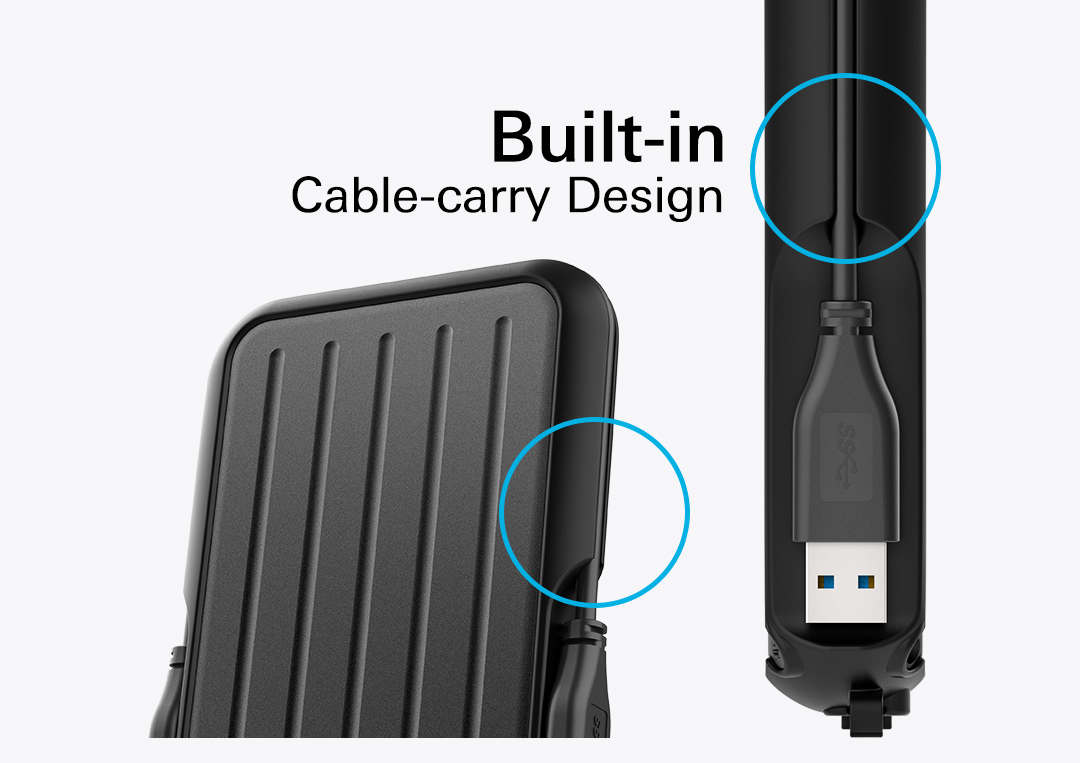 Nothing To Lose With This Design
The Armor A66 was cleverly constructed with a built-in cable-carry design. It's a portable-friendly way to ensure you never misplace that loose, pesky cable again.
Specification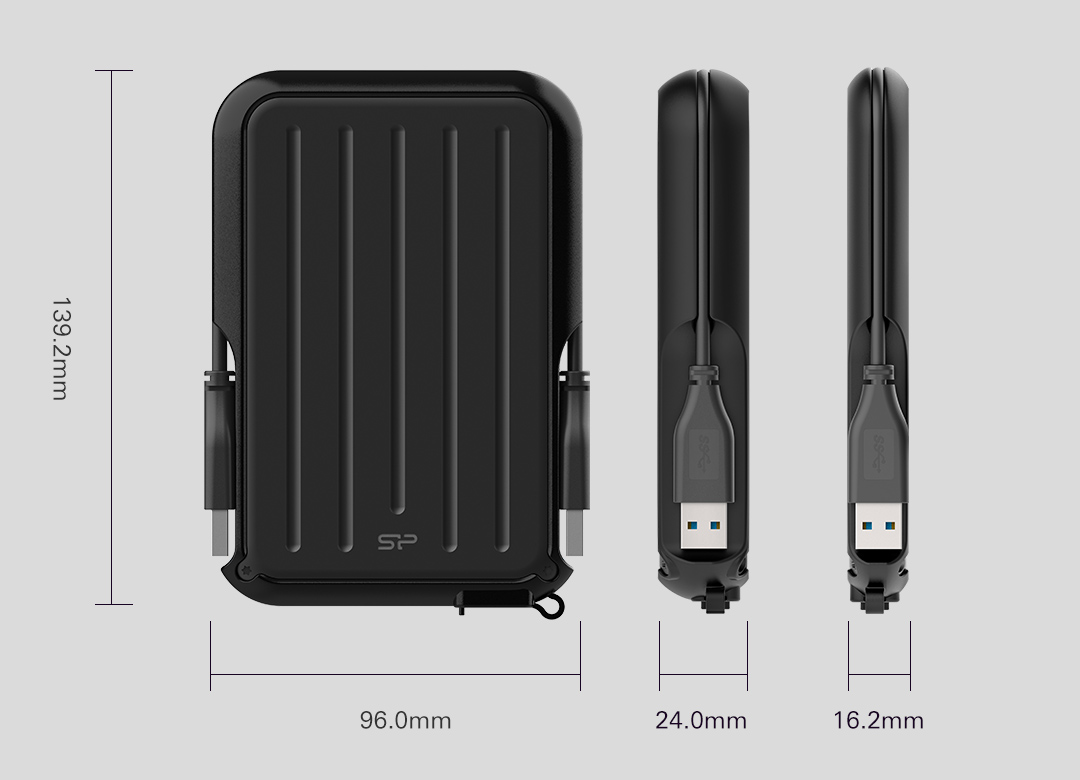 Capacity :



1TB, 2TB, 4TB, 5TB

Material :



Rubber + Plastic

Dimensions :



139.2mm x 96.0mm x 16.2mm (1TB/2TB), 139.2mm x 96.0mm x 24.0mm (4TB/5TB)

Color :



Black/Black, Black/Blue, Black/Yellow

Interface :



USB 3.2 Gen 1 (USB 3.1 Gen1, USB 3.0, USB 2.0 backwards-compatible)

Certification :



CE, FCC, BSMI, Green dot, WEEE, RoHS, KC, RCM

Supported OS :




Windows 10/8.1/8/7/Vista/XP 64-Bit, Mac OS 10.5.x, Linux 2.6.x

*Reformatting required for use with Mac OS


Operating Temperature :



5°C - 55°C


Storage Temperature :



-40°C - 70°C

Operation Voltage :



DC 5V

Warranty :



3 years
Features
● Super-speed data transfer with USB 3.2 Gen 1 interface (up to 5Gbps)
● Massive storage capacities available in two different sizes to cater to various needs (1TB/2TB and 4TB/5TB)
● Military-grade shockproof drive (meets the MIL-STD 810G Method 516.6 Procedure IV drop test)*
● Product meets the test standards under normal use. Do not deliberately drop or damage the product.
● Advanced internal anti-collision suspension system structure effectively reduces impact force and strengthens overall shock-absorption
● IPX4 water-resistance protects the drive against splashing water from any direction
● All-around rubber bumper provides 360˚ protection for the drive to take it anywhere, worry-free
● Smart wrap-around cable design prevents cable misplacement
● LED light indicates data transfer activity and power status
● Convenient plug-and-play eliminates the need for external power
● Free SP Widget software available for download, which provides 7 major back-up and security functions


SP Superior PRO Micro SD


SP A30 Portable HDD
SP A65 Portable HDD
SP USB C HUB (7 in 1)



4K Ultra HD video recording



Military-Grade Shockproof
Military-Grade Shockproof
Lightweight aluminum housing

Waterproof, dustproof, temperature-proof, and X-ray-proof


Convenient wrap-around cable
IP67 Water Protection
HDMI port Support
4K video @ 30Hz
1080p @ 60Hz

Fit for Switch, smartphone, tablet, digital camera, drone and more


Advanced internal suspension system
Delicate Cable Storage Design
HDMI, USB Type-A, USB-C
,PD, SD, and microSD ports

CHECK


CHECK
CHECK
CHECK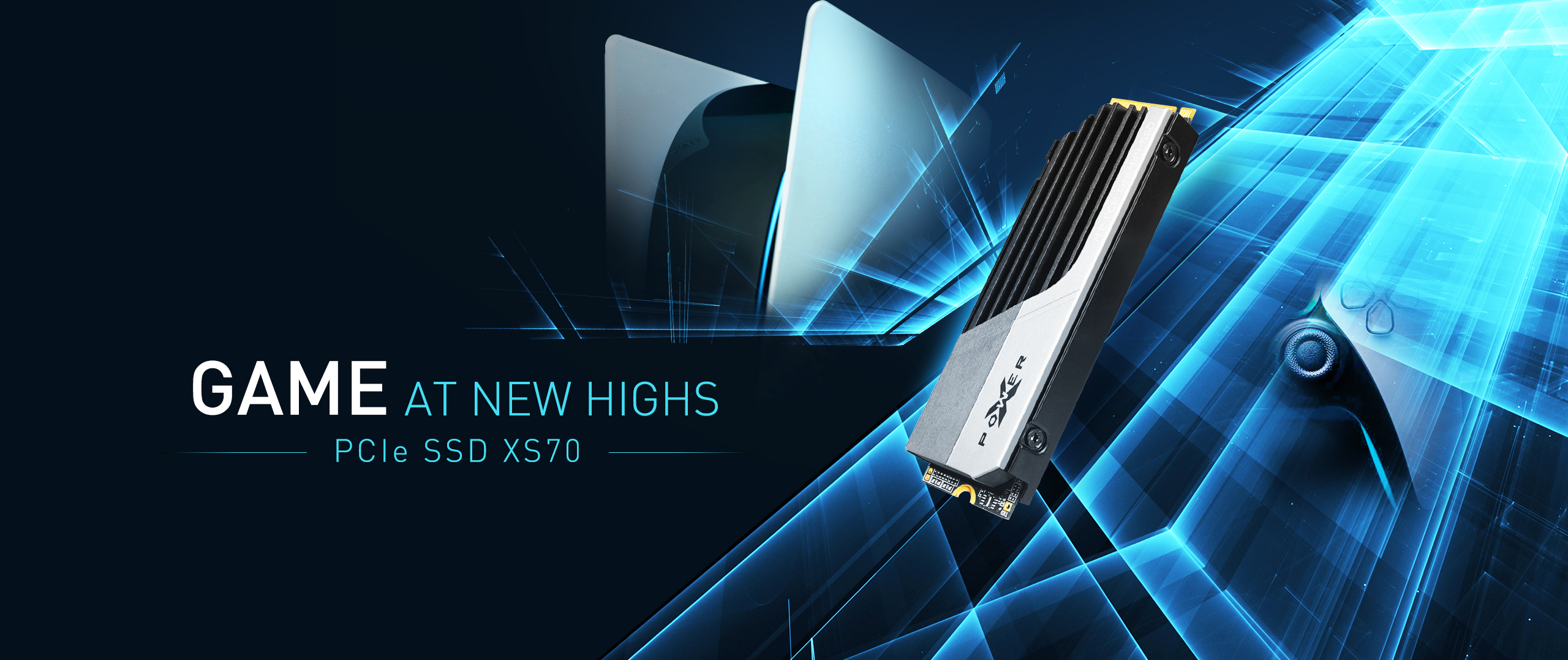 SP TLC SATA SSD


SP NVMe TLC A60
SP NVMe QLC UD70
SP NVMe TLC A80

SP NVMe GEN4 XS70


TLC 3D NAND Flash



TLC 3D NAND Flash

QLC 3D NAND Flash

TLC 3D NAND Flash

TLC 3D NAND Flash

Read up to 560 MB/s
Write up to 530 MB/s

Read up to 2,200 MB/s
Write up to 1,600 MB/s

Read up to 3,400 MB/s
Write up to 3,000 MB/s

Read up to 3,400 MB/s

Write up to 3,000 MB/s

Read up to 7,300 MB/s
Write up to 6,800 MB/s

Life Expectancy :
1,500,000 hrs MTBF

Life Expectancy :
2,000,000 hrs MTBF

Life Expectancy :
1,800,000 hrs MTBF

Life Expectancy :

2,000,000 hrs MTBF

Life Expectancy :
1,600,000 hrs MTBF

Quality & Capacity
Friendly Price

High Quality
Friendly Price

High Performance
Friendly Price

High-End Performance

Fair Price

Next Generation Speed
PS5 Compatible

CHECK

CHECK


CHECK
CHECK

CHECK