EK Classic Front Distro Plate for PC-O11D D-RGB with SPC PWM Pump

The EK-Classic Distroplate Front PC-O11D SPC PWM D-RGB - Plexi, is specifically designed to provide a comprehensive water cooling solution for the most popular water cooling case on the market, the Lian Li PC-O11D. It embodies the EK-Classic ideals of budget-conscious SPC pump and simplistic design, offering an affordable solution for incredible aesthetics.
Compatible only with Lian Li PC-O11D!
This product is a part of the EK Classic Product Line that is characterized by minimalistic and clean design while maintaining the class-leading performance. Less talk, more cooling!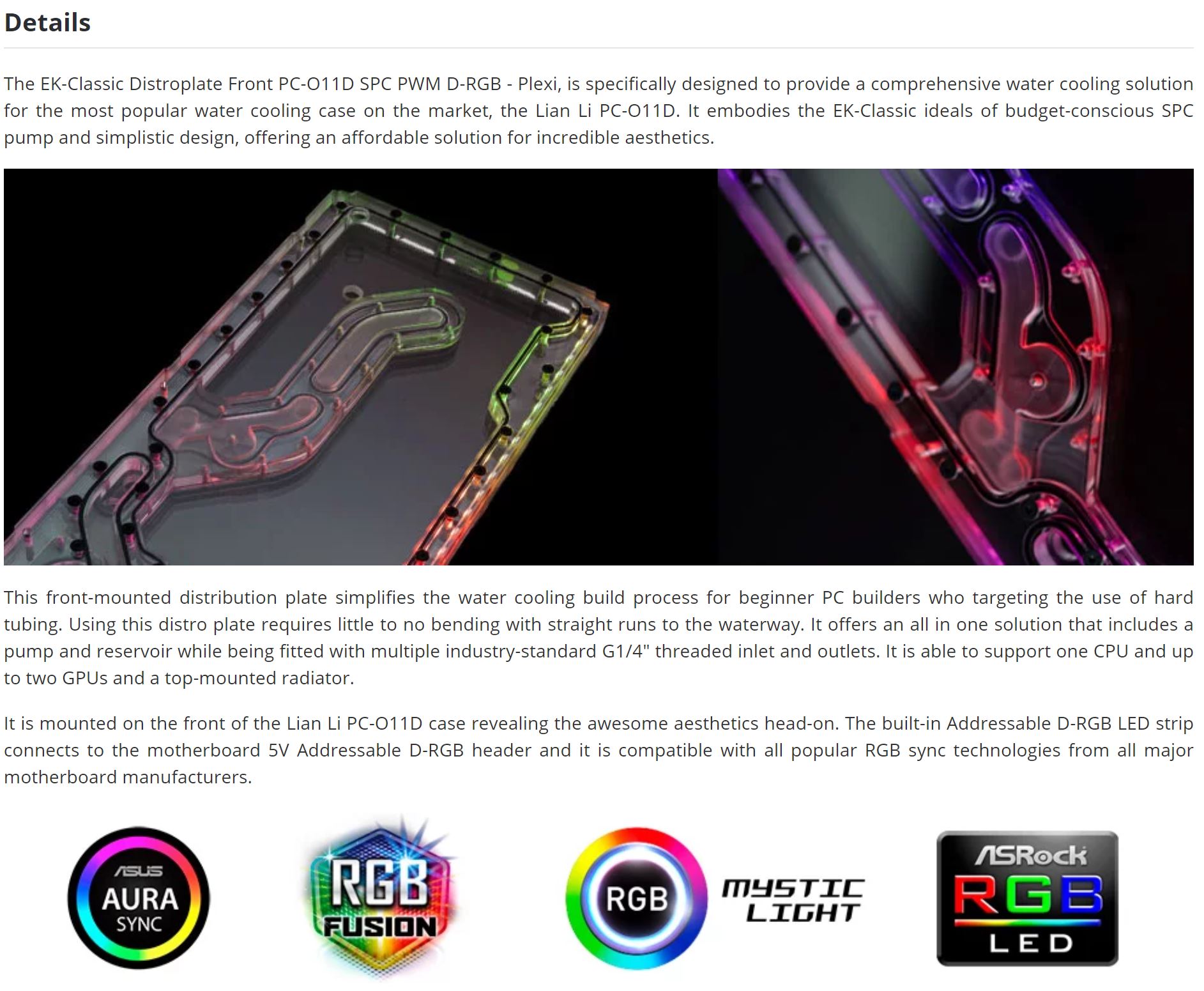 Technical specifications:
- Motor: Electronically commuted motor
- Rated voltage: 12V DC
- Power consumption: 6W
- Maximum pressure head: 2.2m
- Maximum flow rate: 250 L/h
- Maximum liquid temperature: 50°C
- Materials: PPS-GF30, EPDM O-rings, graphite
- Power connector: 4-Pin PWM FAN connector
- D-RGB cable length: 50cm
- D-RGB connector 3-pin 5V digital LED header (Pinout: +5V, D, Blocked, Ground)
Operational regime:
- PWM duty cycle: ~ 20-100%
- Default behavior: Runs at 100% duty cycle when no PWM feedback signal is present
Enclosed:
- EK-Classic Distroplate Front PC-O11D SPC PWM D-RGB - Plexi
- PWM Extender Cable 50cm
- 1x Allen key 2mm
- 1x Allen key 2,5mm
- 1x Allen key 6,0mm
- 2x Screw M3x8 7991DIN
- 3x Screw M4x20 7991DIN
- Screw M4x20 7991DIN