Silicon Power 1TB A30 Rugged Shockproof Portable External Hard Drive USB 3.0 For PC,MAC,XBOX,PS4,PS5







Click Here to see Armor A30 in color Black
Specifications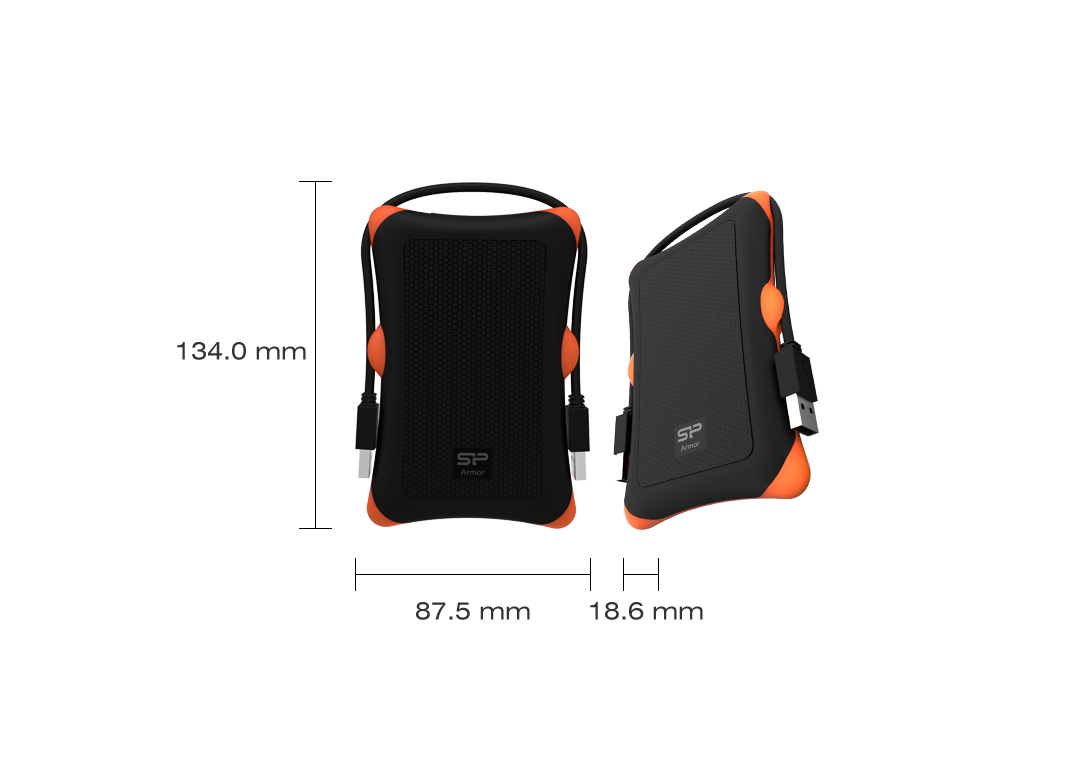 | | |
| --- | --- |
| Capacity : | 1TB, 2TB |
| Dimensions : | 134mm x 87.5mm x 18.6mm |
| Weight : | 181g - 205g (by capacity) |
| Material : | Rubber + Plastic |
| Color : | Black/Orange, White/Grey, Black/Black |
| Interface : | USB 3.2 Gen 1 (USB 3.1 Gen 1 & USB 3.0, USB 2.0 backwards-compatible) |
| Supported OS : | Windows 10/8.1/8/7/Vista/XP 64-Bit, Mac OS 10.5.x, Linux 2.6.x |
| Operating Temperature : | 5°C - 55°C |
| Storage Temperature : | -40°C - 70°C |
| Operation Voltage : | DC 5V |
| Certification : | CE/FCC/BSMI/Green dot/WEEE/RoHS/KCC/RCM |
| Patent : | TW Patent : D160484 |
| Warranty : | 3 years |



Features



● Ideal for gaming enthusiasts Xbox One, Xbox 360, PS4, PS4 Pro and PS4 Slim (PS4 System Software version 4.50 or higher).
● Super-speed data transfer with USB 3.2 Gen 1 interface (up to 5Gbps)
● 3-meter freefall test and 3m military-grade shockproof enclosure (MIL-STD 810G Method 516.6 Procedure IV)
* Product meets the test standards under normal use. Do not deliberately drop or damage the product.
● Internal silica gel suspension system and external silica gel bubbles keeps your hard drive safe from drops and bumps
● Convenient wrap-around cable design prevents cable misplacement and allows for easy portability as a handle function
● Hexagonal pattern on the surface promotes scratch resistance
● LED light indicates data transfer activity and power status
● Easy "plug-in and use" eliminates the need for an external adapter
● Customization available (by request)
● Free SP Widget software available for download, which provides 7 major back-up and security functions
● Due to the name change by the USB-IF, the USB 3.2 Gen 1 is the same as USB 3.1 Gen 1 and USB 3.0, all delivering the same speed up to 5Gbps
● The A30 is pre-formatted as NTFS, so you could use it directly on Windows. Reformatting will be required for Mac operating systems.
Reviews





SP Superior PRO Micro SD


SP A60 Portable HDD
SP A65 Portable HDD
SP USB C HUB (7 in 1)



4K Ultra HD video recording



Military-Grade Shockproof

Military-Grade Shockproof

Lightweight aluminum housing

Waterproof, dustproof, temperature-proof, and X-ray-proof


IPX4 Water Resistance
IP67 Water Protection

HDMI port Support
4K video @ 30Hz
1080p @ 60Hz

Fit for Switch, smartphone, tablet, digital camera, drone and more


Advanced Internal Suspension System
Delicate Cable Storage Design
HDMI, USB Type-A, USB-C
,PD, SD, and microSD ports
MSRP : $ 55

MSRP : $ 105
MSRP : $ 110
MSRP : $ 55

GO CHECK THIS


GO CHECK THIS
GO CHECK THIS
GO CHECK THIS


SP TLC SATA SSD


SP NVMe TLC A60
SP NVMe QLC UD70
SP NVMe TLC A80

SP NVMe GEN4 US70


TLC 3D NAND Flash



TLC 3D NAND Flash

QLC 3D NAND Flash

TLC 3D NAND Flash

TLC 3D NAND Flash

Read up to 560 MB/s
Write up to 530 MB/s

Read up to 2,200 MB/s
Write up to 1,600 MB/s

Read up to 3,400 MB/s
Write up to 3,000 MB/s

Read up to 3,400 MB/s

Write up to 3,000 MB/s

Read up to 5,000 MB/s
Write up to 4,400 MB/s

Life Expectancy :
1,500,000 hrs MTBF

Life Expectancy :
2,000,000 hrs MTBF

Life Expectancy :
1,800,000 hrs MTBF

Life Expectancy :

2,000,000 hrs MTBF

Life Expectancy :
1,700,000 hrs MTBF

Quality & Capacity
Friendly Price

High Quality
Friendly Price

High Performance
Friendly Price

High-End Performance

Fair Price

Next Generation Speed
Fair Price

GO CHECK THIS

GO CHECK THIS


GO CHECK THIS
GO CHECK THIS
GO CHECK THIS