Aten 16 Port Rackmount USB 2.0 HDMI KVMP Switch (CS-17916)
Cascadable to two levels–control up to 256 computers


Multi-Display feature – stack up to eight CS17916 units and display video from up to eight monitors(dual display/triple display/quad display/multi-display)

Video DynaSync™ – exclusive ATEN technology eliminates boot-up display problems and optimizes resolution when switching between ports

Broadcast mode - operations simultaneously performed on all selected computers, software installation and upgrading, system wide shutdown, etc.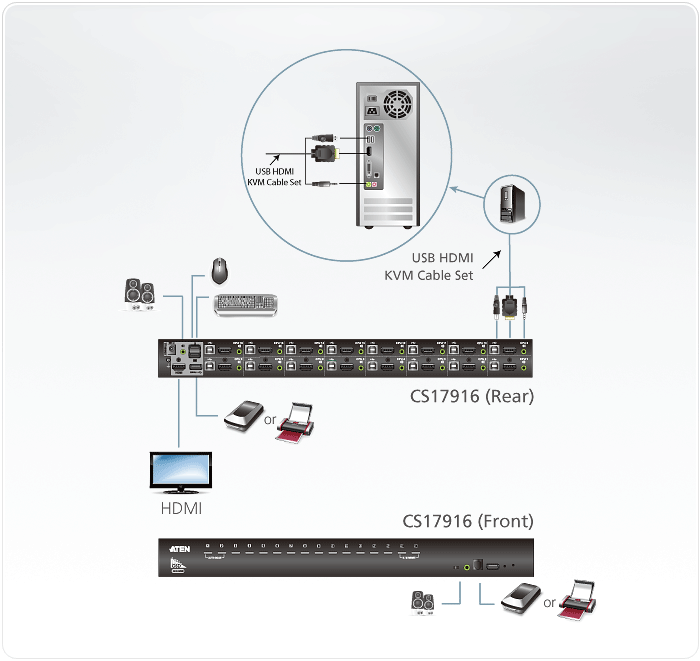 Specifications
Computer Connections
Direct
16
Maximum
256 (via Cascade)
Port Selection
OSD, Hotkey, Pushbutton
Connectors
Console Ports
1 x HDMI Female
2 x USB Type A Female
2 x 3.5mm Audio Jack Female (Green; 1 x front panel, 1 x rear panel)
KVM Ports
16 x HDMI Female
16 x USB Type B Female
16 x 3.5mm Audio Jack Female (Green)
Firmware Upgrade
1 x RJ11 Female
Power
1 x DC Jack
USB Hub
2 x USB Type A Female (1 x front panel, 1 x rear panel)
Switches
Port Selection
16 x Pushbutton
Reset
1 x Semi-recessed Pushbutton
Firmware Upgrade
1 x Slide Switch
LEDs
USB Link
16 (Green)
Power
1 (Dark Green)
On Line /Selected
16 (Orange)
Emulation
Keyboard / Mouse
USB
Video
1920 x 1080 @ 60Hz; 1920 x 1200 @ 60Hz
Scan Interval
1 – 255 seconds (default: 5 sec.)
Power Consumption
DC5V:8.66W:66BTU
Environmental
Operating Temperature
0 – 50°C
Storage Temperature
-20 – 60°C
Humidity
0 – 80% RH, Non-condensing
Physical Properties
Housing
Metal
Weight
3.86 kg ( 8.5 lb )
Dimensions (L x W x H)
43.24 x 25.72 x 4.40 cm
(17.02 x 10.13 x 1.73 in.)
Note
For some of rack mount products, please note that the standard physical dimensions of WxDxH are expressed using a LxWxH format.
Package Contents
1x 16-Port USB HDMI KVM Switch with Rack Mounting Kit

2x KVM Cable (HDMI, USB, Audio; 1.8m/6ft)

1x Firmware Upgrade Cable

1x Power Adapter

1x Foot Pad Set (4 pcs)

1x User Instructions