Crayola Frozen 2 Colour Wonder 18 Pages and 5 Marker Set

agical mess-free coloring adventures with Disney Frozen! Color Wonder products are non-toxic and won't color on skin, furniture or carpets! The special ink in Color Wonder Markers is clear on most surfaces, yet each marker 'magically' shows up a different color on Color Wonder Paper. Select your color, start coloring and discover all the hidden designs as colors magically appear on the page! Includes 18 Color Wonder pages and 5 Color Wonder Markers. Age 3+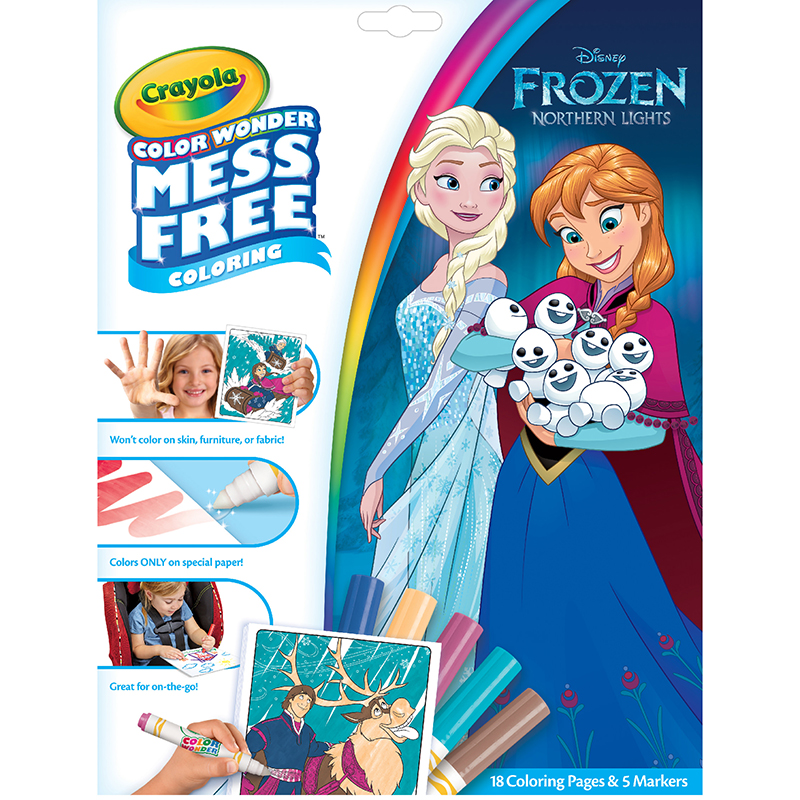 Features
Color Wonder Set: contains 18 pages of Disney Frozen Line Art featuring characters and scenes and 5 Color Wonder markers. Each pages contains a surprise scene which can only be revealed with Color Wonder Mess Free Markers. The markers have a special no mess formula that only works on Color Wonder Paper and won't mark skin, fabric, carpet or walls!
Mess free colouring: Colours appear only on special Color Wonder paper, not on skin, clothing, or carpets! If your carpet or couch is at risk of becoming the canvas, Color Wonder is the perfect neat solution for worry free art.
Organize & travel Friendly: folder style packaging works as reusable storage for your coloring pages and markers.
Gift Idea: A perfect gift solution for young toddlers ages 3+
Safe & Non toxic: Crayola Color Wonder is perfect for toddlers to explore colouring and art.