Intel NUC BOXNUC8I3BEH4 Barebone Kit - 8th Gen Core i3
The First Intel® NUC Mini PC Kit with a Dual-Core 8th Generation Intel® Core™ i3 Processor.

The Intel® Intel® NUC8i3BEH Mini PC kit with a true dual-core 8th generation Intel® Core™ i3 processor delivers a big jump in performance compared to the previous generation Intel® NUC7i3BNH/BNK kits. Whether it's built for a new home PC or a system with 4K UHD graphics for picture perfect entertainment, the Intel® NUC8i3BEK Mini PC kit gives great visual immersion with Iris® Plus Graphics 655 and the unprecedented performance of Intel® Core™ processors.
It also has room for a 2.5" HDD and is Intel® Optane™ memory ready. By coupling a 2.5" HDD and Intel® Optane™ memory, performance improves dramatically with up to 1.4x3 4 faster media loading.
Work Like a Boss with Thunderbolt™ 3, USB 3.1, and 4K Ultra HD
The Intel® NUC Mini PC kits have chassis that are connectivity powerhouses. Both come with Thunderbolt™ 3 which supports up to 40 GBps of data transfer, four USB 3.1 ports, and two additional USB ports via 1x4 internal headers. There's also room for an M.2 SSD. The Intel® NUC Mini PC kits support triple displays all in 4K Ultra HD—with an HDMI* 2.0a port and DisplayPort* 1.2 via USB-C—so images or work can show across three screens without losing fidelity.
Think You Know What Small Can Do? Think Again.
In a footprint that's almost zero—especially when compared with a tower—the Intel® NUC Mini PC kits can be custom built to have the performance and features of a desktop PC in a device that fits in the palm of your hand. The small size means the Intel® NUC can be positioned almost anywhere—from behind a display to tucked discretely in an entertainment center. And with improved cooling, fan noise is minimal—which means a quieter experience no matter where the Intel® NUC is positioned.
The Intel® NUC: Who Says Small Isn't Powerful?
POWER, CAPABILITIES, AND PERFORMANCE IN A NEAR-ZERO FOOTPRINT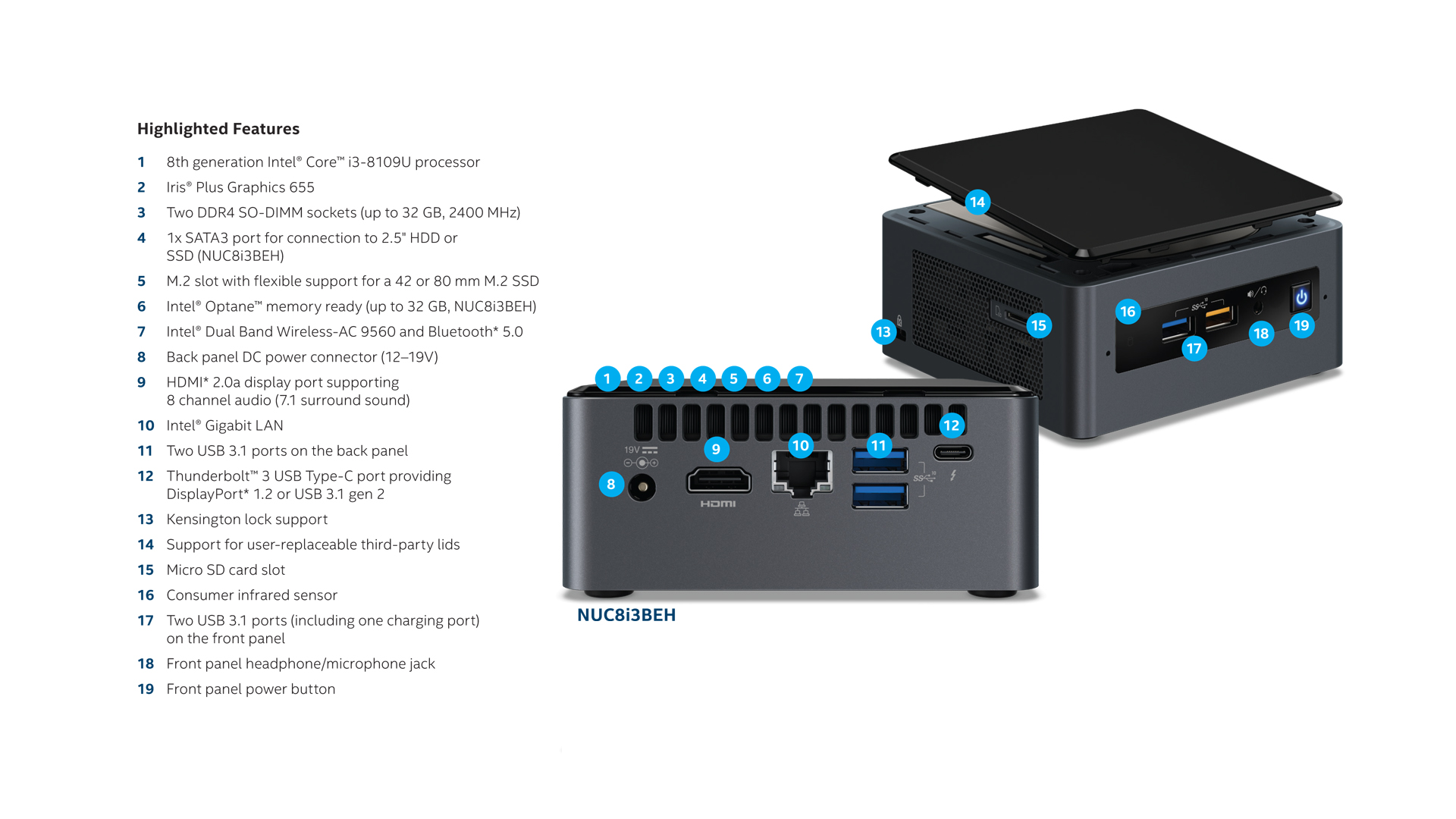 Specifications
Product and Performance Information
1Available on the Intel® NUC Kit NUC8i3BEH only.
2Intel® technologies may require enabled hardware, specific software, or services activation. Performance varies depending on system configuration. Check with your system manufacturer or retailer or learn more at intel.com/optanememory.
3Benchmark results were obtained prior to implementation of recent software patches and firmware updates intended to address exploits referred to as "Spectre" and "Meltdown". Implementation of these updates may make these results inapplicable to your device or system.
4As measured by Media Project Load Workload comparing 8th Gen Intel® Core™ i7-8750H processor (32 GB Intel® Optane™ memory module) + 256 GB PCIe* SSD + 1 TB HDD vs. 8th Gen Intel Core i7-8750H processor + 256 GB PCIe SSD + 1 TB HDD.