Please Check Modem/Router Compatibility with your Service Providers Before Purchasing
Netgear Orbi RBK752 AX4200 Tri Band Mesh WiFi 6 System - 2 Pack

The essential whole-home WiFi solution. Cover up to 5,000 sq. ft. with blazing-fast, reliable WiFi with speeds of up to 4.2Gbps for over 40 devices. Stream, browse, and work uninterrupted in every room of your home.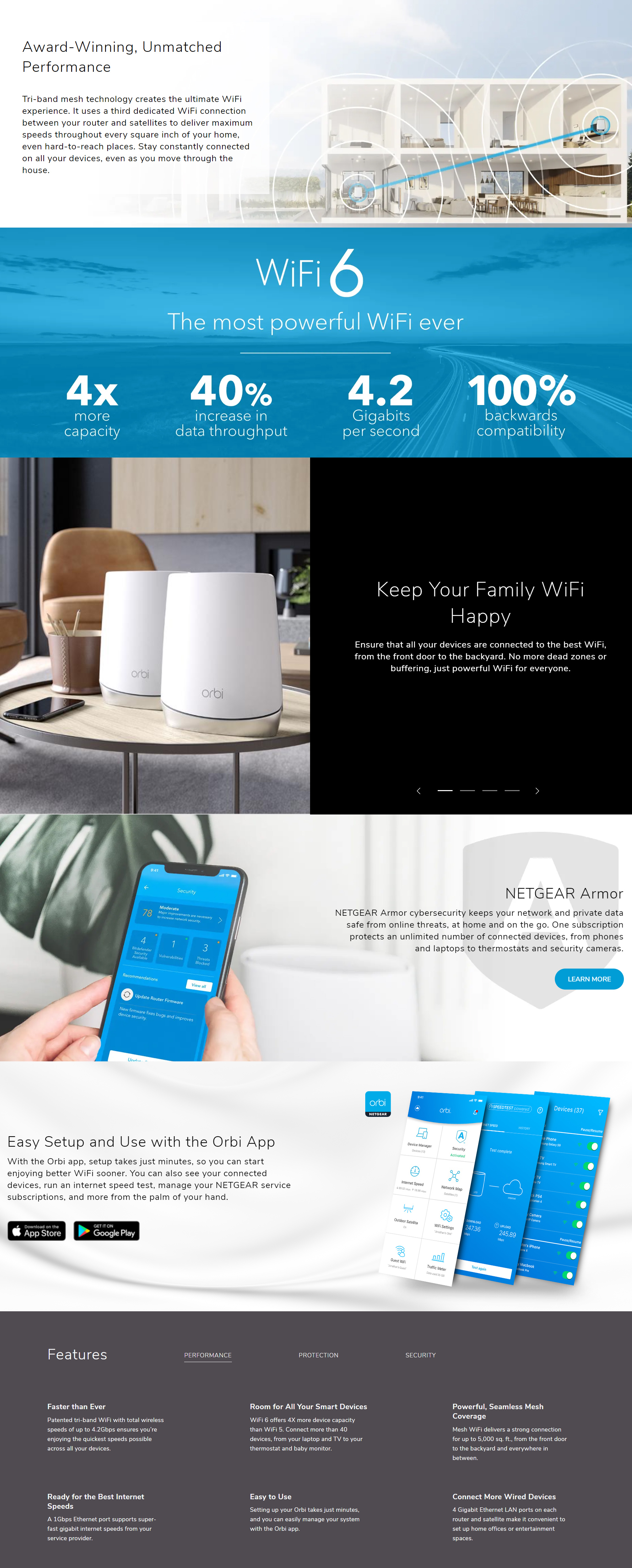 SPECIFICATIONS:

Mesh WiFi 6 Router (RBR750) :
Dimensions: 9.1 x 7.2 x 2.8in, Weight: 1.9lb


WiFi Coverage : 5,000 sq. ft
Orbi Router (AX4200): : Six (6) high performance internal antennas with high-powered amplifiers
Beamforming : Implicit & Explicit Beamforming for 2.4GHz & 5GHz bands. MU-MIMO capable for simultaneous data streaming to multiple devices
Processor : Powerful Quad-Core 1.4GHz processor
AX4200 Tri-Band WiFi : 2.4GHz (600Mbps) + 5GHz (1200Mbps) for WiFi devices to connect to the Internet. 5GHz (2400Mbps) dedicated WiFi link for faster data connections between Orbi Router and Orbi Satellite
Ports : One (1) WAN port and 3 LAN Gigabit Ethernet ports
Memory : 512MB NAND Flash and 1GB RAM
Works with Amazon Alex and the Google Assistant : Yes
Security : Comprehensive anti-virus & data theft protection for your PC, Mac® and mobile devices with NETGEAR Armor™. Standards-based WiFi Security (802.11i, 128-bit AES encryption with PSK). Guest WiFi Network is easy to setup separate & secure Internet access for guests

Mesh WiFi 6 Satellite (RBS750) :
Dimensions: 9.1 x 7.2 x 2.8in, Weight: 1.9lb


Orbi Satellite (AX4200) : Six (6) high performance internal antennas with high-powered amplifiers
Beamforming : Implicit & Explicit Beamforming for 2.4GHz & 5GHz bands. MU-MIMO capable for simultaneous data streaming to multiple devices
Processor : Powerful Quad-Core 1.4GHz processor
AX4200 Tri-Band WiFi : 2.4GHz (600Mbps) + 5GHz (1200Mbps) for WiFi devices to connect to the Internet. 5GHz (2400Mbps) dedicated WiFi link for faster data connections between Orbi Router and Orbi Satellite
Ports : Two (2) LAN Gigabit Ethernet ports