Silicon Power A55 1TB TLC 3D NAND 2.5in SATA SSD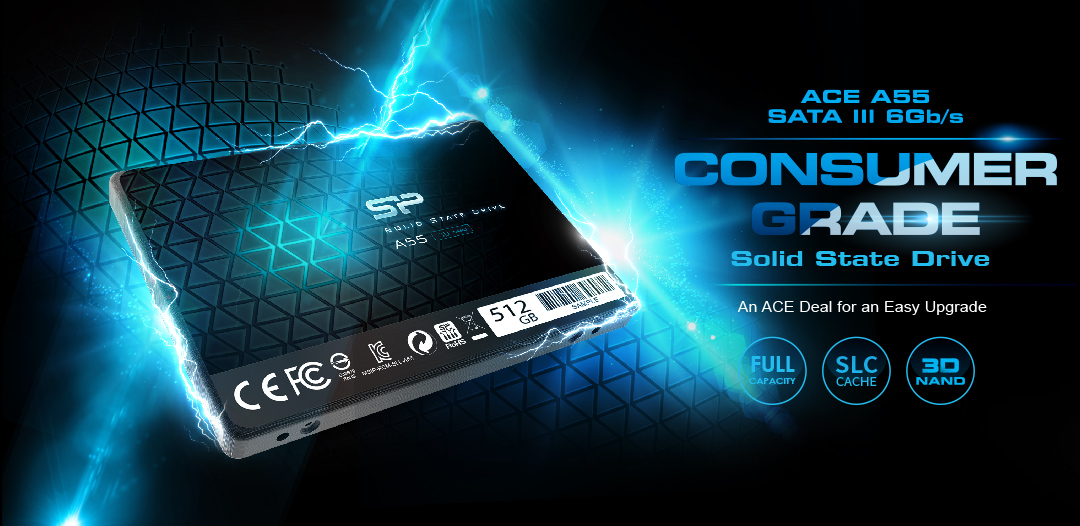 Upgrade to the Next Level Speed
Born to Give Your Computer NEW Life
Powered by high quality controller and original synchronous NAND flash, the A55 delivers incredibly high transfer speeds that enable short boot time, fast application loading and quick file processing. The Ace A55 applies

"SLC Cache technology" with a new caching architecture that combines both SLC and TLC flash blocks

. This technology enables all data to be written in the SLC section before being sequentially copied to the TLC block, and as a consequence allows for higher peak writing performance.
Still wasting precious time while booting your computer or loading applications? Then it's time to get rid of your old hard drive and switch to an SSD. Powered by

SATA III 6GB/s interface

, the Ace A55 is able to

boot your computer or launch applications within seconds

.

Durability Armed

Bad Block Management (BBM)
Even new disks can contain one or more bad blocks which may cause irreparable damage to your system. But have no fear! To prevent flash memory corruption, the Ace A55 is built with bad block management technology. A bad block management (BBM) mechanism detects and marks bad blocks to avoid storage in those blocks and eliminate access errors. And, even if errors do occur in new blocks during an erase, this mechanism can move the data to other effective blocks to prevent data loss resulting from the failed erase. Because we do care about your data. Equipped with an original controller and 3D NAND flash, the Ace A55 can not only guarantee stability and durability. It also delivers an outstanding performance which enables 10-second quick boot-ups, shorter application load times and faster data transmission speed. Whether you are web surfing, enjoying a good movie, or have to handle paperwork, the Ace A55 will bring you a smooth, lag-free experience.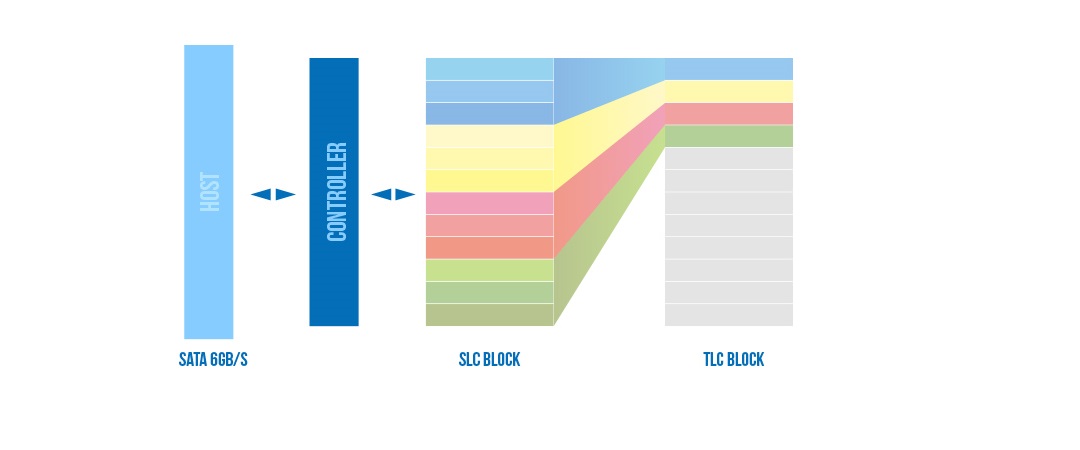 Lifespan Maximize with Specific Technology
Auto-Copy & ECC (error correction code) technology
The Ace A55's Auto-Copy technology allows automatic copy operations from the SLC cache to the TLC blocks inside the NAND without using the controller or DDR. This supports higher efficiency by reducing the controller's and DRAM's workload. Supports TRIM command, Garbage Collection technology, NCQ, RAID, and ECC (Error Checking & Correction) to provide the optimized performance and enhanced reliability.


Free-Download of SSD Health Monitor - SP Toolbox
We do care your Document
Easily monitor your new SSD's health with our free-download software – SP Toolbox. Run performance tests on the Ace A55, get an overall function evaluation or check detailed information about your device, including used space, device temperature, total bytes written, and many more.



An Upgrade as Easy as 1-2-3
Upgrading your computer is a piece of cake – you don't need to be a techie to do it. Just follow these three easy steps:
Step 1. Backup your data to another storage device
Step 2. Remove the old HDD from your computer
Step 3. Insert the A55 in your computer.


Features
• Adopts TLC 3D NAND flash and "SLC Cache technology" to improve overall performance
• 15 x faster than a standard 5400 HDD with SATA III 6Gb/s interface
• 7 mm slim design suitable for ultrabooks and ultra-slim laptops
• Supports TRIM command and Garbage Collection technology
• NCQ and RAID ready
• ECC technology to guarantee reliable data transmission
• S.M.A.R.T. monitoring system
• Low power consumption, shock and vibration-proof, noiseless and low latency
Specifications
| | |
| --- | --- |
| Capacity | 128GB, 256GB, 512GB, 1TB, 2TB |
| Dimensions | 100.0 x 69.9 x 7.0mm |
| Weight | 63g (max.) |
| Interface | SATA III |
| Performance Read(max.) | ATTO: up to 560MB/s CDM: up to 500MB/s |
| Performance Write(max.) | ATTO: up to 530MB/s CDM: up to 450MB/s |
| Operating temperature | 0 ºC to 70 ºC |
| Storage temperature | -40 ºC to 85 ºC |
| MTBF (est) | 1,500,000 hours |
| Operation Voltage | 5V |
| Vibration Resistance Test | 20G |
| Shock Resistance Test | 1500G Max |
| Warranty | 3 - years warranty |

Worldwide Reviews