Silicon Power Leather 7.5W/10W Fast Wireless Charger Qi-Certified for iOS , Android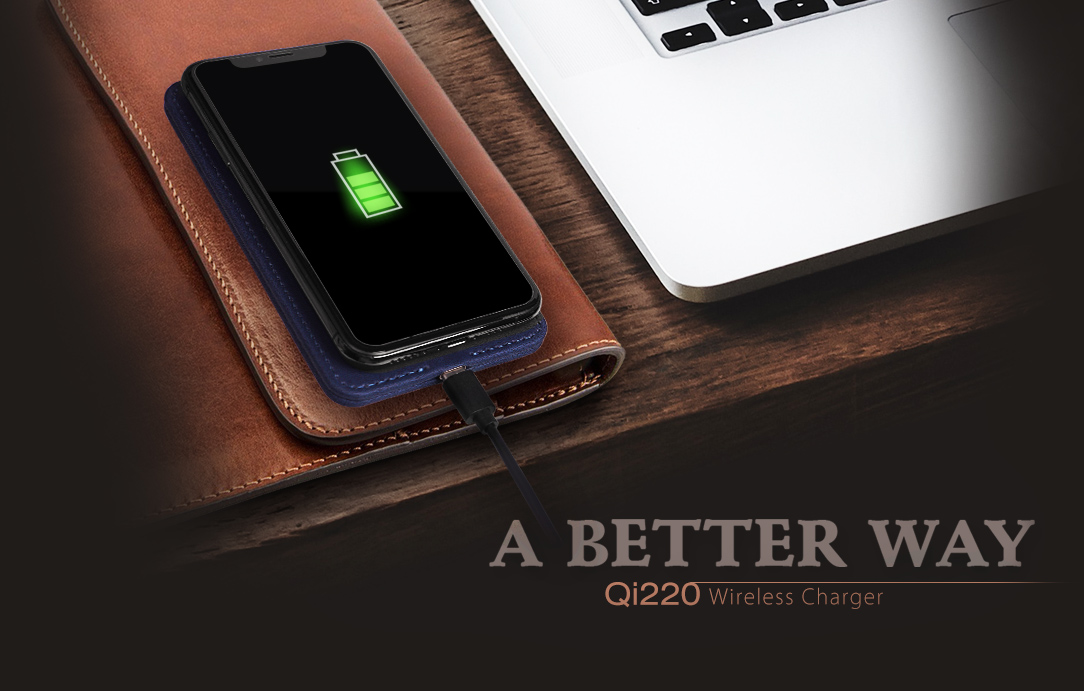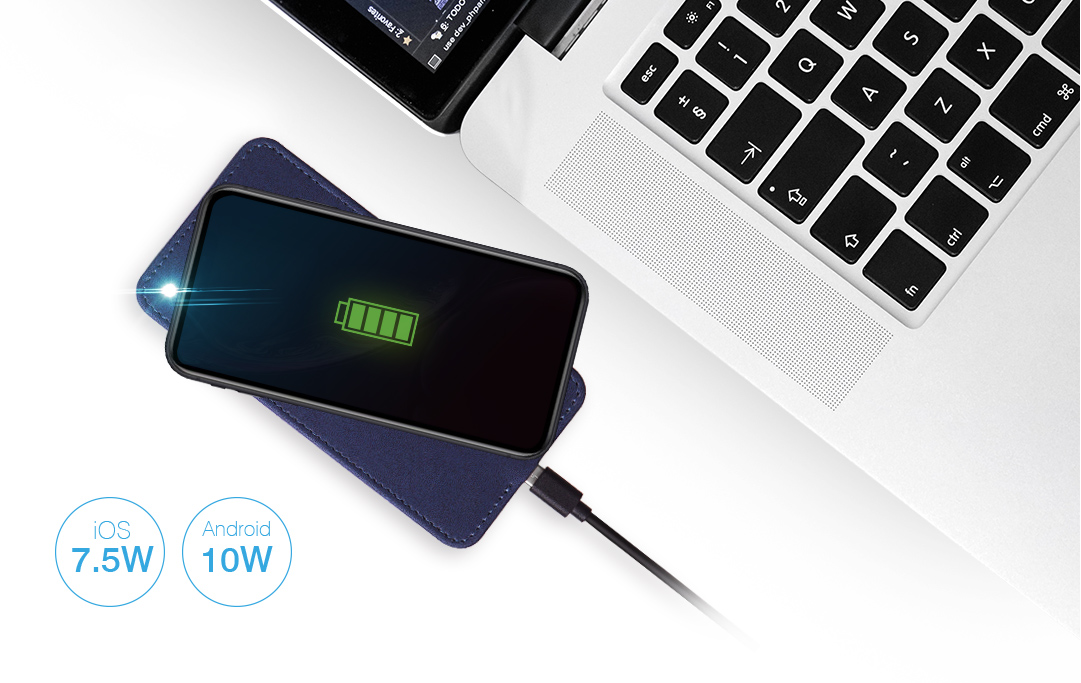 Wireless Charging Without Sacrifice
The QI220 crushes the misconception that wireless charging equates to slow charging. Since it's compatible with all Qi-certified devices, your Android or iOS smartphone is ready to utilize its Fast Charge capability. That means you can charge at speeds of 10W for Android or 7.5W for iOS – wirelessly. And, you won't even need to remove the case, because transmission distance is successful up to 5mm. The only thing you'll sacrifice here is wires.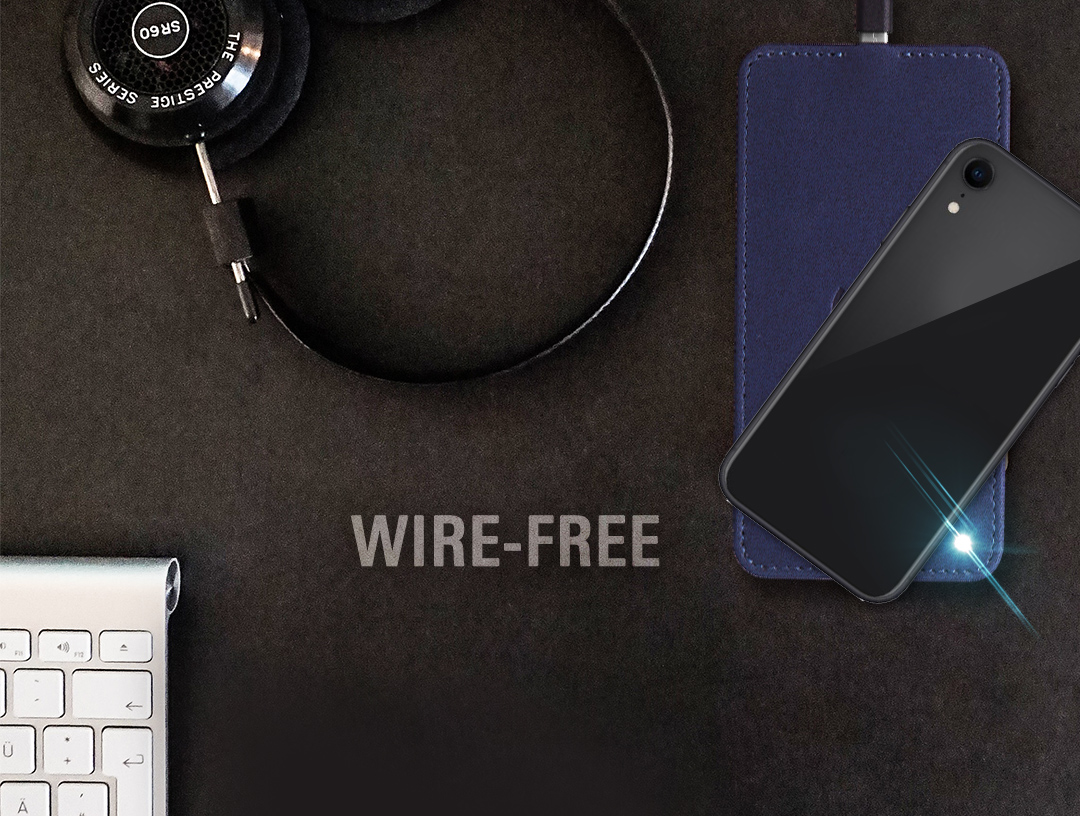 The Most Convenient Way To Charge
With the QI220, you'll leave behind yesterday's wire worries. Without mismatched charging cables and messy or tangled wires, you can easily drop and charge or pick-up and go, whenever you want. It's the perfect complement to your busy, motion-focused lifestyle, whether you decide to use it at work or at home. It doesn't get any more convenient than the freedom that comes with wire-free.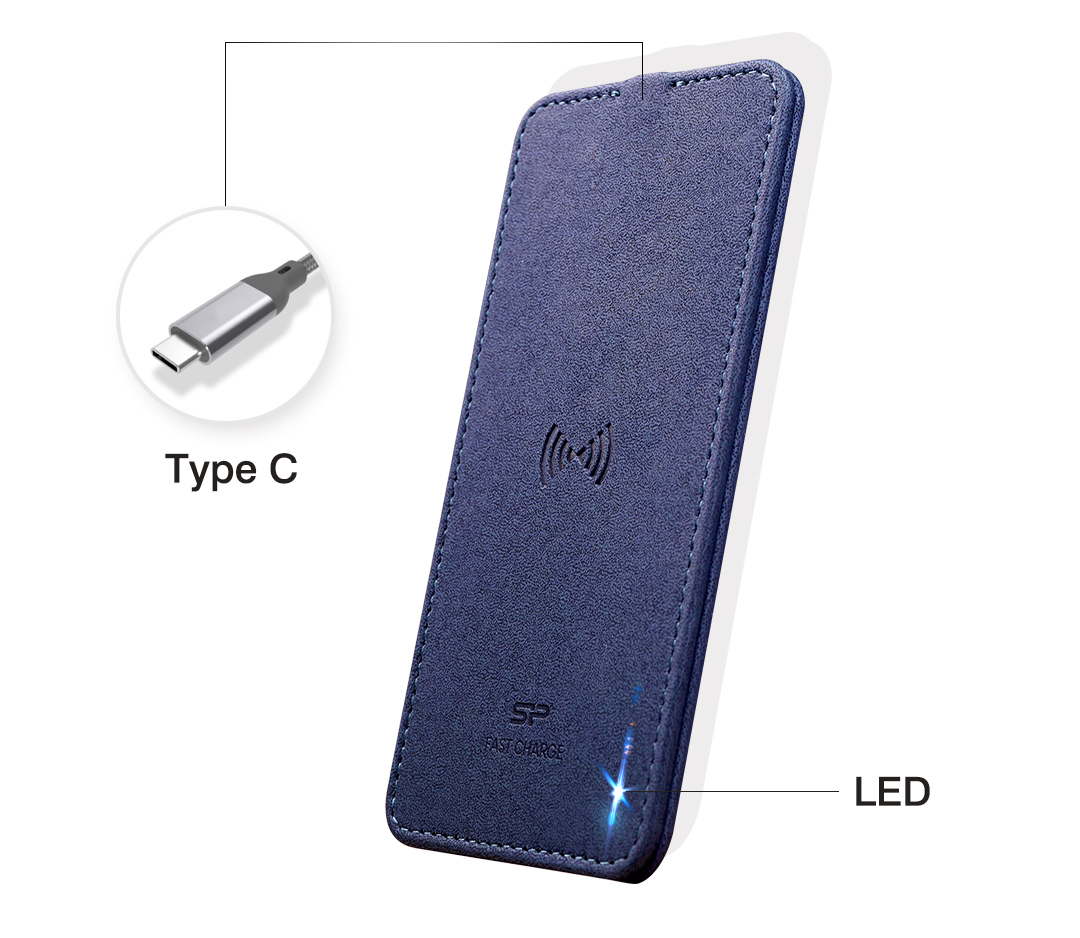 It's All In The Details
The premium faux leather, top-stitch detail, and cool blue color result in a stylish design that will be sure to look good and blend in with any setting. The clear yet subtle LED light will not cause any distractions, whether it's nearby while you work, study, or sleep. The USB-C input is conveniently reversible and on-trend. And, when you're ready to take it with you, the ultra slim and lightweight design is extremely portable-friendly.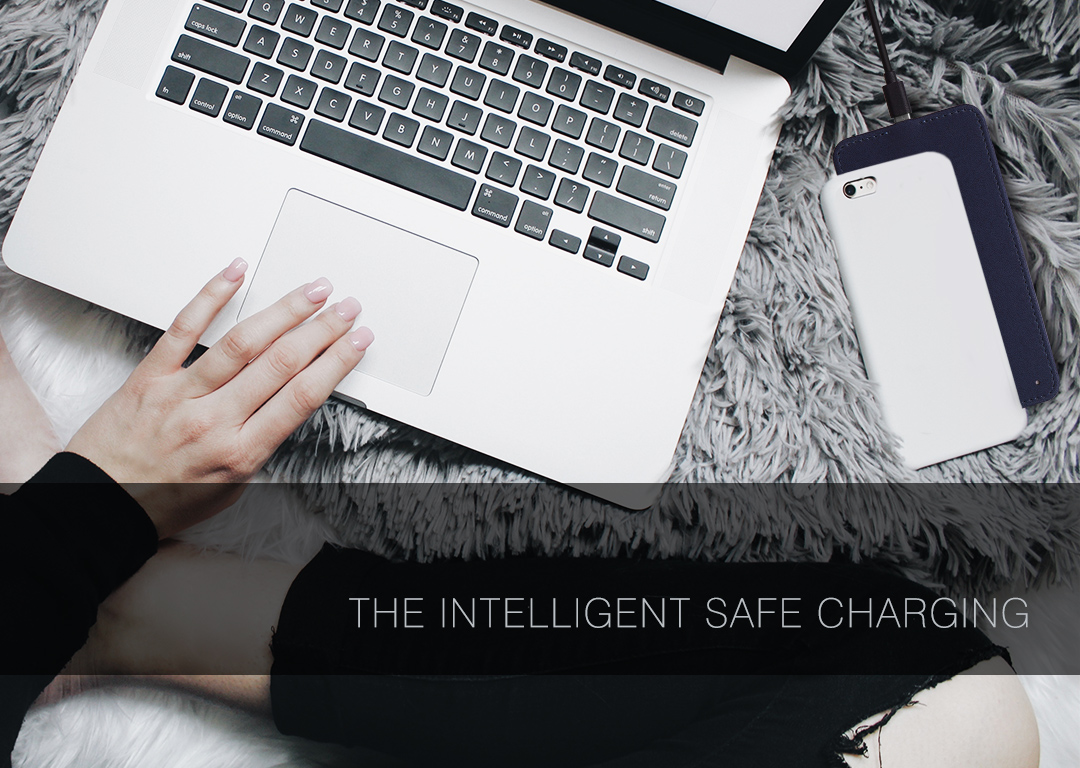 The Safest Charge Around
With the Intelligent Safe Charging function, it's impossible to overcharge your device. Set it on the charger pad and forget about it, while never worrying about the dangers of overcharging your device again; a trickle charge kicks-in when your battery nears 100%. In addition, your devices are protected from over-voltage, over-current, short-circuit, and over-temperature, as well as foreign object detection, for the safest charge around.
Specifications


Dimensions


150mm x 77mm x 7mm

Weight


60 g

Wireless Standard


Qi

Color


Biue


Input


DC 9V & DC 5V via USB-C

Output


Up to 10W (max.)

Transmission Distance


≤ 5mm

Operating Temperature


-5°C - 40°C

Storage Temperature


-25°C - 60°C

Protection



Over-Voltage Protection, Over-Current Protection, Over-Temperature Protection

Short-Circuit protection, Foreign Object Protection


Certification


CE, FCC, RoHS, BSMI, EAC, WEEE, RCM

Warranty


12 months limited warranty
Features

● Compatible with all Qi-certified devices
● Supports Fast Charge (10W for Android devices and 7.5W for iOS devices) and Standard Charge (5W for all other Qi-certified devices)
● Up to 5mm transmission distance allows mobile devices with non-metal cases to charge sucessfully (ie. cases made from TPU, leather, plastic, or rubber)
● USB-C input is current and conveniently reversible
● Stylish details include premium faux leather and topstitching, while the ultra slim and lightweight design is portable-friendly
● Intelligent Safe Charging function enabled for over-voltage protection, over-current protection, short-circuit protection, over-temperature protection, and foreign object detection
● Clear yet subtle LED light indicator is suitable for non-interference while working or sleeping
*The 'Qi' symbol is a trademark of the Wireless Power Consortium.



SP Superior PRO Micro SD


SP A30 Portable HDD
SP A60 Portable HDD
SP A65 Portable HDD



4K Ultra HD video recording



Military-Grade Shockproof
Military-Grade Shockproof
Military-Grade Shockproof

Waterproof, dustproof, temperature-proof, and X-ray-proof


Convenient wrap-around cable

IPX4 water-resistance

IP67 Water Protection

Fit for Switch, smartphone, tablet, digital camera, drone and more


Advanced internal suspension system
Advanced internal suspension system
Delicate Cable Storage Design
MSRP : $ 55 (256GB)

MSRP : $ 95
MSRP : $ 105
MSRP : $ 110

64GB / 128GB
256GB / 512GB


GO CHECK THIS
GO CHECK THIS
GO CHECK THIS


SP TLC SATA SSD


SP NVMe TLC A60
SP NVMe QLC UD70
SP NVMe TLC A80

SP NVMe GEN4 US70


TLC 3D NAND Flash



TLC 3D NAND Flash

QLC 3D NAND Flash

TLC 3D NAND Flash

TLC 3D NAND Flash

Read up to 560 MB/s
Write up to 530 MB/s

Read up to 2,200 MB/s
Write up to 1,600 MB/s

Read up to 3,400 MB/s
Write up to 3,000 MB/s

Read up to 3,400 MB/s

Write up to 3,000 MB/s

Read up to 5,000 MB/s
Write up to 4,400 MB/s

Life Expectancy :
1,500,000 hrs MTBF

Life Expectancy :
2,000,000 hrs MTBF

Life Expectancy :
1,800,000 hrs MTBF

Life Expectancy :

2,000,000 hrs MTBF

Life Expectancy :
1,700,000 hrs MTBF

Quality & Capacity
Friendly Price

High Quality
Friendly Price

High Performance
Friendly Price

High-End Performance

Fair Price

Next Generation Speed
Fair Price

GO CHECK THIS

GO CHECK THIS


GO CHECK THIS
GO CHECK THIS
GO CHECK THIS