Startech USB 3.0 Dual Hard Drive Docking Station w UASP for 2.5/3.5in SSD/HDD SATA 6 Gbps
The SDOCK2U33 Dual 2.5/3.5" SATA hard drive docking station lets you dock and swap drives from your desktop or laptop computer simultaneously, using a single USB port.
Enhanced with UASP (USB Attached SCSI Protocol), this hard drive docking station lets you get the most out of the fastest drive technologies such as SATA III (6 Gbps), solid state drives (SSD) and hybrid, drives with performance up to 70% faster than conventional USB 3.0 when paired with a UASP-enabled host controller. See our UASP testing results below for further details.
The hard drive dock features independent power buttons for each individual drive, ensuring you can operate each hard drive separately. This gives you the freedom to hot-swap one drive while transferring data to another, saving you time.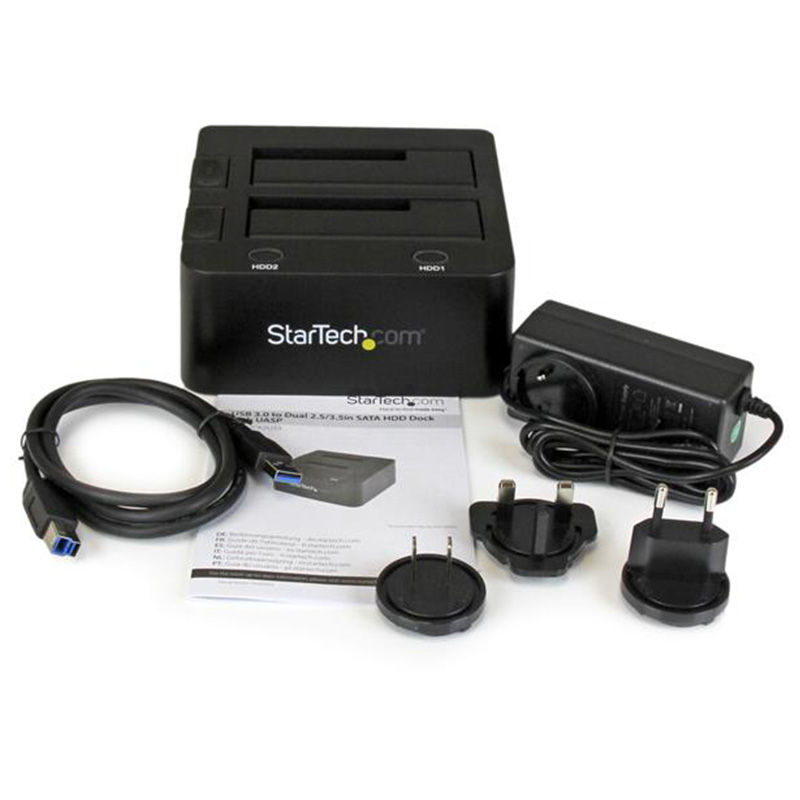 Specifications

Insertion Rating: 15,000 Cycles

Max Drive Capacity: Currently tested with up to 4TB 7200 RPM 3.5" hard drives per bay (8TB total) and 2TB 5900 RPM 2.5" hard drives (2TB total)

MTBF: 30,000

Type and Rate: USB 3.0 - 5 Gbit/s

UASP Support: Yes

Input Current: 1.3 A

Input Voltage: 100 ~ 240 AC

Output Current: 3 A

Output Voltage: 2 DC

Plug Type: M

Power Consumption (In Watts): 36

Power Source: AC Adapter Included