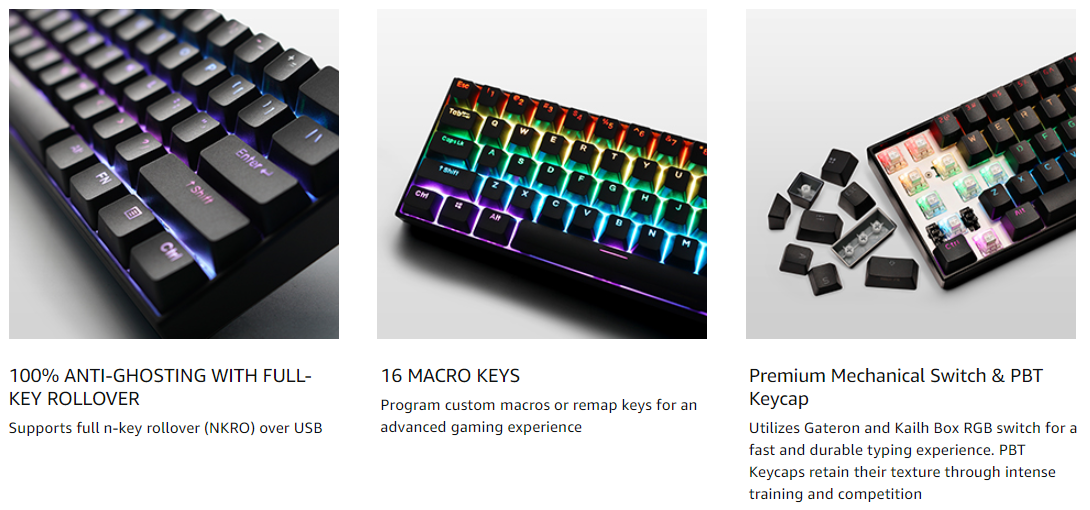 Minimalistic design doing more with less. Requires less hand movement while still being able to access all the functionalities.

Compact and Portable . It saves desk space and easy to carry around. Fits right in backpack. Perfect for home, work and on the go.

Decent bluetooth connectivity enables wireless connection up to 4 devices and switch seamlessly back and forth.

Revamped obinskit starter software simplifies the way to set up your own key layout, lighting and to create macros.

The "Magic Fn" on the Caps Lock button makes it easier to utilize the F1-F12 keys while gaming.
What is Anne Pro 2
ANNE PRO 2 is a 60% size Bluetooth RGB mechanical keyboard. It's smart and saves the space of the desk. Although there are only 61 keys, it can be used like a standard 104 -key keyboard by the key combination
About the manufacturer
Taicang Zhigengniao(ZGN) is specializing in creating a unique mechanical keyboard with the best performance of Lighting, customizability, durability, Multiple Layouts, and programmability, etc. Established in early 2014. Most of ZGN members are professional engineers that have been working in IT technical industry for many years. They are sophisticated in product design, cloud computing, and software applications. Just like the said " Design is not just what it looks like and feels like. Design is how it works", ZGN places great importance on design, including the software code, chips selection, and 3D product design. The combination of different types of design and technical things matters the most in ZGN's philosophy.
Key Features of Anne Pro 2
1. Designed with comfortable and nice typing angle
2. Bluetooth 4.0 or USB Type-C connectivity modes, up to 4 devices can be paired
3. 1900mAh built-in Li-Ion battery. Capable of between 8 hours and 4 weeks of constant power depending on LED usage and brightness
4. Per-key RGB LED's (16 million colors), Multiple pre-programmed dynamic modes. Custom per-key lighting can be configured via the app
5. Full 61 key NKRO/Anti-Ghosting (USB mode only)
6.Constantly developing firmware
7.1ms response time