Aten UH3232 USB-C Single-View Multiport Mini Dock HDMI/VGA, Single View:3840*2160@30 1x USB3.1
The UH3232 USB-C Multiport Mini Dock connects a USB-C computer to an Ethernet, HDMI, VGA and USB Type-A port– through a single cable. The UH3232 features an integrated and easy-to-use connector that instantly links your USB-C or Thunderbolt™ 3 computer to an HDMI 4K Ultra HD (3840 x 2160 @ 30 Hz) or VGA 2K (2048 x 1152 @ 60 Hz) video output, USB 3.1 Gen 1 port, and Gigabit Ethernet port for fast desktop docking. The 6-layer PCBA design reduces signal distortion and interference for uninterrupted video that is always crisp and sharp, while the Gigabit Ethernet port delivers Internet speeds up to 1000 Mbps. This convenient and versatile dock offers a perfect portable solution for connecting multiple sources to a USB-C enabled computer – quickly.
Connects a USB-C or Thunderbolt™ 3 computer to an HDMI/VGA, Ethernet and USB Type-A port via single cable

Supports HDMI 1.4b with 4K (3840 x 2160 @ 30 Hz) resolutions; or VGA with 2K (2048 x 1152 @ 60 Hz) resolutions

Lightweight design – for easy transport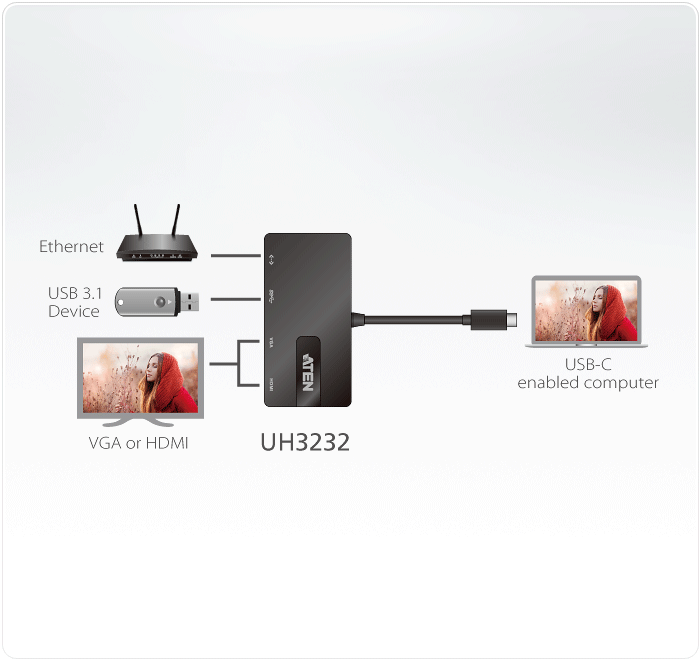 Specifications
COMPUTER CONNECTIONS

1

COMPUTER

1 x USB-C Male (Black)

DEVICE

1 x USB 3.1 Gen1 Type A Female (Blue)


VIDEO OUTPUT

1 x HDMI Female (Black)
1 x VGA Female (Black)


LAN PORTS

1 x Gigabit Ethernet Female (Black)

VIDEO RESOLUTION

Single View: *
VGA - 2048*1152@60
or
HDMI - 3840*2160@30


*With Intel 7th-Generation Core Processor (Kaby Lake) and above. More info about CPU generation, please find: https://www.intel.com/content/www/us/en/processors/processor-numbers.html
For video output to work through a USB-C port, device with DP Alt Mode support is required.


POWER CONSUMPTION

DC5V:7.87WBTU

OPERATING TEMPERATURE

0–40°C

STORAGE TEMPERATURE

-20–60°C

HUMIDITY

0–80% RH, Non-condensing

HOUSING

Plastic

WEIGHT

0.07 kg ( 0.15 lb )

DIMENSIONS (L X W X H)

15.88 x 10.80 x 1.52 cm
(6.25 x 4.25 x 0.6 in.)

NOTE

For some of rack mount products, please note that the standard physical dimensions of WxDxH are expressed using a LxWxH format.