Brateck 13-27 inch Triple Monitor Arm Mounts with Desk Clamp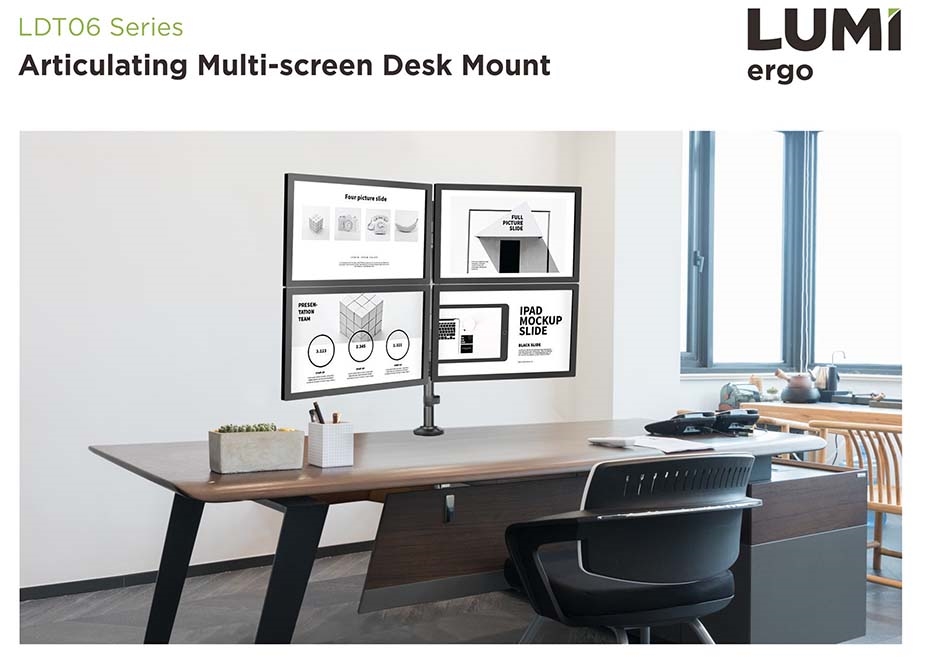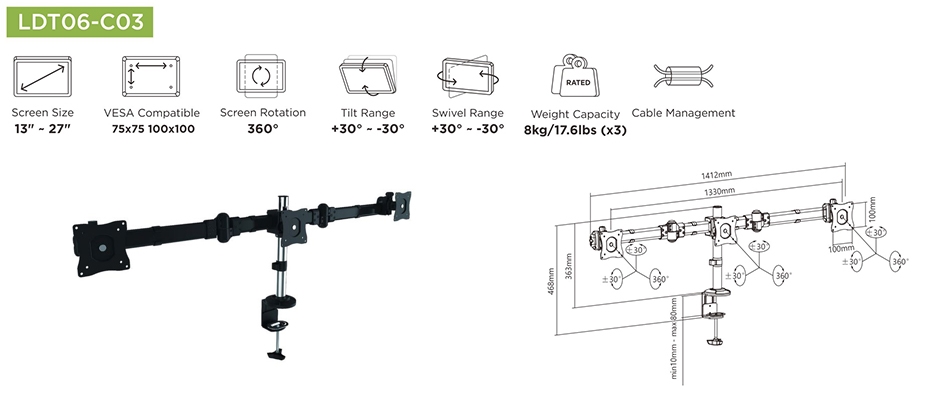 The Brateck Triple LCD Monitor Desk Mount (LDT06-C03) is designed to enable multi-monitor setups in the office for improved workflow or at home for enhanced gameplay. Featuring three mounting points, fully-adjustable mounting plates, and built-in cable management, the Brateck Triple LCD Monitor Desk Mount provides all the convenience you need to work or play efficiently using three screens.
Durable quality
Made of high-grade plastic, aluminium, and steel, the sturdy Brateck Monitor Desk Mount can support up to three 13"-27" LCD screens each weighing 8kgs (17.6Ibs).
Easy adjustments
The mounting plates allow 360° rotation, making it possible to change orientation from landscape to portrait and vice-versa. Swivel and tilt ranges are 30° upward/leftward and 30°downward/rightward. The arms extend a maximum 706mm (27.8") while vertical height adjustment goes up to 360mm (14.2").
VESA compatible
Each included mounting plate is VESA compliant with mounting patterns able to accommodate 75mm x 75mm and 100mm x 100mm VESA screw holes.
Cable management
A cable clip comes supplied for securing cables to the desk mount's pole. Use the clip to keep your desk clear of cable clutter.
The Brateck Triple LCD Monitor Desk Mount is a world-class mounting solution for effective multi-tasking or intensely immersive gaming. Mount three screens on the Brateck Triple Monitor Desk Mount and let nothing go without you noticing.



Easy-grip knobs for quick tilt and lock
Cable management keeps everything organized
360° Rotary VESA plate for more viewing experience

SPECIFICATIONS:

| | |
| --- | --- |
| By Rank: | Standard Series |
| Material: | Aluminum, Steel, Plastic |
| Surface Finish: | Powder Coating |
| Color: | Black/Silver |
| Product Size: | 1446x119x515mm (56.9"x4.7"x20.3") |
| Installation: | Clamp, Desk mount |
| Suggestd Screen Size: | 13"-27" |
| Screen Qty: | 3 |
| Weight Capacity Range/Per Monitor: | 0-8KG (0lbs-17.6lbs) |
| Rated Load/Per Monitor: | 8KG (17.6lbs) |
| VESA: | 100x100;75x75 |
| Tilt: | +30°~-30° |
| Swivel: | +30°~-30° |
| Rotate: | +180°~-180° |
| Arm Extend: | 706mm (27.8") |
| Height: | 360mm (14.2") |
| Clamp Thickness: | 10-80mm (0.39"-3.1") |
| Freely Height Adjustable : | Yes |
| Cable Management: | Yes |
| Anti-theft: | No |
| Curved Monitor Available: | NO |
| Certification: | No |
| Patent: | No |
| Others: | No |
| User Manual: | Yes |