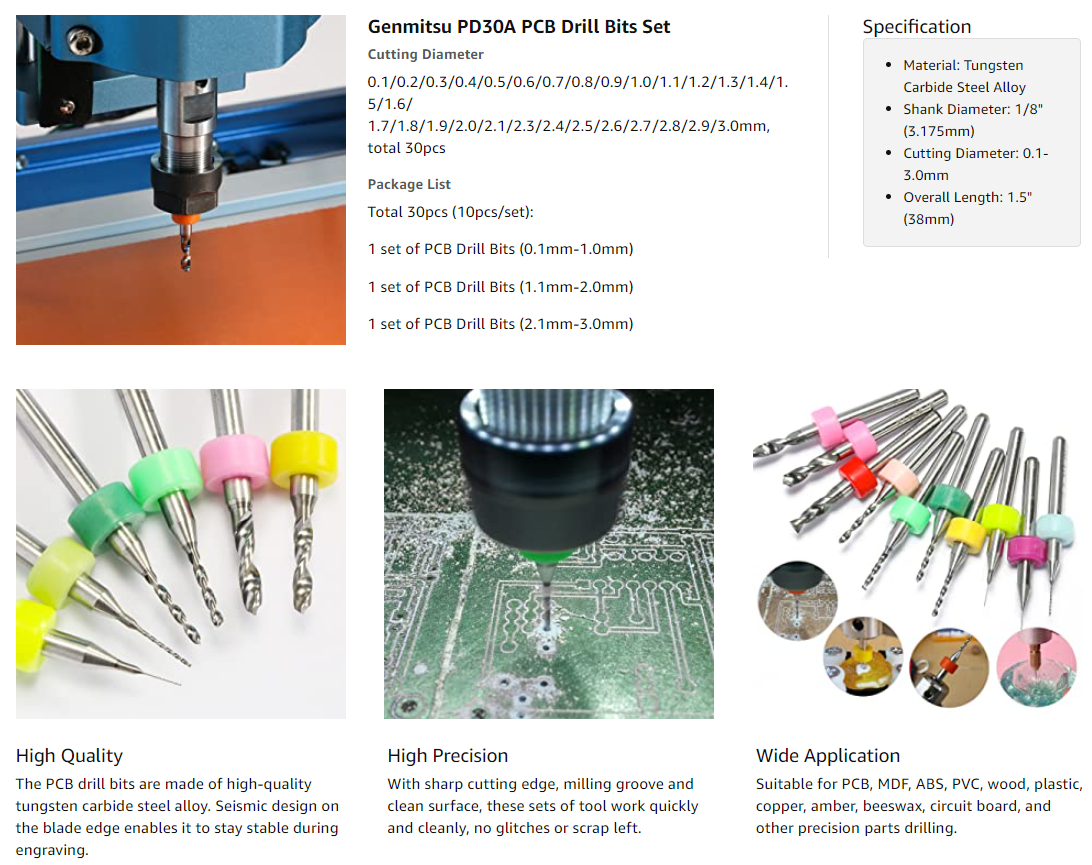 High Quality: The PCB drill bits set are made of high-quality tungsten carbide steel alloy, which is high wear resistance, high hardness, anti-impairment. Seismic design on the blade edge enables it to stay stable during engraving.

Various Sizes: 1/8'' shank; bits diameter: 0.1mm, 0.2mm, 0.3mm, 0.4mm, 0.5mm, 0.6mm, 0.7mm, 0.8mm, 0.9mm, 1.0mm, 1.1mm, 1.2mm, 1.3mm, 1.4mm, 1.5m, 1.6mm, 1.7mm, 1.8mm, 1.9mm, 2.0mm, 2.1mm, 2.2mm, 2.3mm, 2.4mm, 2.5mm, 2.6mm, 2.7mm, 2.8mm, 2.9mm, 3.0mm. This Set contains 30 different size drill bits diameter, each size having1 pcs.

Advantage: With spiral flute cutting edge, these PCB drill bits can reduce cutting force and prevent the drill from broken and improve accuracy. They work quickly and cleanly, with no glitches or scrap left.

Application: Suitable for amber beeswax, printed circuit boards, 3D printer nozzle cleaning, plexiglass, bakelite, CNC engraving, jewelry, plastic, and other precise drilling. To learn more about how to choose the right bits to meet your needs, please find the Comparison Chart (CNC Bits Buying Guide) at the Product Guides and Documents Section below.

30-piece Combo Set: There are 3 sets of drill bits (Set A: 0.1mm-1.0mm; Set B: 1.1mm-2.0mm; Set C: 2.1mm-3.0mm), each of 10 pieces, and each set has a protective box. It's easy to store and carry.