Silicon Power 64GB USB3.0 Jewel J80 Water / Dust / Vibration-Proof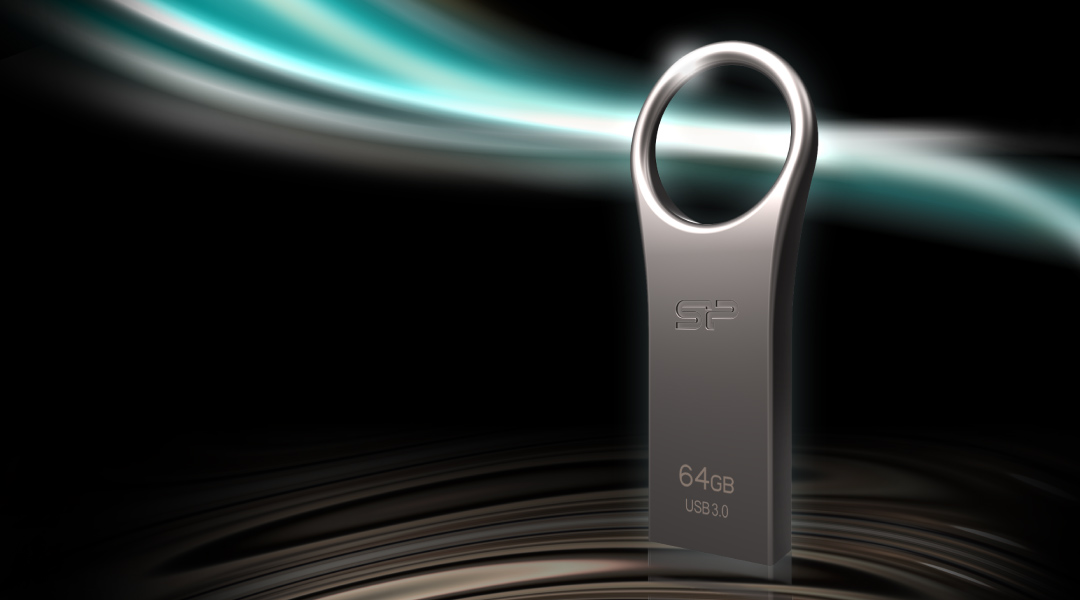 Modern style & Metallic casing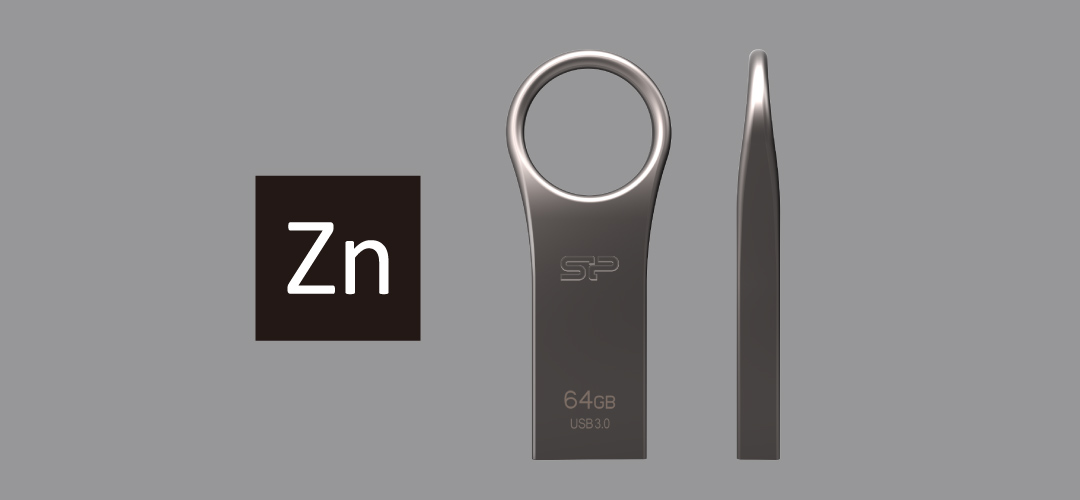 Sophisticated metal-casing craftsmanship
The ring-shaped unibody exterior, glamorous zinc alloy casing and the elegant color of titanium altogether display the post-modern style. Furthermore, a sandblasting treatment is employed to provide superior resistance to scratches and fingerprints.

Ergonomic circular shape design
The ergonomic circular shape design on the end of the drive allows an easier and more comfortable way to use and grasp the J80; additionally, it can be perfectly fitted on a keychain.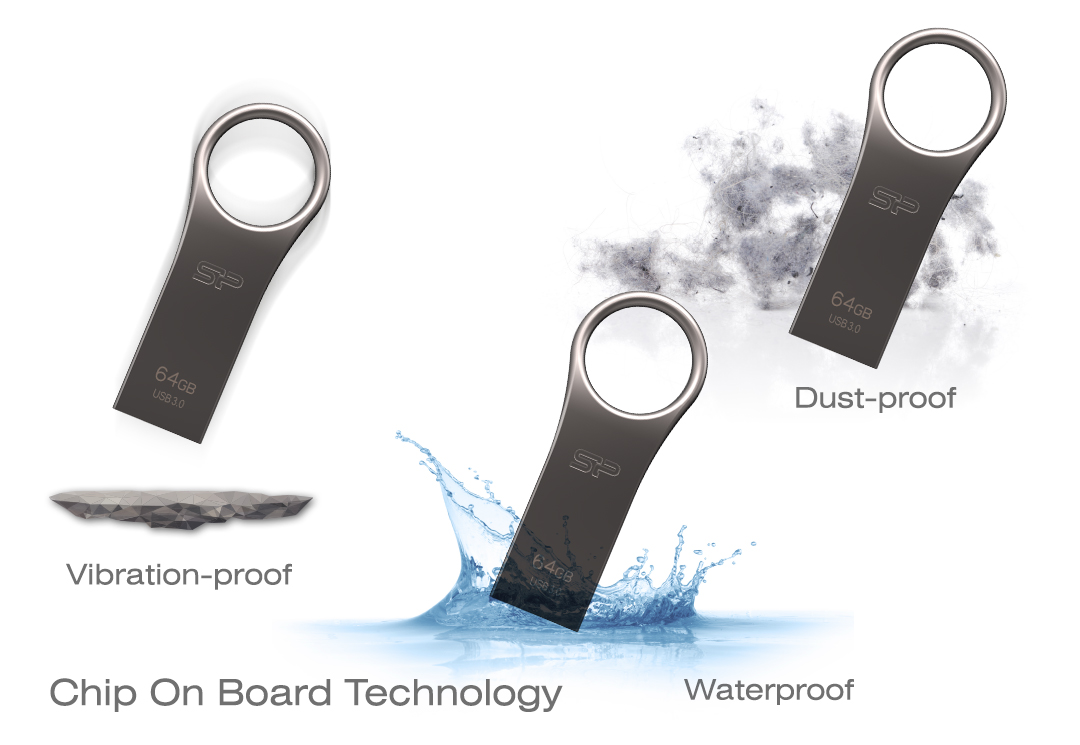 Waterproof, dustproof and vibration-proof protections
In order to avoid data loss and corruption, Jewel J80 applies the use of Micro COB (Chip On Board) technology and durable metallic material that promise complete protection against vibration, water and dust.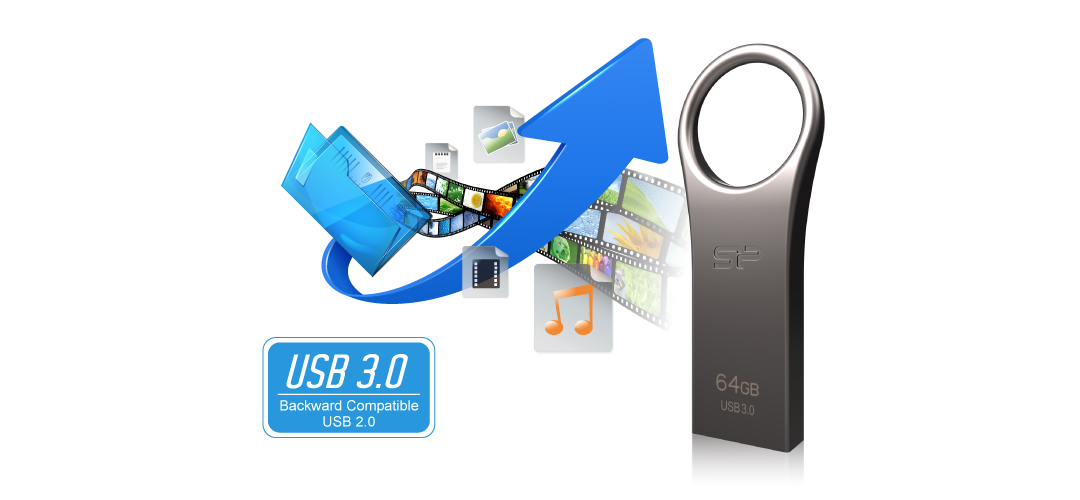 SuperSpeed USB 3.2 Gen1 ( USB 3.1 Gen 1 & USB 3.0 ) interface
The SuperSpeed USB 3.2 Gen 1 ( USB 3.1 Gen 1 & USB 3.0) delivers outstanding read/write speed. It saves users' precious time to easily edit or store large files including graphics and HD videos
* Due to the name change by the USB-IF, the USB 3.2 Gen 1 is the same as USB 3.1 Gen 1 and USB 3.0, all delivering the same speed up to 5Gbps



SP Superior PRO Micro SD


SP A30 Portable HDD
SP A60 Portable HDD
SP A65 Portable HDD



4K Ultra HD video recording



Military-Grade Shockproof
Military-Grade Shockproof
Military-Grade Shockproof

Waterproof, dustproof, temperature-proof, and X-ray-proof


Convenient wrap-around cable

IPX4 water-resistance

IP67 Water Protection

Fit for Switch, smartphone, tablet, digital camera, drone and more


Advanced internal suspension system
Advanced internal suspension system
Delicate Cable Storage Design
MSRP : $ 55 (256GB)

MSRP : $ 95
MSRP : $ 105
MSRP : $ 109

64GB / 128GB
256GB / 512GB


GO CHECK THIS
GO CHECK THIS
GO CHECK THIS


SP TLC SATA SSD


SP NVMe TLC A60
SP NVMe QLC UD70
SP NVMe TLC A80

SP NVMe GEN4 US70


TLC 3D NAND Flash



TLC 3D NAND Flash

QLC 3D NAND Flash

TLC 3D NAND Flash

TLC 3D NAND Flash

Read up to 560 MB/s
Write up to 530 MB/s

Read up to 2,200 MB/s
Write up to 1,600 MB/s

Read up to 3,400 MB/s
Write up to 3,000 MB/s

Read up to 3,400 MB/s

Write up to 3,000 MB/s

Read up to 5,000 MB/s
Write up to 4,400 MB/s

Life Expectancy :
1,500,000 hrs MTBF

Life Expectancy :
2,000,000 hrs MTBF

Life Expectancy :
1,800,000 hrs MTBF

Life Expectancy :

2,000,000 hrs MTBF

Life Expectancy :
1,700,000 hrs MTBF

Quality & Capacity
Friendly Price

High Quality
Friendly Price

High Performance
Friendly Price

High-End Performance

Fair Price

Next Generation Speed
Fair Price

GO CHECK THIS

GO CHECK THIS


GO CHECK THIS
GO CHECK THIS
GO CHECK THIS