Upgrade Your System
With Hynix IC high quality memory module, Ideal for virtualization, cloud computing and multitasks handling, 100% factory-tested for stability, durability and compatibility.






Lower Voltage, Higher Performance
The Low-Voltage series are able to efficiently decrease hardware power consumption without compromising the benefit of the performance.






Guaranteed Quality & Lifetime Warranty

The DDR3L SODIMM adopts selected original memory module and is 100% factory-tested to guarantee the high stability, durability and compatibility. Furthermore, the DDR3L SODIMM is backed by a lifetime warranty to promise complete services and technical support.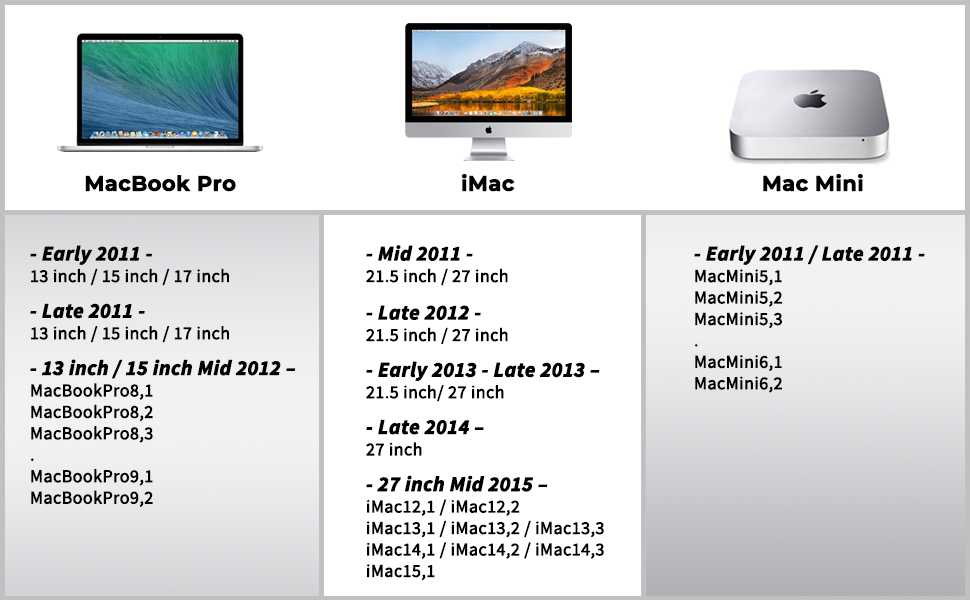 Compatibility is Imperative

• 1600MHz (PC3 12800) 204-pin CL11 1.35V SODIMM for laptop memory

• Compatible with Apple MacBook Pro -13 inch / 15 inch / 17 inch Early 2011, 13 inch / 15 inch / 17 inch Late 2011, 13 inch / 15 inch Mid 2012 – MacBookPro8,1 MacBookPro8,2 MacBookPro8,3 MacBookPro9,1 MacBookPro9,2

• Compatible with Apple iMac – 21.5 inch/ 27 inch Mid 2011, 21.5 inch / 27 inch Late 2012, 21.5 inch Early 2013, 27 inch Late 2013, 21.5 inch/ 27 inch Late 2014, 27 inch Mid 2015- iMac12,1 iMac12,2 iMac13,1 iMac13,2 iMac13,3 iMac14,1 iMac14,2 iMac14,3 iMac15,1

• Compatible with Apple Mac Mini - Mid 2011, Late 2012 – MacMini5,1 MacMini5,2 MacMini5,3 MacMini6,1 MacMini6,2
Specifications

| | |
| --- | --- |
| Capacity | 2GB, 4GB, 8GB |
| Voltage | 1.35V |
| Chip Density | 256Mx8 8Chips / 256Mx8 16Chips / 256Mx16 4Chips / 256Mx16 8Chips / 512Mx8 8Chips / 512Mx8 16Chips |
| Frequency (Speed) | 1600 / 1333 / 1066 |
| Bandwidth | PC3 12800 / 10600 / 8500 |
| CAS Latency | 11 / 9 / 7 |
| Pins | 204-PIN |
| Warranty | Lifetime Warranty |
Features
• 1600MHz (PC3 12800) 204-pin CL11 SODIMM for laptop memory
• Compatible with MacBook Pro13-inch/15-inch Mid 2012, iMac 21.5-inch Late 2012/ Early/Late 2013
• Ideal for virtualization and cloud computing
• A lower voltage of 1.35V is applied to reduce 20% power, enabling to effectively decrease hardware power consumption
• Selected original and high quality memory module
• 100% factory-tested for stability, durability and compatibility
• Backed by a lifetime warranty to promise complete services and technical support