INTRODUCTION
For small form factor enthusiasts, the standard SFX power supply form factor has excellent combination of size, power, and affordability. At 100mm deep, however, the standard SFX PSU is also limited in fan size to 80mm. While advances in engineering and components have made modern high-end SFX PSUs quieter than ever, there is still inherent limitation with 80mm fan™s ability to dissipate heat at maximum loading conditions while maintaining satisfactory noise profile for users sensitive to higher-pitch sounds. With this in mind, SilverStone has released a lengthened variation of the SFX form factor called, SFX-L. With 30mm of added depth, a SFX-L power supply has enough room to fit a 120mm fan, thus its maximum load noise can be not only lower in intensity (via slower fan speed), but also lower in pitch (due to larger fan size).

The first model to debut in the SFX-L will be the SX500-LG, a 500W model that includes all features available from top of the line SFX SilverStone PSUs such as 80 PLUS Gold efficiency, modular flexible flat cables, and semi-fanless capability. An ATX adapter bracket is included as well to enable users to install this PSU into any small or even larger cases that do not have SFX mounting holes.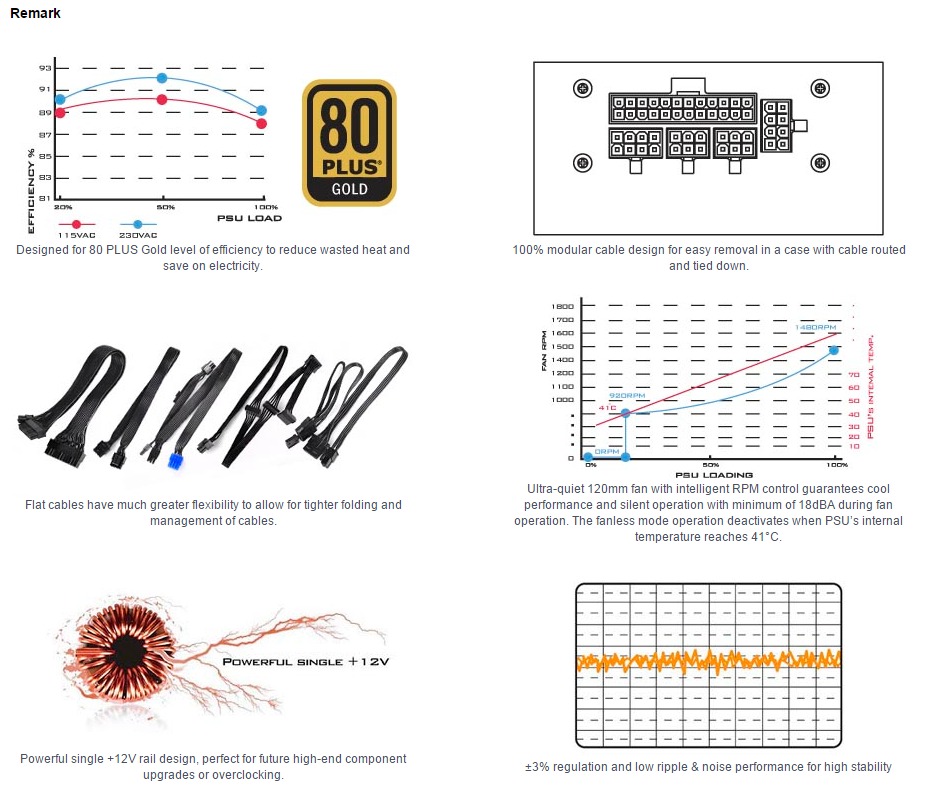 SPECIAL FEATURES

Silent running 120mm fan with intelligent semi-fanless operation

Support SFX-L form factor and ATX via included bracket

High efficiency with 80 PLUS Gold certification

100% modular cables

All cables made with flexible flat arrays

500W continuous power output at 40ƒ operating temperature rated for 24/7 operation

Class-leading single +12V rail with 40A

Strict ±3% voltage regulation and low ripple & noise

Support dual PCI-E 8/6pin connectors

Active PFC

Model No.
SST-SX500-LG
Max. DC Output
500W
Load Range
+3.3V+5V+12V+5VSB-12VMax.(Amps)20A20A40A3.0A0.3APeak (Amps)/////Min.(Amps)0A0A0A0A0ARange (%)±3%±3%±3%±5%±10%Line Reg.(%)±1%±1%±1%±1%±2%Ripple(mVp-p)50mA50mA120mV50mV120mV
combined +3.3, +5V
105W
combined +12V
480W
Input Voltage
90V ~ 264V
Input Frequency Range
47Hz ~ 63Hz
PFC
Active PFCˆPF>0.95 at full load‰
Efficiency
87%~90%ˆ20% to 100% loading‰
MTBF
100,000 hours
Operating temperature
0°C ~ 40°C
Protection
Over power protection
Over voltage protection
Under voltage protection
Short circuit protection
Connectors
1 x 24 / 20-Pin motherboard connectorˆ300mm‰
1 x 8 / 4-Pin EPS / ATX 12V connectorˆ400mm‰
2 x 8 / 6-Pin PCIE connectorˆ400mm / 150mm‰
3 x SATA connectorˆ300mm / 200mm / 100mm‰
2 x 4-Pin Peripheral connector ˆ300mm / 200mm‰
1 x 4-Pin Floppy connectorˆ300mm / 200mm / 200mm‰
Color
BlackˆLead-Free Paint‰
Cooling System
Single 120mm silent fan
Noise Level
0 ~ 36 dBA
Dimension
125 mm (W) — 63.5 mm (H) — 130 mm (D)
Weight
1.4 Kg
Form factor
SFX-L
Certification
80 PLUS Gold
Other
ncludes SFX to ATX bracket for use in ATX case
GPU Support list
Haswell CPU support
* Specifications are subject to change without notice.
* Specifications may vary.
* The product picture(s) is only for your reference, it may differ from the actual product.