Expands single USB Type C interface to three USB 3.0 ports and a Gigabit Ethernet port
Aluminium Unibody Design, Compact and Durable 
Theoretical maximum transfer of up to 5Gbps for three USB 3.0 ports
The Gigabit Ethernet port supports up to 1000Mbps and downwards compatible with 10/100Mbps
Compatible with IEEE 802.3, IEEE 802.3u, IEEE 802.3ab, IEEE 802.3az (Energy Efficient Ethernet)
Supports full duplex operation with IEEE 802.3x flow control and half duplex operation with back-pressure flow control
Supports IPv4/IPv6 protocols, dual channel transfer mode, automatic transfer and data stream reversing regulation
The LED indicator on the top of hub shows the working status of USB data transfer; while the two LEDs near Ethernet adapter indicate network connection and connecting status
Integrated Ethernet driver, Supports Hot Swap, Plug & Play
Support Windows 7 and Above, Mac OS X 10.6 and Above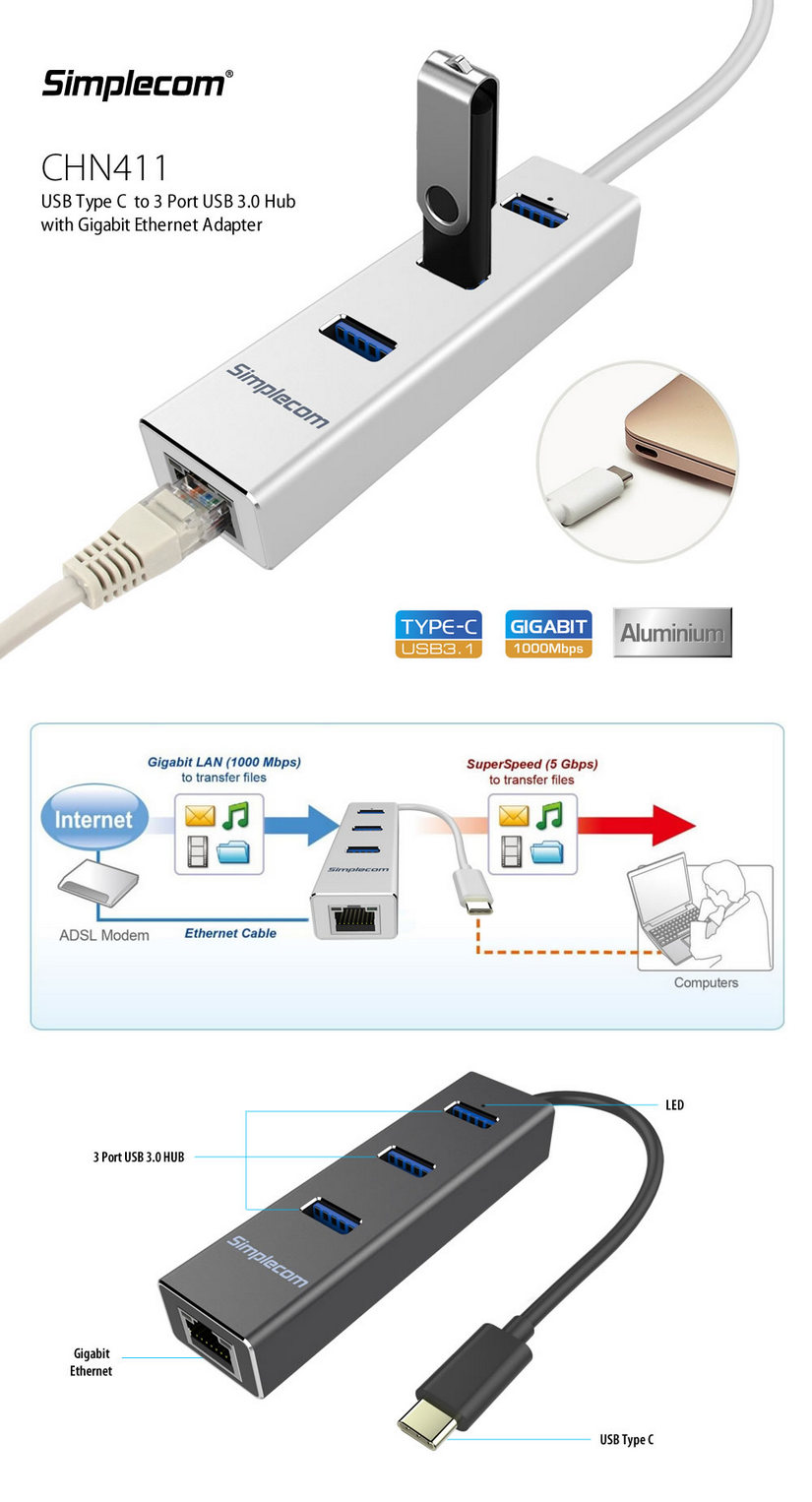 Package Content
1x CHN411
1x User Manual
Note
For stable operation, do not connect it to more than one high power-consuming device, such as USB HDDs, USB Fan, etc.
This hub is not meant to serve as a stand-alone charger. It is not compatible with iPads or any other devices with irregular charging requirements.
* 2.4Ghz wireless devices, such as wireless keyboard and mouse adapters, may not work in USB 3.0 port. Connecting to a USB 2.0 port is recommended.