CyberPower PRO Rack/Tower LCD 1500VA/1500W (10A) 2U Line Interactive U
CyberPower PR1500ERTXL2U with rackmount design guarantees power backup protection for home theatre systems, multimedia devices, IT equipment, computers, workstations, NAS/Storage devices, telecom devices, networking devices, and surveillance systems. The UPS adopts line-interactive topology with Automatic Voltage Regulation (AVR) function, and offers stabilized Pure Sine Wave output to ensure high power quality.

The UPS's output power factor is 1, which means it is capable of connecting to more critical loads than conventional UPS. It also features Battery Management Technology to help batteries obtain optimal life span by balancing battery string voltage. Two-phase battery charging can charge the battery quickly and safely. The hot-swappable battery packs allow for easy maintenance without power interruption. Its multi-functional matrix LCD supports intuitive operation and quick configuration. The LCD panel is also rotatable to meet installation requirements.
FEATURES
Line-interactive UPS Topology

Energy Saving Technology

Active PFC Compatible

Pure Sine Wave Output

Night Mode Design

Tool-less Battery Replacement

High Output Power Factor

Automatic Voltage Regulation (AVR)

Overload Protection

Critical/Non-critical Load Outlets

Hot-swappable Batteries

Extended Battery Module (EBM)

Surge and Spike Protection

EMI and RFI Filtration

LCD Status Display

USB Connectivity Port

Serial Connectivity Port

Emergency Power Off (EPO)

PortPowerPanel® Management Software

SNMP/HTTP Remote Management Capability (Optional)

Rack/Tower Convertible Configurations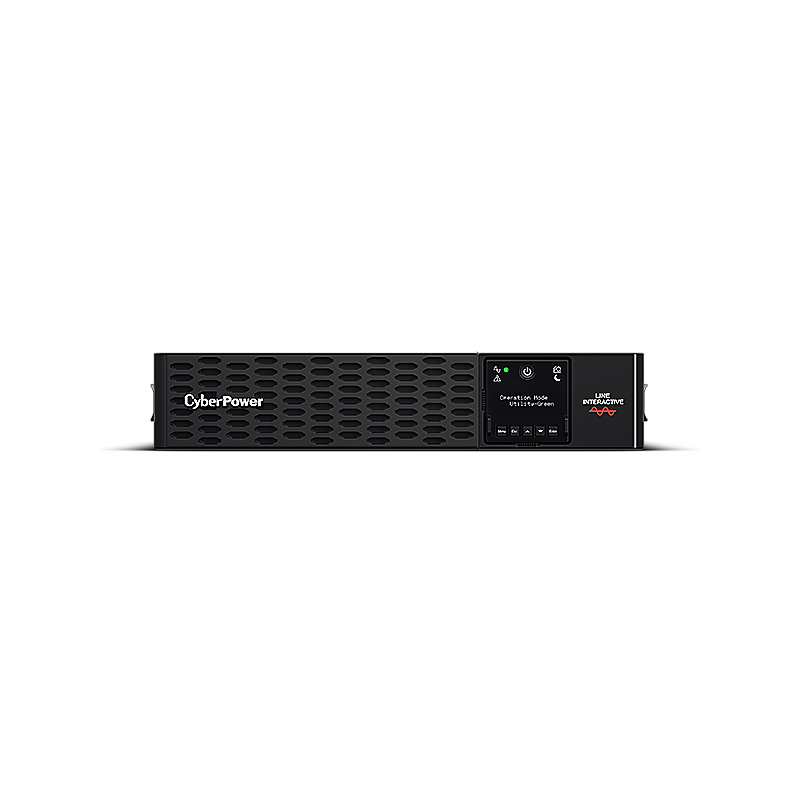 Specifications

GENERAL
Energy Saving Technology
GreenPower UPS™ Bypass Technology
INPUT
Nominal Input Voltage ( Vac )
Input Voltage Range ( Vac )
Adjustable Voltage Range ( Vac )
Input Frequency Detection
Rated Input Current ( A )
Input Connector Type
| | |
| --- | --- |
| IEC C14 |   |
Detachable Power Cord Plug Type
| | |
| --- | --- |
| AU |   |
OUTPUT
On Battery Voltage(s) ( Vac )
On Battery Frequency ( Hz )
Automatic Voltage Regulation (AVR)
Double Boost, Single Buck
Overload Protection
Internal Current Limiting , Circuit Breaker
Outlet Type
| | |
| --- | --- |
| IEC C13 x 10 |   |
Outlet(s) - Battery & Surge Protected
Outlet(s) - Critical Load (CL)
Outlet(s) - Non-Critical Load (NCL)
Typical Transfer Time ( ms )
BATTERY
Runtime at Half Load ( min )
Runtime at Full Load ( min )
Typical Recharge Time ( Hours )
Extended Battery Module (EBM)
BP48VP2U02 (Built-in Charger)
Max. EBM Quantity ( pcs )
SURGE PROTECTION & FILTERING
Surge Suppression ( Joules )
MANAGEMENT & COMMUNICATIONS
LCD Information Display
Operation Type , Power Status , Battery Status , Load Status , Fault & Warning , Event & Log
LCD Setting & Control
Mode Setting , Alarm Setting , Input & Output , Battery Setting , Communication
LED Indicators
Power On , Line Mode , Battery Mode , UPS Fault
HID Compliant USB Port(s)
Emergency Power Off (EPO) Port
Audible Alarms
Battery Mode , Low Battery , Overload , Overcharge , Overheat , UPS Fault
Management Cable ( pcs )
Power Cord x2 , USB Cable x1 , Serial Cable x1 , EPO Cable x1 , Phone Line x1
Power Management Software
SNMP/HTTP Remote Monitoring
Yes - with optional RMCARD205
PHYSICAL SIZE - UPS MODULE
Installed Rack Height ( U )
ENVIRONMENTAL
Operating Temperature (°F)
Operating Temperature (°C)
Operating Relative Humidity (Non-condensing) ( % )
Operating Elevation ( feet/meters )
0-10,000 feet (0-3,000 meters)
Storage Relative Humidity (Non-condensing) ( % )
Storage Elevation ( feet/meters )
0-50,000 feet (0-15,000 meters)
Online Thermal Dissipation ( BTU/hr )
Audible Noise at 1.0M from Surface of Unit ( dBA )
CERTIFICATIONS
Certifications
CE , FCC Class B , UL , RCM , VCCI
WARRANTY
Product Warranty Period (Year)
Battery Warranty Period (Year)
Connected Equipment Guarantee