SilverStone EP14C USB Type C Hub with HDMI
To fulfill the need for expanding connectivity on modern laptops while staying charged, SilverStone created EP14, a USB 3.1 Type-C hub that adds three USB Type-A, HDMI connector and an additional Type-C port with USB Power Delivery (PD) capability. This adapter's HDMI output (DisplayPort Alt Mode) provides high throughput using the latest USB 3.1 bus and can support monitors up to Ultra HD resolutions of 4096 x 2160 at 30 Hz. It also has USB Type-C with USB Power Delivery (PD 2.0) function to support powering or charging connected laptop or device up to 100W. Finally, there are three USB 3.1 Gen 1 Type-A connectors to ensure compatibility with the majority of USB flash drives and external USB devices. For those looking to get a high quality USB hub to connect their laptop to almost anything at work or home, the EP14 is another great choice.
■ Provides three 5Gbps Super Speed USB 3.1 Gen 1 USB ports
■ HDMI Resolution up to 4096 x 2160 @ 30Hz
■ Support USB Power Delivery 2.0 (PD 2.0)
■ High quality aluminum casing design
■ Small and portable
■ No drivers required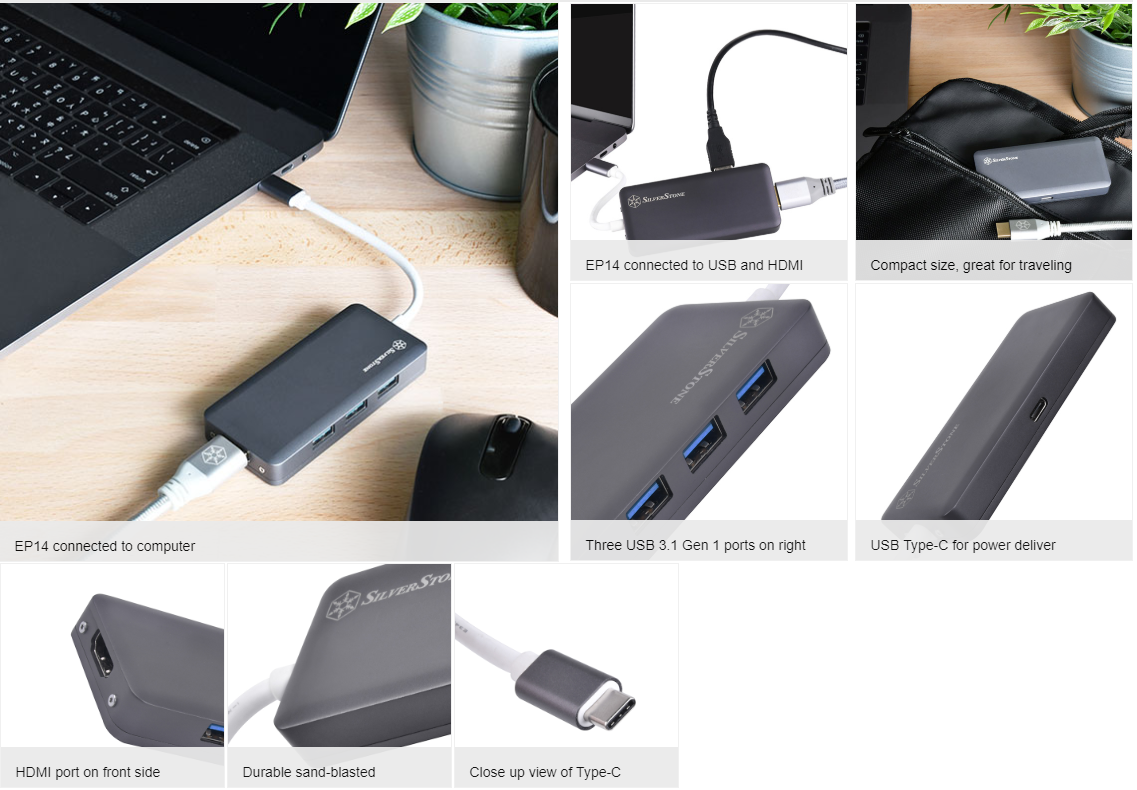 Specifications
Model No.
SST-EP14C
Color
Charcoal
Material
Aluminum + Plastic
Chipset
Fresco Logic FL5002
Parade PS176
Signal input
USB 3.1 Type-C Male
Power requirement
USB bus power
Signal output
USB 3.1 Gen 1 Type-A x 3
HDMI connector x 1
USB 3.1 Gen 1 Type-C with PD 2.0 charging x 1
USB ports transfer rate
USB 3.1 Type-C Male
Operation Temperature
0°C ~ 45°C
HDMI port Resolution support
4Kx2K @30Hz (max)
Operation Humidity
10%RH ~ 80%RH
USB Power Delivery Level
USB Power Delivery 2.0, allowing up to 100W of charging power
Cable length
100mm
Operating system support
Microsoft Windows 7/8/10 (32-bit, 64-bit), or future release versions
Mac OS 10.5 or above
Net weight
71.3g
Dimension
97.2mm (W) x 44 mm (H) x 14.7 mm (D)
3.83" (W) x 1.73" (H) x 0.58" (D)
Remark :
* EP14's Type-C input signal must support Display Port Alternate Mode function to provide high resolutions video and USB Power Delivery.